Archer Fine Decals - Various
Reviewed by Cookie Sewell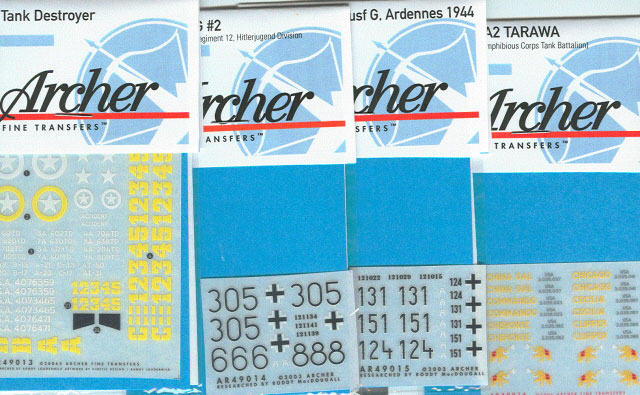 Summary
Stock Number, Scale, Description & Price
Archer Fine Transfer dry transfer markings sheets
AR74009, U.S. softskin "gas paint" stars, 1/72 scale; $7.95
AR49012, 9th Lancers 1st Armoured Division in North Africa, 1/48 scale; $9.95
AR49013, M10 Tank Destroyer, 1/48 scale; $10.95
AR49014, HJ Panther G #2, 1/48 scale; $5.50
AR49015, L.A.H. Panther Ausf. G, Ardennes 1944, 1/48 scale; $4.95
AR49016, USMC M4A2 Tarawa, 1/48 scale; $7.95
AR35222, M2 Halftracks in North Africa, 1/35 scale; $15.95
AR35224, M2/M3 Halftracks, yellow/white stars, 1/35 scale; $11.95
AR35225W, M2/M3 Halftracks, white stars, 1/35 scale; $6.95
AR35225Y, M2/M3 Halftracks, yellow stars, 1/35 scale; $6.95
AR35226, M2/M3 Halftrack registration codes, 1/35 scale; $10.95
AR35227, U.S. softskin "gas paint" stars, 1/35 scale; $11.95
Media and Contents:
Rub down decals
Review Type:
First Look
Advantages:
Best dry and dry/wet transfers going; provide for a number of different variants of recently introduced 1/48 and 1/35 scale kits
Disadvantages:
Will require some basic research on the part of the modeler
Recommendation:
Highly Recommended for armor fans in the appropriate scales and subjects
FirstLook

The latest batch of dry transfers from Woody Vondracek is through and it is a bumper crop! These releases cover a wide variety of subjects and scales, and will be addressed individually.

Set AR49012 covers Sherman II tanks serving with the 9th Lancers of the British 1st Armored Division and provides sufficient markings for two vehicles. One is named "Hellzashoot'n" and the other is apparently unnamed. It comes with three serial numbers and also extra numbers for other vehicles as well, but the primary emphasis is on only two. Markings are in full color.

Set AR49013 covers US M10 3" GMCs in both the Mediterranean and Northwest Europe theaters, with one set of bumper numbers provided for vehicles with the 1st, 3rd, 5th and 7th Armies; I cannot tell if they should have two (front and rear) or not, but the sheet only provides one set. Generic directions come with the set but a bit of research is recommended. Still, the sheet provides more than enough markings to get one pretty close to right. Markings are in yellow and white with some black panels for one of the battalions that go under the counterweights at the rear of the turret.

Set 49014 covers three vehicles from the 12th SS Panzer Regiment of the Hitler Juengen Division. Markings are simple black and white and provide three tac numbers for one, three chassis numbers and some detail markings.

Set 49015 covers three vehicles from the 1st SS Panzer Regiment of Leibstandart Adolf Hitler. Again in black and white, they provide tac numbers, chassis numbers, and crosses along with detail markings.

Set 49016 is a reduced size version of the excellent M4A2 Tarawa sheet that was released to accompany the DML M4A2 kit of the same name, and again provides markings for six tanks: CHINA GAL, COMMANDO, CHEROKEE, CHICAGO, CECILIA, and CLIPPER. Markings are in blue drab, yellow, white and red, and are correct for the vehicles.

Set AR35222 is the first of the new sheets Archer is offering for the new DML M2/M2A1 halftrack kit, and also will work well on the upcoming M3/M3A1 kit. This sheet, in red, white and blue, provides the initial landing markings for US armored vehicles with white stars on blue surrounds and 48-star flags of differing sizes. Even if you don't plan to pick up a halftrack, this set is worth it for the flags alone.

AR35224 provides the mixed yellow ring/white star markings used for a time in the Mediterranean theater. Stars are provided in varying sizes and with both solid and "broken" rings, with normal locations given for each size.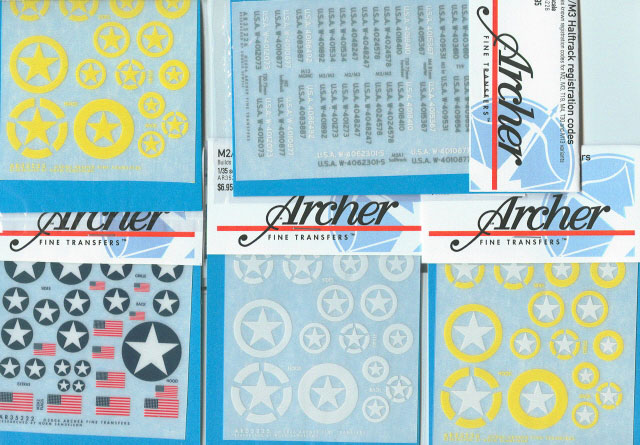 Sets AR35225W and AR35225W are identical with each one covering both all yellow (early) and all white (later) Mediterranean area markings, basically for the halftracks but usable for other vehicles as well. Sufficient stars are provided for at least three vehicles.

Set AR35226 is a generic sheet of serial numbers for the M2/M3 series of halftracks, and while specific vehicles are used at some points they are essentially generic. Both early ("W" series) and late (USA 40XXXXX) ones are provided, and sufficient serials in both white and blue drab are provided to cover 18-22 vehicles including M2/M2A1, M3/M3A1, M4/M21, T19, T30 and M13 halftracks.

Set AR35227 and its companion, set AR74009, are the first presentation that I can think of for the "gas paint" markings used during D-Day. Fearing German defenders would use "every means at their disposal" to include chemical weapons, a chemical sensing paint was developed and put on the hoods or fronts of all vehicles used in the invasion force. To conceal the paint and its purpose from the Germans, it was placed next to the organic white stars on the vehicles and surrounded with a white ring. While the paint was not needed, it was later found to react to a number of other things and also tended to turn odd colors once it weathered. These sets provide for an early June level of color based on restored color photographs, and are reasonably close to the mustard/green color of the actual paint when new. Note that since it was applied over the organic stars, quite often the new rings would not fit on the vehicles, and were truncated. This is particularly true of M2/M3 series halftracks and M3A1 scout cars, so be prepared for the markings to "not quite" fit and the sides to be cut off.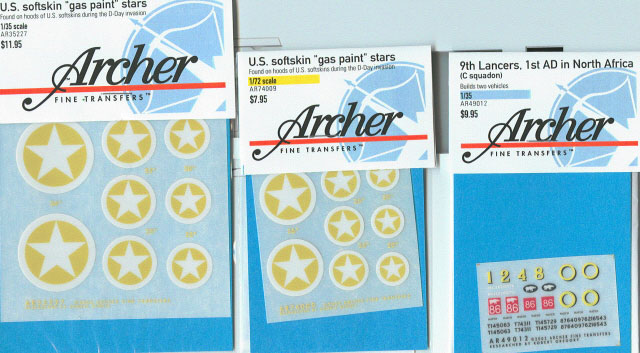 All of the sheets are done to Archer's traditional fine standards, and researchers are credited where they provided info. As I was a contributor to sheets AR74009, AR35226 and AR35227, I pass on judgement; Robert Gregory did the 1st Armoured sheet, Roddy MacDougall the German sheets, and Norm Samuelson the remaining halftrack sheets.

Overall, these are well done and well timed, and should prove handy to modelers looking to get beyond the box decals.
Highly recommended.
Thanks to Woody Vondracek for the review samples
---
Archer now has a secure website for ordering direct from them: http://www.archertransfers.com . You can also e-mail them at info@archertransfers.com
---
Text and Images by Cookie Sewell
Page Created 22 December, 2006
Page Last Updated 06 January, 2007