Archer Fine Decals - Various
Reviewed by Cookie Sewell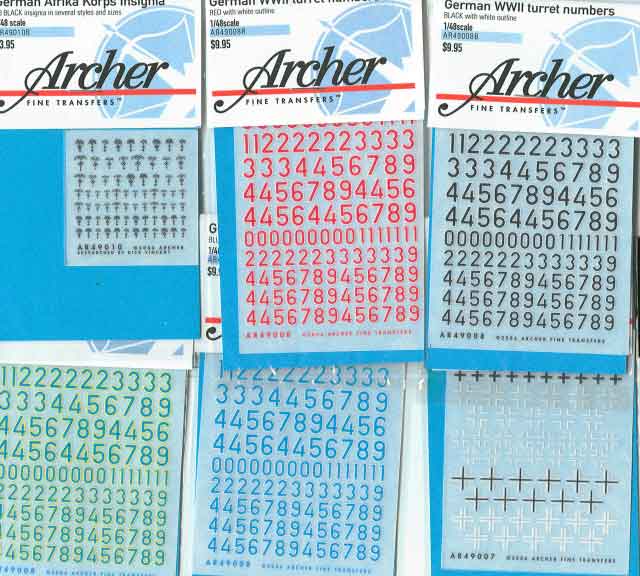 Summary
Stock Number, Scale, Description & Price
Archer Fine Transfers 1/48 and 1/35 scale dry transfer sheets:
AR49101W: 1/48 German Afrika Korps Insignia (white); $3.95
AR49101B: 1/48 German Afrika Korps Insignia (black); $3.95
AR49011; 1/48 German WWII Balkencruz #1; $8.95
AR49008BLY: 1/48 German WWII Turret Numbers (Blue with Yellow outline); $9.95
AR49008R: 1/48 German WWII Turret Numbers (Red with White outline); $9.95
AR49008BL: 1/48 German WWII Turret Numbers (Blue with White outline); $9.95
AR49008B: 1/48 German WWII Turret Numbers (Black with White outline); $9.95
AR49009Y: 1/48 D-Day Shipping Stencils for Shermans (Yellow); $5.50
AR49009W: 1/48 D-Day Shipping Stencils for Shermans (White); $5.50
AR35220: Chars B 221 Lyon; $9.50
AR35221: Chars B 204 Tunise: $7.50
AR35223: USMC M4A2 Tarawa (Co C, 1st Marine Amphibious Corps Tank Battalion); $12.95
Media and Contents:
Rub down decals
Review Type:
First Look
Advantages:
Nice upgrade from kit markings to dry transfers; more options for some kits; correct markings for the Marine Sherman
Disadvantages:
Recommendation:
Highly Recommended for fans of 1/48 scale armor, the Tamiya Char B, and the DML M4A2 kits
FirstLook

I hadn't heard from Woody Vondracek for a while, but from this packet of items it seems he and his crew have been pretty busy folks.

With the advent of the new Tamiya (and soon Trumpeter and Hobby Boss) 1/48 scale kits, "quarter-inch" is making a big comeback. Archer now offers several nice new sheets for them to either replace or supplement the ones that come in the kits.

First off are two sets of German Afrika Korps markings, one in white, one in black. Each sheet provides 74 separate items consisting of the swastika and palm tree in different sizes and different styles.

Next up are a series of colored sheets of German turret or hull numbers in different color combinations: black with white outlines, blue with white outlines, red with white outlines, and blue with yellow outlines. Each sheet comes with two sizes of "number jungles" and provides 57 large size and 68 smaller numbers. Note these sheets only provide numbers and not letters or Roman numerals, but each one is good for a number of models.

Next is a sheet of generic "balkenkreuze" in four styles and several different sizes. The sheet provides 75 different items. All are razor sharp.

Next are two sheets of D-Day shipping stencils for US M4 series Sherman tanks. One is in yellow and one in white, and these are virtually reduced versions of the larger 1/35 scale ones offered by Archer. They can also be used with 1/35 scale tanks for those modelers liking smaller designs than the original sheets.


The new Tamiya Char B is the subject of the next two sheets, and each set provides all the markings for one vehicle. Set 35220 covers "Lyon", tank 221 of the 2nd Section, 1st Company, 15th BBC with some very fancy markings –blue and white hearts and Cross of Lorraine, the insignia of the 510th RCC, a pennon for the antenna, and other markings. The second one, Set 35221, covers "Tunisie", tank 204, 2nd Section, 3rd Company, of the 15th BBC. This tank has red and white hearts and much more involved tactical markings. Each set comes with two identical sheets of dry transfers and a sheet of paper with four pennons on it.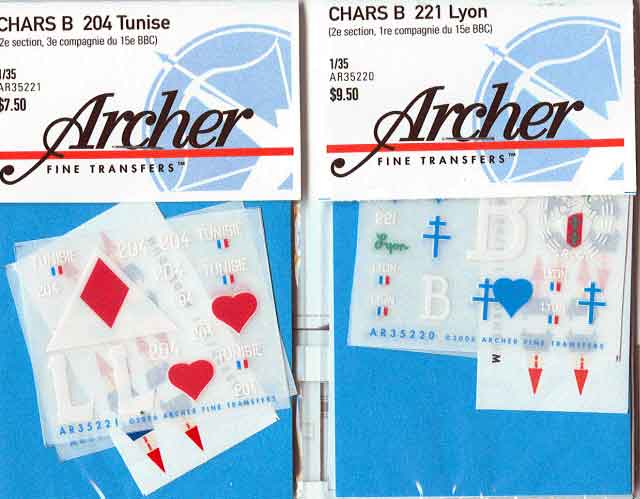 The last sheet is for M4A2 USMC Shermans from the 1st Tanks on Tawara, designed to compliment the DML kit of the tank. The sheet provides names, serial numbers and trumpeting elephant markings for six tanks from C Company: CHINA GAL, COMMANDO, CHEROKEE, CHICAGO, CECILIA, and CLIPPER. The names are in yellow and the serials in blue drab, with the elephants in yellow, red and white.

Overall these new sets continue the great tradition of outstanding modeler-oriented markings and move out to cover both new kits and the reemerging 1/48 market. Archer now has a secure website for ordering direct from them: http://www.archertransfers.com . You can also e-mail them at info@archertransfers.com .
Highly recommended.
Thanks to Woody Vondracek for the review samples.
Text and Images by Cookie Sewell
Page Created 08 November, 2006
Page Last Updated 21 December, 2006