T-55 Enigma

by Brett Green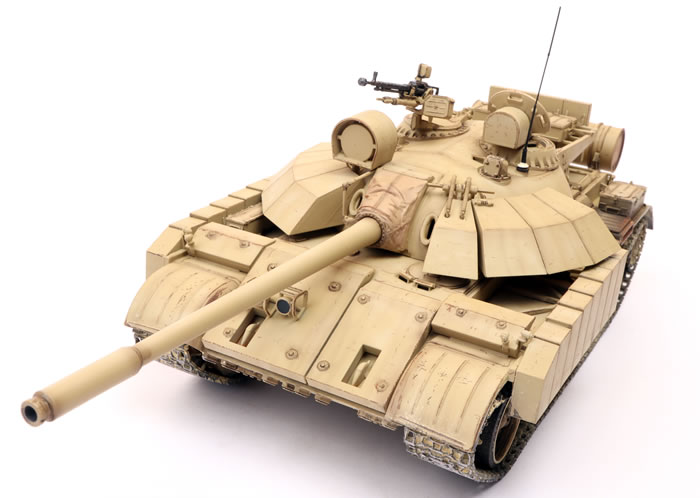 Description
Here is my Tamiya 1/35 scale T-55 Enigma.
I built this kit back in 2012 and it was as pleasant as you would expect any modern Tamiya kit to be.
In the end though, I never wound up painting it because Chris Wauchop had built and painted the same kit so I didn't see the point of duplicating his efforts.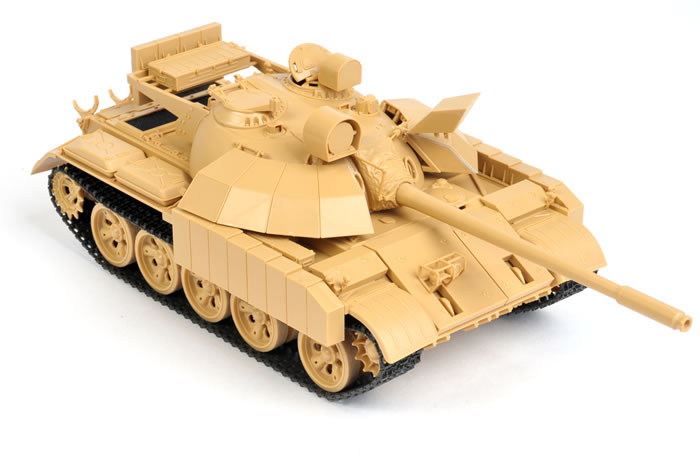 Okay - who am I kidding? Duplicating? I wish!
Regardless, I wasn't motivated to move past basic assembly.
Fast forward nine years and I was emptying bookshelves in my office when I came across this model, assembled, dusty, lodged between heavy books but miraculously undamaged. It seemed to be fate telling me that I should finally paint up this fascinating Iraqi armoured cul-de-sac.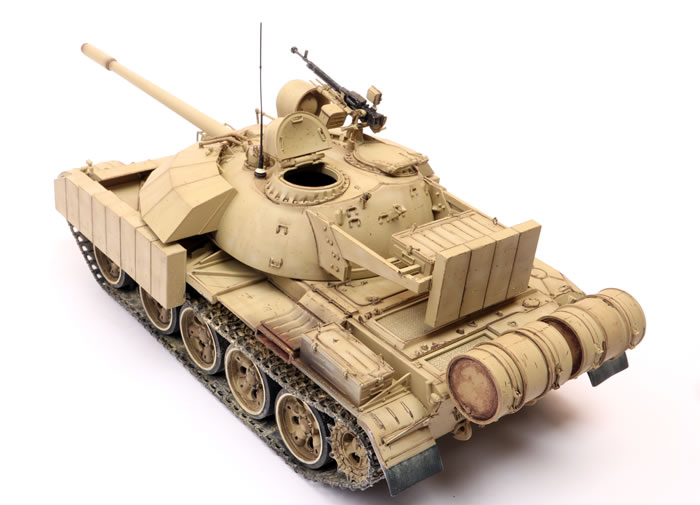 The first problem that I encountered was that there were some parts not fitted to the model and I had long thrown out the box and the not-quite-empty sprues. The main missing parts were the DShK machine gun and mount, the rear mounted fuel drums, the rear towing hooks and the springs for the front turret armour block.
My first plan was to adapt some pieces from an old Tamiya T-62 that I had hanging around. In the end though, the parts were crude and I decided against it.
I bit the bullet and bought a new T-55 Enigma for the missing bits. Now I will have to think of something interesting to do with the rest of the kit!
I made extensive use of a Dark Umber Prismacolour pencil for chipping and weathering. I also bought a specific Prismacolour pencil sharpener which turned out to be a fantastic investment. It sharpens the end to a wider angle and a very sharp point, making the pencil more usable than when it has been used with a regular sharpener.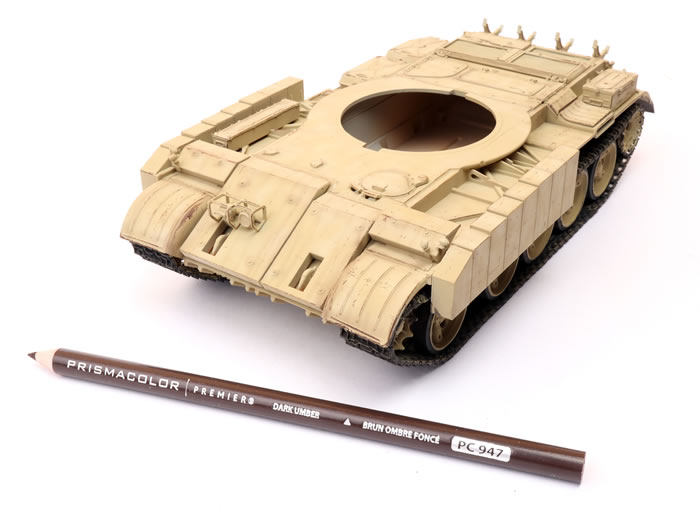 I also used Tamiya's Dark Brown Panel Line Accent Colour over Future floor polish.
I'll be writing this one up in detail for Model Military International Issue 183.
Thanks to Tamiya Japan for the sample
Tamiya kits are distributed in the UK by The Hobby Company Limited for the sample.
---
Model, Images and Text by Brett Green
Page Created 18 April, 2021
Page Last Updated 18 April, 2021