Merkava 3

by Lucio Merlo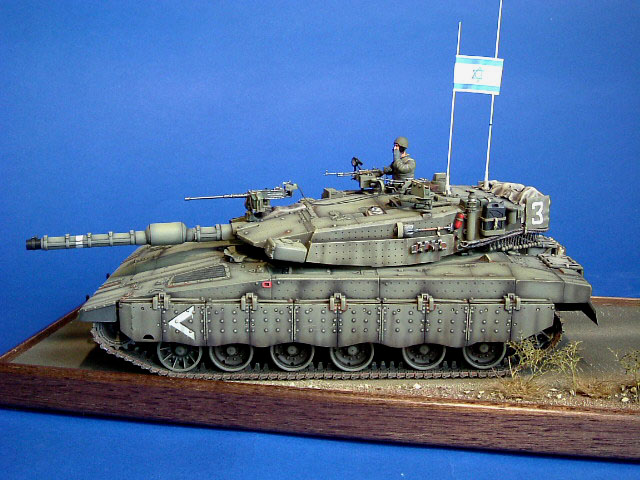 Description
Here is my Academy 1/35 scale Merkava 3.
This kit was previusly part of a diorama set in Gaza city suburbs and published in issue 50 of the Italian MEZZI CORAZZATI model magazine.
I built the diorama in co-operation with two great italian modelers, Gian Luca Cocchi and Danilo Benedetti, respectively chief editor of the magazine and his collaborator.
I constructed the diorama base, the building and the Merkava kit, but painted only the model. The diorama was masterfully painted by Danilo Benedetti and the kit was wonderfully weathered and finished by Gian Luca Cocchi.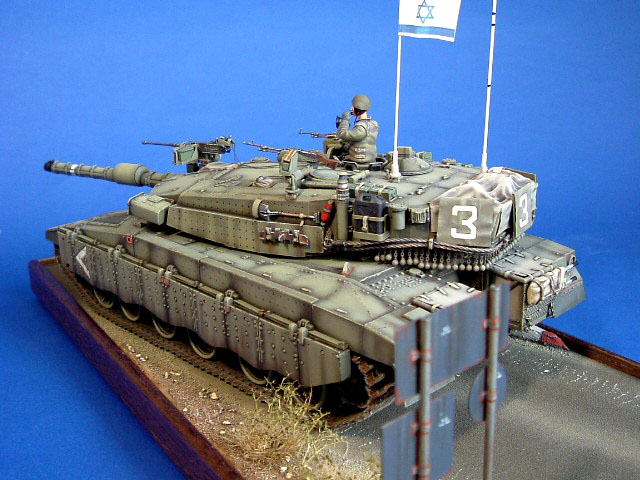 The result of the work was very cool!
In my opinion, though, I eventually decided that the tank looks too poor due the lack of detail in the Academy kit so, after its publication, I removed the kit from the base and rebuilt it.
I changed the original road wheels and replaced them with the all steel wheel, retrieved from the remains of a Legend kit (patiently rebuilt with a lot of putty).
The side skirts are from the kit but upgraded with all new rivets (added using a punch & die set), and its suspension mount.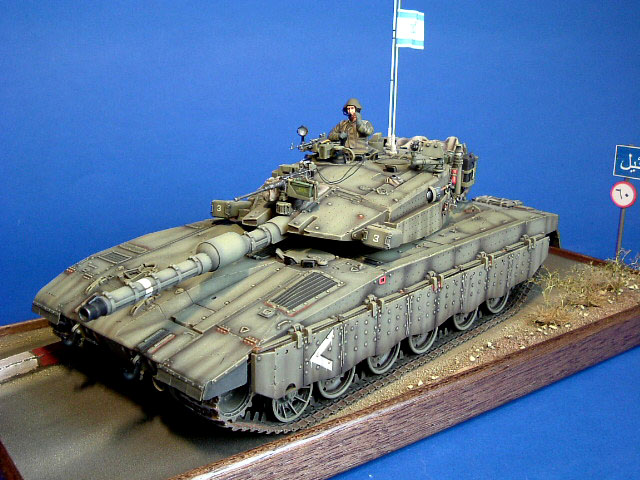 I reproduced the stowage pannier of the rear basket hull and its cover with Evergreen 0,13mm styrene sheet.
On the gun mantlet, I added the Academy .50 cal with a resin copy of the canvas bag for spent cartidges and its remote operating wires, and after, covered the rear turret basket with a lead foil.
The "chain and ball" armour are from a ROYAL MODEL photo-etched set. I added the resin copy of the Ancoram LWS-2 laser warning system to the turret sides and above the gun, missing in the kit, and finally added the two antennas with its mount and the Israeli flag.
After this work the whole tank was repainted and finished in drybrush with enamel and MIG oil, using the previous paint as a base colour.
When all this extra work was finished, I created a new small diorama base. The setting is the South Lebanon border in 1992 .
---
Model, Text & Images by Lucio Merlo
Page Created 25 October, 2008
Page Last Updated 25 October, 2008