"Wounded" Vignette

Carter & Crowley, 1/35 scale

by Andrew Judson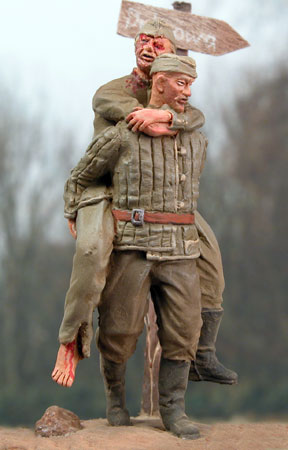 Mig Pigments are available online from Mission Models
There wasn't really any building involved as it comes in one piece, but boy oh boy was there some cleaning involved, seam lines, excess resin, air bubbles.
Once l got over that small hurdle, it was all fun from there, l got to my favorite part, painting.
l used a lot of different tones of Khaki, and different drabs to get what you see here and over these used some Mig pigments to give that dusty appearence, like these guys have been trundling along for some time.
The paints used were all Vallejo acrylics and Mig Pigments.
The base came from the box and all l did was add the sign post and mount it on top of an Andrea wooden base.
lf you want a fast little project to do that looks nice at the end, go and grab one of these.
---
Model and Text by Andrew Judson
Page Created 03 August, 2006
Page Last Updated 02 August, 2006