Marder lll Sd.Kfz. 139 Diorama

Tamiya, 1/35 scale

by Andrew Judson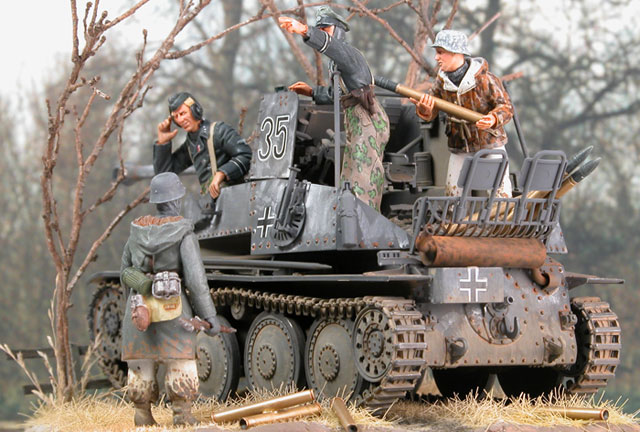 Description


I have been building this kit for some time now, on and off and finally decided, that's it finish it .
This is Tamiya's 1/35 scale Marder III kit. All was pretty much out of the box except for a Jordi Rubio barrel and a set of individual track links that l had in the spares box. It was a really nice kit to put together, but this is not the first time l have built this particular model.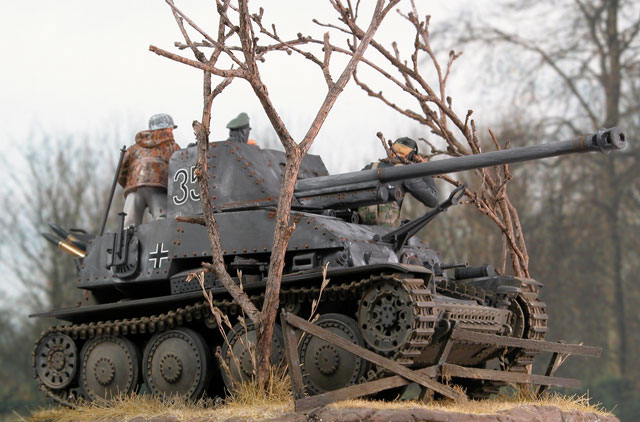 l painted it in a very worn winter scheme using Tamiya Acrylics and Mig pigments, using techniques that l got out of Mig's excellent new book, FAQ for Armour modellers. l am really happy with the final results.
Next were the figures. The two in the fighting compartment are from Warriors, the one on the ground, Wolf and the guy leaning out of the drivers hatch, Verlinden and Warriors.

These were all fun to paint, and l decided to do them in a mixture of uniforms so as to give that late war feel.
The base was a trophy stand with Das clay formed into the groundwork, and then covered with a combination of fine and thick grass cover. Next l glued the two trees, which are branches from a tree in my Auntie's garden, and the broken fence is balsa wood.
Once all dry, l then applied Mig pigments to the ground and a very fine mist of Tamiya Buff in patches over the lot.
Everything was then glued in place and Wa La you have one small but effective diorama/vignette.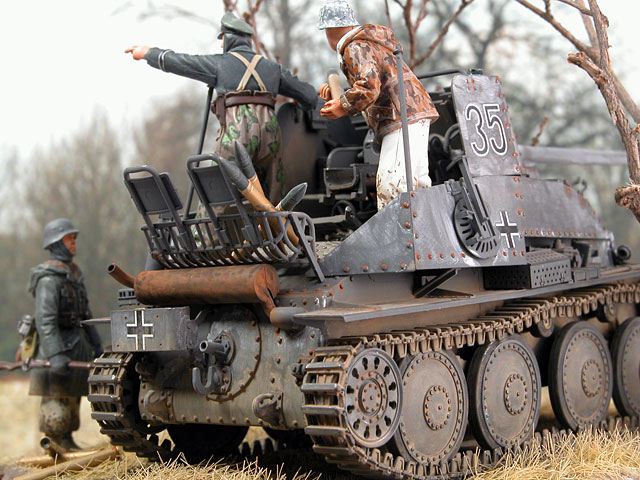 Considering l had no particular plans for this kit, l am really pleased with the end result.

---
Click the thumbnails below to view additional images: