Lion Rampant & Charging Bull
Normandy 29th July 1944

Various, 1/35 scale

by Richard McIntosh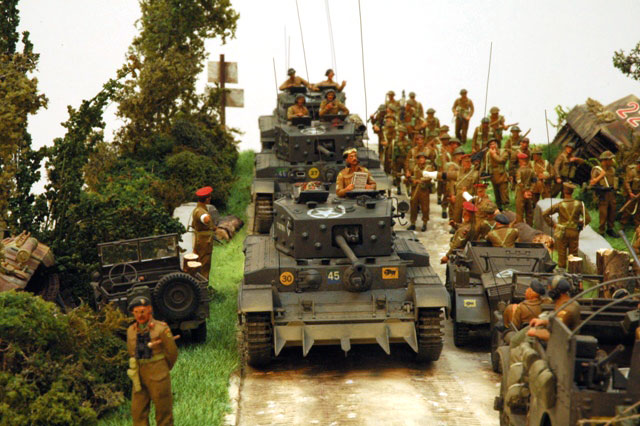 Description


The diorama depicts two units of British 8th corps marching to start line of Operation Bluecoat. Namely 15th.Scottish & 11th. Armoured Divisions.

Operation Bluecoat had three primary objectives 1;- tying down the bulk of the German armour & keeping it to the east in the British sector. 2;- if possible achieve breakout and 3;- protect the American left flank as they tried to breakout during Operation Cobra.

The British succeeded in tying down 7 panzer divisions (five of them elite S.S. units) in what was to become a titanic struggle lasting six days. History seems to have forgotten that during Bluecoat the British saw some of the most difficult, heaviest and bloody battles of the whole North West European campaign, in Bluecoat 15th Scottish alone would suffer a massive 5,300 casualties. What had occurred over these 6 days is best summed up with these few words from Captain Woolcombe a company commander of the 6th battalion K.O.S.B. he wrote of the enemy, "With tight-lipped, bitter verve they fought. . . . Above all we saw the dark face of the Waffen SS. And this we broke, in Normandy".



Operation Bluecoat wasn't a total success for the British they didn't achieve a breakout but it most certainly allowed the Americans to do so!

Montgomery had taken a lot of flak about his conduct of the Normandy campaign, some of it deserved but the strategy of containing and the eventual systematic destruction of the Germen armour by keeping it fully engaged in the British sector had worked.

Models used:
2 x Pz. Mk. V. Ausf. A. (Early) by Dragon.
2 x Cromwell Mk. IV. A27M. by Tamiya.
1 x Cromwell Mk. VI. A27L. by Tamiya.
3 x Willys MB. 4X4 Jeep by Tamiya.
1 x Daimler Dingo scout car by Tamiya.
1 x M1 A3 Heavy scout car by Italeri.
1 x Trailer by Heller
The dimensions of the diorama are 91cm. x 60.5cm. mounted on an 8 mm. MDF base attached to a 95mm. x 45mm. Irroco softwood frame.

The groundwork was made utilising foam insulation board with a Sculptamold & Hydrocal top coat. This was overlayed with a grass matting product by Noch. Trees & hedges were made using scatters & twigs from Woodland Scenics & rubberised horse hair from 4D Models. Shrubs & bushes made using Lichen (Woodland Scenics) & natural mosses from my garden. The bridge was scratch built using heavy gauge plasticard, trusses & piping from Plastruct. The retaining walls were made using the excellent 1/35 scale bricks from Hansa Systems. Various photo etched plants are from Aber , Hudson & Allen Studio, Eduard & SMA.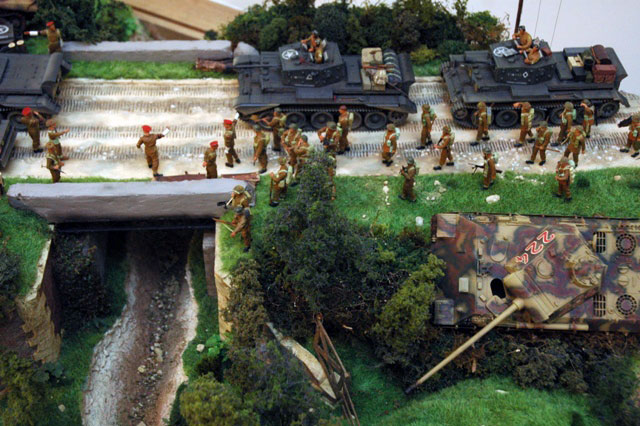 The figures used (51) are from a number of manufacturer's Airfix, Andrea, Tamiya, Dragon, Hornet ,Wolf, SMA ,Ultracast, Resicast, Nemrod & Verlinden.
Practically every Brit. figure (that I could find) in a non fighting pose on the market. Some have been modified & re - posed and given new heads.

In all over 600 hours work in this diorama.
Click the thumbnails below to view additional images:
---
---
Model and Text by Richard McIntosh
Page Created 18 July, 2006
Page Last Updated 17 July, 2006