Wirbelwind & Jeep Vignette

Tamiya, 1/48 scale

by Steve Zaloga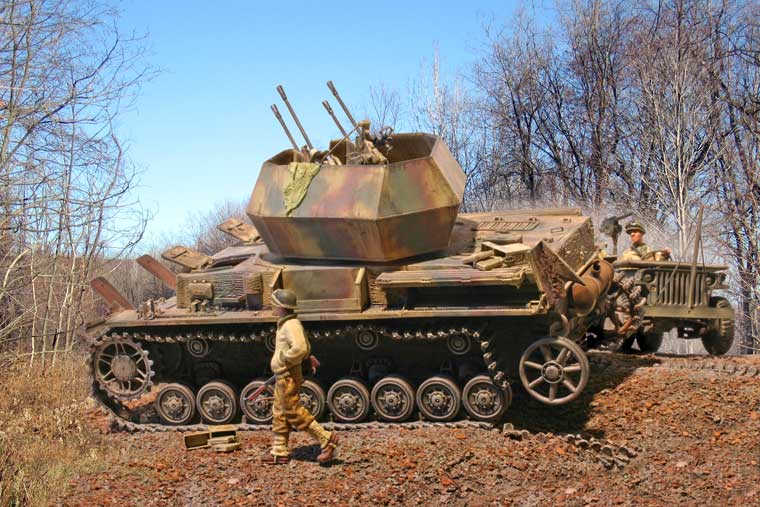 Description
I prefer 1/48 scale for vignettes to 1/35th scale due to my limited patience.
Tamiya's 1/48 scale kits present a very nice balance between a high level of detail and ease of assembly (aside from Tamiya's awful metal lower hulls). I've been intrigued by the vaguely futuristic Wirbelwind turret mounted on the archaic PzKpfw IV hull, so I thought a late-war vignette involving an abandoned Wirbelwind would be fun. I am not enough of a German AFV fan to spend the time necessary on a 1/35 model of this vehicle, but the 1/48 version goes together quickly while not sacrificing too much detail.

The Tamiya Wirbelwind kit is a quick spin-off of their excellent 1/48 PzKpfw IV kit. The turret is okay, though it does suffer from rather thick walls and a simplified lower mounting for the gun. I thinned the upper walls and replaced the collars on either side of the guns with sheet plastic. The 2 cm guns can use a bit of attention as well.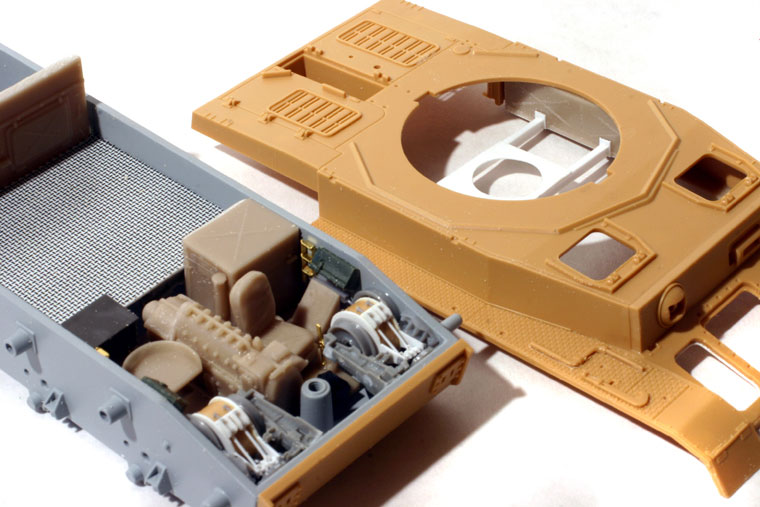 Since I wanted to represent an abandoned vehicle, I needed to convey the idea by small changes to the model. I decided that opened transmission covers and the front hatches would help, as well as a broken track. I had a Verlinden resin PzKpfw IV interior which helped for the driver's compartment, but I needed to scratch-build the transmission which fortunately is a fairly simple shape. The back floor is not especially visible and I covered it with the new Archer "texture" decals to give it an anti-skid finish. I used some LionMarc resin tracks for the left side and spare track links. The Hauler PE set is very nice for the many tool fittings, especially when leaving the tools absent. The zimmerit was Tamiya grey putty, though I found this didn't work as well on the lower hull due to the contemptible metal hull and I ended up using wood putty which is barely adequate for less visible areas.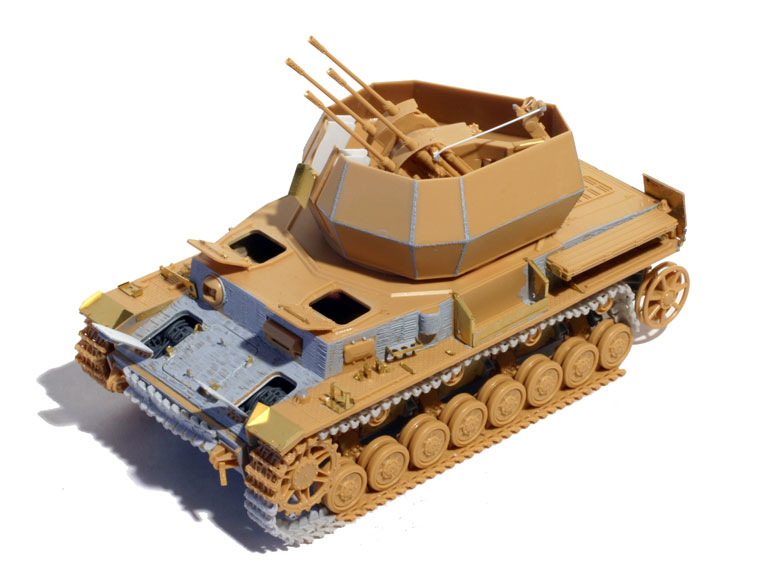 The jeep was less heavily modified than the Wirbelwind, again using Hauler PE combined with a crew from Gaso.Line, and resin stowage from the 1/72 Goffy line. The figure walking alongside the Wirbelwind is a Tamiya figure with a Gasoline helmet. The Tamiya 1/48 figures tend to be very soft on detail as well as being a bit small, and so I sharpened up the detail on the figure by scraping and carving using a Dremel Mini-Mite.
The diorama base is blue styrofoam house insulation with a layer of Apoxie Sculpt epoxy putty for the surface.
All in all, this was a fun little project that took less time than building a 1/35th scale kit.
---
Model, Images and Text by Steven J. Zaloga
Page Created 14 June, 2008
Page Last Updated 14 June, 2008