M4A1 Sherman

Tamiya, 1/48 scale

by Steven J. Zaloga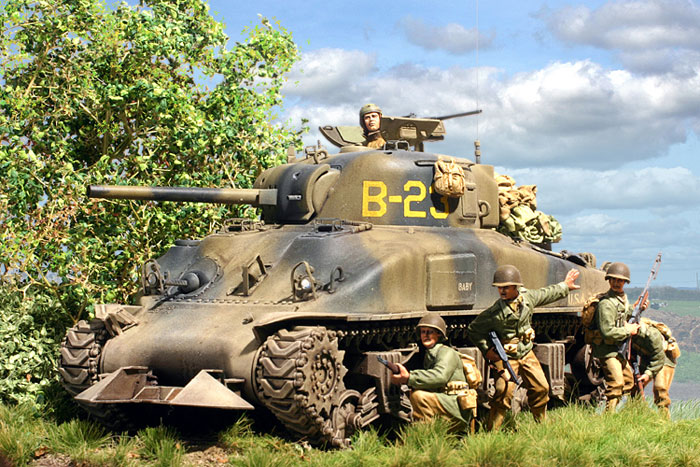 Description


The new Tamiya 1/48th scale armor kits do not seem to have created much of a splash outside Japan and the recent M4A1 kit seems to have been ignored even by die-hard Allied AFV fans. This is a shame as it is a lovely little kit, even if marred by the usual foibles of Tamiya Shermans.

Even with a new kit like this, Tamiya seems unable to grasp that Sherman tanks really did have floors under the sponsons, which just adds one more chore to an otherwise enjoyable kit. I've found these 1/48th scale kits to be a lot of fun to build, simpler than either 1/35th or 1/72nd kits and offering a nice balance in detail compared to complexity.
Overall, the Tamiya M4A1 is an excellent little kit, which goes together very easily except for the minor difficulties of mating plastic parts to the metal hull. I really like the link-and-length track which has the detail advantages of hard styrene track while at the same time being as easy to assemble as band track. The M4A1 is a nicer kit than their earlier 1/48th M4, having fewer detail problems and more options. It includes both the round and square air cleaners; both M34 and M34A1 gun mounts and both the three-piece and early one piece differential housing. In addition, the tools on this kit are all separate while on the M4 kit, some were molded to the hull. So if you're planning to build up a 1/48th scale Sherman stash, this is the kit to buy.
On the positive side, the overall dimensions and shapes of the kit are excellent, and better than most 1/35th scale kits of the small-hatch M4A1. On the negative side, Tamiya has taken a lot of detail shortcuts. There are no grease nipples/indentation on the wheels; no reverse wheel detail; the hatch interiors are needlessly sparse; the .50 cal machine gun is not the right mount and somewhat simplified even though the machine gun itself is very nice. Most of this can be addressed with some modest detail improvements. Gasoline from France has a nice M4 detail upgrade set which includes some excellent driver and turret hatches with interior detail in resin, a turned aluminum gun barrel and a small fret of Hauler details for the machine gun; these are available from Quarter-Kit in Paris and their air-mail service in my experience has been very good. I also used some bits and pieces from the Eduard and Hauler photo etch sets, plus a crew commander from the excellent Caliber 48 US tankers set.