US Combat Task Force Fleet
Atlantis (Renwald), 1/1200 scale
Reviewed by Cookie Sewell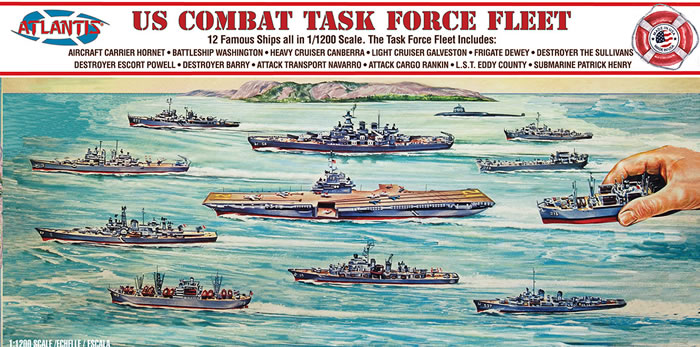 Summary
Stock Number and Description

Atlantis (Renwald) Kit No. R6300 - US Combat Task Force Fleet

Scale:

1/1200 scale

Media and Contents:

135 parts in grey styrene.

Price:
US$29.95
Review Type:

First Look

Advantages:

Great way to get a tabletop fleet of US Cold War ships from the late 1950s; also includes service and support vessels.

Disadvantages:

Full hull presentation on all ships will require surgery to use for waterline type wargaming vessels; some details weakly presented.

Recommendation:

Recommended with reservations for all wargamers wanting inexpensive ships or nostalgia fans.

FirstLook
Back in the 1950s all of the model companies were trying to stake out "turf" that they could call their own. Lindberg went with working features, Aurora with WWI aircraft, Revell with large scale and complex kits as well as space, and Monogram went with 1/48 scale aircraft and sets. They produced two marvelous sets, Air Power with 18 then current USAF aircraft in 1/240 scale, and 31 Space Missiles in 1/128 scale. Both came with a blue styrene base (the latter was later upgraded with new missiles replacing prototypes that never went into service for 36 missiles) and made really neat sets.
Renwal had nailed 1/32 scale armor with a lot of working features as their own, but when they went into model ships they approached things from a totally different aspect than the others. All of their ship kits were to a constant 1/500 scale and included carriers, battleships, cruisers, destroyers, frigates and also support vessels such as command ships, transports and cargo vessels. But not to be left out of the sets of items, they then released this set of 12 different contemporary (for 1958) warships.
Included were the following vessels:
Modified Essex class carrier USS Hornet - CVS-12
North Carolina class battleship USS Washington - BB-56
Boston class Heavy Missile Cruiser USS Canberra - CAG-2
Springfield class Light Missile Cruiser USS Galveston - CLG-3
Fletcher class destroyer USS The Sullivans - DD-537
George Washington class missile submarine USS Patrick Henry - SSBN-599
Forrest Sherman class destroyer USS Barry – DD-933
Farragut class missile frigate USS Dewey – DLG-14
Buckley class destroyer escort USS William T. Powell – DE-213
Attack Transport USS Navarro Rankin – APA-215
Attack Cargo Ship USS Rankin – AKA-103
Landing Ship Tank USS Eddy County – LST-759
Each one is fairly simple in design with no ship requiring more than 20 parts (the submarine has but two) but as can be figured from the age of the molds (over 60 years) and the size of the models there is not a great deal of detail provided. There are some errors as well (the Buckley class now comes with three turrets with two guns each) but the shapes are close. Other things like a lot of the LCVPs on the attack transport are molded to the deck are to be found.
The biggest drawback for wargaming these models is that they are all full hull representations and do not have a demarcation line on the sides for separating into a hull down configuration. I think if I remember right they originally came with a plastic base that they inserted into in order to solve this problem, but here Atlantis only provides a printed box bottom with waves on it and no silhouettes to trim out to get them into that position.
A small sheet of decals is included with each vessel's hull number and thankfully only two main sections to cover all of the stripes and markings on the flight deck.
---
Conclusion
In summary, this is a nice piece of nostalgia but the serious wargamer will have his work cut out for him in readying them for use in naval battles.
---
Sprue Layout:
A – Dewey -13 parts
B – Patrick Henry - 2 parts
C – Galveston - 17 parts
D – Wshington – 20 parts
E – Hornet – 9 parts
F – Barry – 10 parts
G – Powell – 7 parts
H – Rankin – 19 parts
K – Navarro – 14 parts
L – Canberra – 15 parts
M – Eddy County – 4 parts
N – Sullivans – 10 parts
---