Home > Reviews > USA > Archer Fine Transfers 1/16 scale Sherman Tank Basics and 1/35 scale Foundry Marks for U.S. Tanks
Archer Fine Transfers
1/16 scale Sherman Tank Basics
1/35 scale Foundry Marks for U.S. Tanks
Reviewed by Cookie Sewell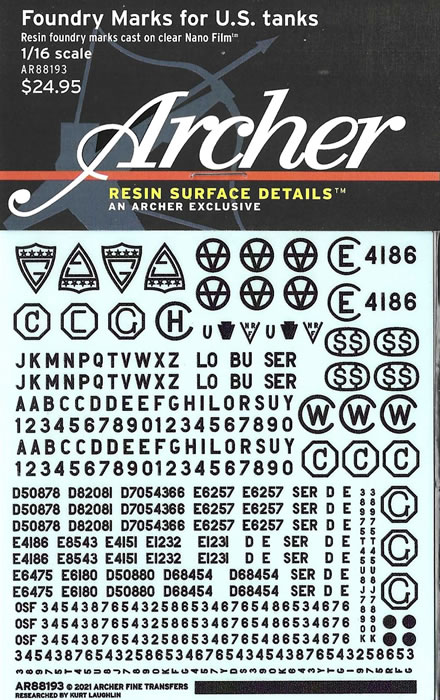 Summary
Stock Number, Scale, Description & Price

Archer Fine Transfers wet decal sheets

AR35516, 1/35 Sherman Tank Basics – Nano Film Decals; $16.95

AR88193, 1/16 Foundry Marks for U.S. Tanks – Resin Surface Details; $24.95

Media and Contents:
Decals
Review Type:
First Look
Advantages:
Nice, crisp new sheets for American subjects in two scales.
Disadvantages:
Sherman sheet may not provide full bumper codes (see text).
Recommendation:
Highly Recommended for for "Shermaholics" and large scale US Armor modelers
FirstLook
Archer continues with its new lines of decals and markings, and these two are particularly useful.
First up is a complete set of generic markings for one M4 series tank or related subject. It comes with four sizes of stars (1 x 60", 3 x 25", 3 x 20", and 2 x 16") that will work for nearly any Sherman variant except the Operation Husky ones with the circle surrounds. A number jungle of registration numbers is provided with both early and late white characters in 3" high format, as well as 2" high bumper codes. These include deltas for the Armor marking as well as dashes, plus company marking letters from A to I to cover the big armor regiments in 2nd and 3rd Armored Divisions. But there are only four repeats of the bumper numbers which will cause problems if doing units such as 1st Armored 13thArmored Regiment and any 1 or 11 vehicle or 3rd Armored 33rD Armored Regiment with a 13 number. Other than that the sheet provides their super-thin Nano Film markings for one complete tank.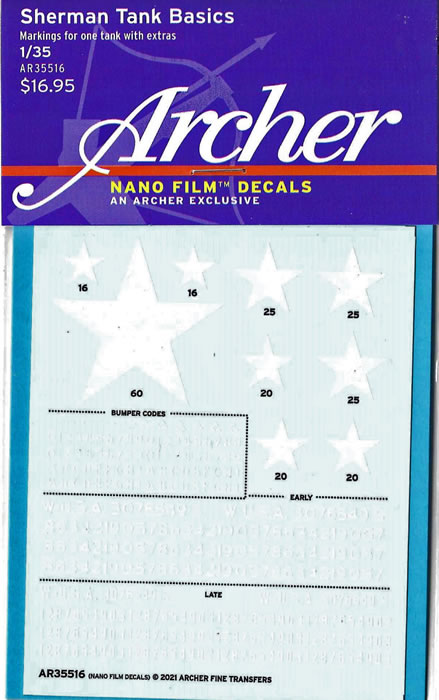 The second one is a large scale version of their casting markings and number for US Army armored vehicles. These include markings for eight different casting facilities such as General Steel or the others in the "Quad Cities" as well as several sizes of casting numbers and letters for turrets, bogies, armored components, and other items. These are in their excellent Resin Surface Details collection that provides a thicker decal; while they may appear thin once on the model in place and hit with washes and dry brushing they will certainly look the part.
Thanks to Woody Vondracek for the review samples.
Text and Images by Cookie Sewell
Page Created 15 May, 2021
Page Last Updated 15 May, 2021