Home > Reviews > Small Scale >

Zvezda 1/72 scale Kit No. 5003; Russian Intercontinental Ballistic Missile Launcher "Topol'" SS-25 SICKLE
Russian Intercontinental Ballistic Missile Launcher "Topol'" SS-25 SICKLE
Zvezda, 1/72 scale
Reviewed by Cookie Sewell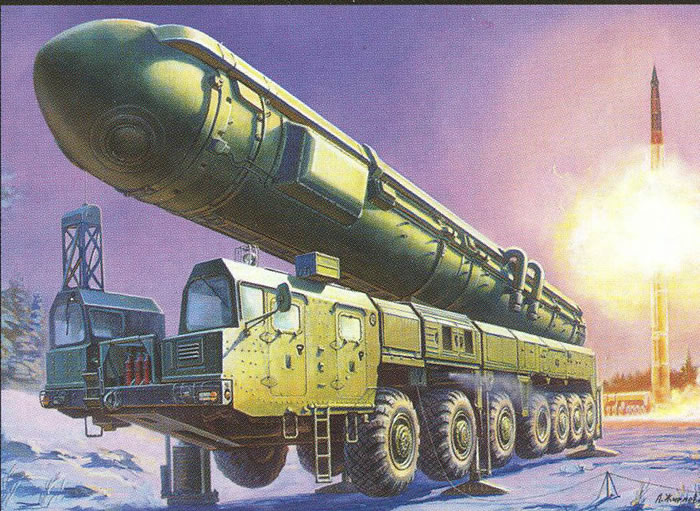 Summary
Stock Number and Description

Zvezda 1/72 scale Kit No. 5003; Russian Intercontinental Ballistic Missile Launcher "Topol'" SS-25 SICKLE

Scale:
1/72
Media and Contents:

316 parts (293 in olive drab styrene, 14 vinyl tires, 9 clear styrene)

Price:
retail price US$44.99
Review Type:
First Look
Advantages:

First and only kit of this vehicle in this scale in styrene; nicely done with choice of travel or launch positions

Disadvantages:

No missile!

Recommendation:
Highly Recommended

for all Soviet and Russian missile fans

FirstLook
During the Cold War the Soviets started to realize that the US was acquiring precision guidance systems that would soon be able to make pinpoint targets of all in-ground missile launch silos, so they started working on mobile means of establishing a nuclear delivery force. The first attempt was a trainborne missile system (SS-24) which was functional but once again was limited to rail lines and eventually was removed from service.

But at the same time they had created a function theater (IRBM) missile system called "Pionir" (SS-20) which was causing fits to NATO planners. This missile used a six-axle MAZ transporter/launcher and had a range of up to 5,000 kilometers so could hit any target in Europe from deep with the USSR. But as a "trigger" weapon it was removed from service and scrapped per the 1987 missile treaty.

The first RT-12 Topol' missiles began to enter service in 1988 and were housed in some cases in former SS-20 launch complexes. These were designed so that in an emergency the missiles could be erected and fired from their storage sheds (opening roofs) but normally had a large "race track" of mobile positions prepared for them to make it a guessing game for an opponent as to where the launchers would deploy in case of war. Over 500 Topol' launchers were placed into service, but since 1998 they have slowly been supplemented and replaced by the bigger Topol'-M (SS-27) which uses both an eight-axle launcher and a silo-based variant.

The Topol' uses a MAZ-7917 seven-axle heavy truck chassis for its launcher platform which can handle the 100,000 pound weight of the Topol' in firing order. There are three missiles to a battalion, nine to a regiment and usually 27 to a division. Each has a number of supporting launch and escort vehicles albeit the launcher is capable of independent operation (the support vehicles include computations/communications, life support (beds and mess facilities) and escorts (armed transporters with security forces).

This is the first kit of a Soviet-era strategic nuclear missile system in 1/72 and the first with its launcher included. It is quite large as the missile is 97 feet long or about 16 inches in 1/72 scale and this seems to be the case here. Zvezda has created their own kit of the missile and nothing here is borrowed from another kit or product.

There are some quirks to the kit. While the control cabins and driver's cabins are included there is no interior in either one and only a structural brace for assembly. This is a bit odd as every one of the ladders and accessories on the outside of the vehicle is provided to include their signature three fire extinguishers on the radiator grille. It does offer some basic moldings for the super-detailer such as a fan shroud inside the radiator shell if someone wants to install an engine in the model.

The model provides for a choice between travel and launch positions. One reason for this is that when set for launch the entire vehicle is jacked up off the ground on four massive hydraulic jacks with large stand pads and the navigational alignment assembly is lowered to the ground (object behind the commander's cabin on the right front side).

The kit does come with a very complex and complete drive line but it is hard to see under the vehicle (people who build it for display may want to set it on a mirror!). The wheels use vinyl tires but they appear well done and based on construction of the kit do not rotate.

The only sad thing is while the missile configuration is known no missile is provided with the kit and all covers and fittings are designed to be used in place. This is a bit of a shame as a standby missile for display would have been a great option.

One finishing and marking option is provided: dark green paint with red stars. A tiny decal sheet is included with those stars.

Overall this is a truly impressive model but anyone wanting more detail will have to provide it on his own. Due to the missing sprue element D there may be an SS-20 or SS-27 version planned for the future.
---


Sprue Breakdown
A 26 Missile launch tube, cab components
B 47 Chassis, cab sides, missile tube caps
C 70x2 Suspension, wheels
E 9 Clear styrene
F 80 Missile stabilizer jacks, suspension
– 14 Vinyl tires

Text by Cookie Sewell
Page Created 24 May, 2015
Page Last Updated 24 May, 2015