Christie Tank M 1921
Vargas Scale Models, 1/72 scale
Reviewed by Jim Bates


Summary
Stock Number and Description

Vargas Scale Models Kit No. R7D-034 - Christie Tank M 1921

Scale:

1/72

Media and Contents:

eight 3-D printed parts.

Price:
Available from Vargas Scale Models for $69.95 plus shipping and handling
Review Type:

First Look

Advantages:

The kit's 8 3-D printed parts have nice surface details and the simplicity of the kit should allow for a quick build.

Disadvantages:

None noted.

Recommendation:

Highly recommended for those with a little experience working with 3-D printed parts.

Introduction and a Warning…
While I am absolutely a proponent of the IPMS/USA Nationals, there is a dark side that I need to warn you about. And as can be expected, this specter resides in the vendor's room.
You prepare for the event by making a list of kits, decals, and accessories that you are in search of, but then you hear the chatter from buddies…go check out the Vargas Scale Models stand…check out their really cool 3D printed items…hey, they have 1/72 stuff. So, you go over to said tables and next thing you know you are buying a 1/72 scale model of a M1921 Christie Tank; something you've never even heard of, let alone contemplated building.
What's unique about the M1921, was that it didn't feature a turret with the gun located on the front of the hull. It looks totally steampunk and I was attracted at first sight. The fact it was in 1/72 made it all the better.
---
Background
I'm a fan of British armor and had heard of the Christie suspension but I thought it was a British thing. Turns out, the Christie suspension was designed by an American engineer—J. Walter Christie. Christie's first tank, the M1919, was tested by the U.S. Army in 1921. Christie modified the M1919 by adding a coil suspension to the front wheels and removed the turret. This modified design was the M1921 and the subject of the review. The modified M1921 returned to the Aberdeen Proving Grounds in late March 1928. It appears that the tank was designed to be driven with and without tracks but was found to be very slow and lacked maneuverability and crew space. The M1921 was relegated to a museum at the Aberdeen Proving Grounds in 1924 and, I assume, later scrapped.
---
First Look
Vargas Scale models is a newish manufacturer out of California that focuses on World War One items in 1/72 and 1/35th scales. All items are resin 3D printed.
The M1921 comes in a sturdy top-opening box with a nice line drawing of the Christie. Within the box is some bubble wrap and a plastic bag containing a hull, a runner with two combined tracks/suspension, and a runner with the the main gun, three machine guns, and two small cupolas.
The hull and forward suspension is 3D printed and illustrates how far rapid prototyping has come over the last few years. This doesn't look like something from Shapeways; it is very nicely printed. My kit has only one issue with a small misprint on the left machine gun location port (Nothing a small dab of Mr. Surfacer or acrylic putty won't fill). There are some very fine print striation lines but these should go away with a coat of primer and paint.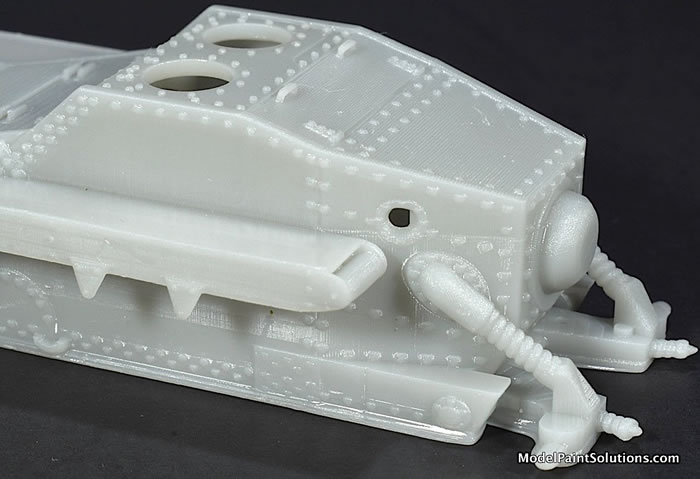 The tracks/suspension is in one piece per side and will need to be removed from the runner. As can be seen in the photos, the attachment points are quite small, but they also must be removed from inside the parts; nothing that a little work with snippers and sandpaper won't fix. Track detail is simple but nicely done and the wheels have some quite intricate detail included.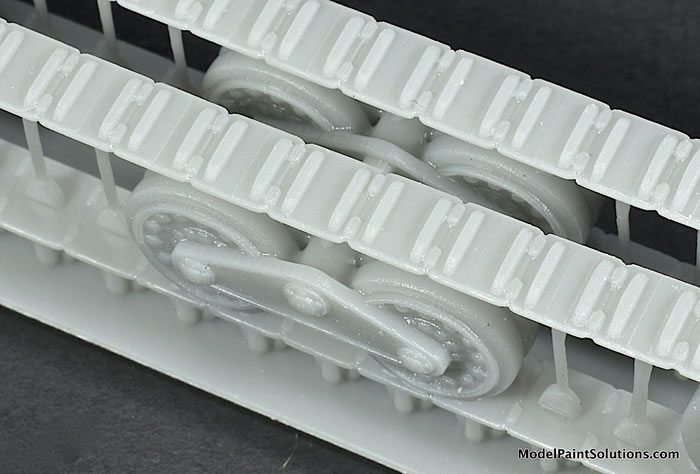 The final runner has three machine guns (only two are used), two cupolas, and the main gun. Again, detail is nice and the barrel on the main gun is hollow. Support struts are quite fine and the runner includes two U-shapes to protect the parts in shipping. Good thinking!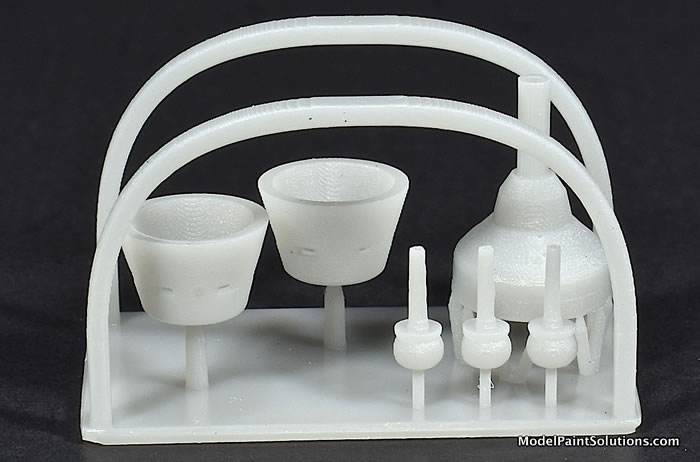 No decals are included and my sample included no instructions, but it appears that was an oversight.
---
Conclusion
I really like this kit. With such nice printing and only eight parts this should be a quick build. But what color green do I paint it? Moral of the review: The IPMS Nationals vendors room will break your wallet, but occasionally you will return home with a little gem you didn't expect.
Jim,
A Scale Canadian
Kit eagerly purchased by reviewer.
For more on this review visit Modelpaintsolutions.com
https://modelpaintsol.com/reviews/vargas-scale-models-72-christie-tank-m1921
---