M113-A1 APC
Trumpeter 1/72 Scale
Reviewed by Glen Porter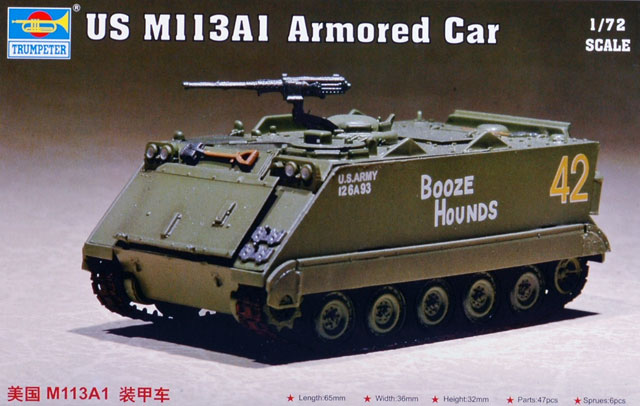 Summary
Stock Number and Description
Trumpeter No 07238 M113-A1 APC
Scale:
1/72
Media and Contents:
65 cleanly moulded light grey plastic parts on four sprues, 2 black soft plastic one-piece tracks (rubber bands), decals for 2 vehicles plus extras, 4 page double sided fold-out instructions with parts plan, 10 build drawings and 1 page of paint/decal diagrams.
Price:
Review Type:
First Look
Advantages:
Good detail, double road wheels, engine detail and openable hatches.
Disadvantages:
"Rubber Band" tracks, no driving compartment detail, no commander's seat post and solid aerial guards.
Recommendation:
Recommended
FirstLook

We've known this kit was coming from Trumpeter for about six to nine months. Considering that the old Esci kit, just re-released be Italeri, is not too bad, how does this new one stack up? Well, it is superior, but only just.

The main gripe with the Esci/Italeri kit was Siamesed road wheels and because of this, no interior detail on the otherwise nice link and length tracks. There were other small niggles such as no driving compartment detail and solid aerial guards. Besides this, it built into a nice little model and was generally welcomed when Italeri brought it back.

So, why is this new kit superior, if only slightly?

The over-all moulding quality is about the same as the older kit although it is in light grey as opposed to Esci's olive drab. Trumpeter has given us pairs of road wheels instead of the single wheels as in the older kit and this means the tracks are better detailed on the inside. Unfortunately, they are not L&L but rubber bands. Trumpeter have also gone to the trouble of producing some engine and transmission detail but then not given us any way of viewing it. Most peculiar!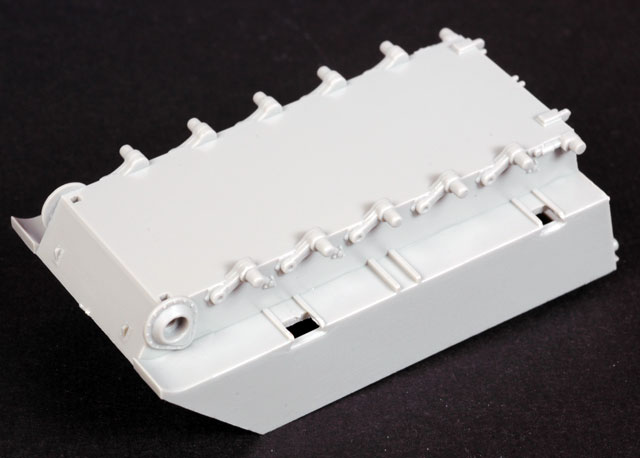 Click the thumbnails below to view larger images:
---
Both kits have solid frame aerial guards, openable hatches and rear access ramp, some interior detail in the troop compartment including side seats and neither have driver's detail. One area where Trumpeter have fallen behind Esci is the absence of the commander's seat post, fairly prominent if the rear door is open.

The "A" sprue is all wheels, drive sprockets, return rollers and more wheels. Like the Esci kit, the lower hull is separate but in this case has the upper hull sides and rear on it also. "B" is all the interior bits, roof, troop compartment floor, hatches, lights etc. "D" has the sand shields and two jerry cans and "F" has the hull front plate, rear track guards and engine compartment roof.

The small decal sheet has quite a few markings on it but only one is mentioned in the instructions (39 J Jilly) with no other markings on it at all. The box top art-work shows another, Booze Hounds 42 and these are on the sheet. There are some others but I have no idea where they go.

Considering the age of the Esci kit, this one is a bit disappointing being a new moulding. If you don't have either, this is the one to go for but if you already have the Esci/Italeri kit don't bother to go out for this one, it's just not that much of an improvement.

Recommended, but only just.
Sample purchased by reviewer
Text by Glen Porter
Page Created 21 December, 2006
Page Last Updated 26 December, 2006