Staghound Mk. I (T17E1)
US built WWII Allied Armoured Car
Reviewed by Glen Porter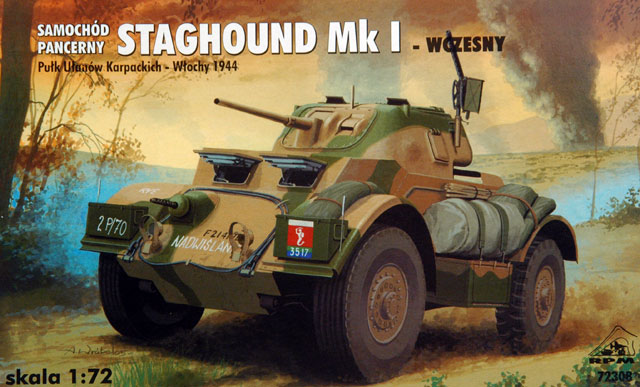 Summary
Stock Number and Description
RPM 72308 Staghound Mk I
Scale:
1/72
Media and Contents:
173 light and dark grey parts on two sprues, decals for only one vehicle, 4 page, A5 sized, double sided instructions with history (in Polish), parts plan, 45 build diagrams and one three sided paint/decal drawing which is also on the box rear.
Price:
AUD$27.00 from Platypus Publications
Review Type:
First Look
Advantages:
Interesting and important subject, very high standard of moulding, lots of interior detail in both hull and turret, all hatches can be modelled open.
Disadvantages:
Only one decal option, history in Polish only.
Recommendation:
Highly Recommended
FirstLook

The first RPM 1/72 scale Armour kit I saw and reviewed was the French WWII Panhard Armoured Car. I was a little disappointed with the softness of its detail. The next I saw, although I didn't review it, was the US built, WWI, Mack Bulldog Truck and it was a big improvement. The detail and moulding was of a standard that we've come to expect from the likes of Revell, Academy and lately, Dragon. This, the first plastic 1/72 scale Staghound ever, and it is of similar quality.
Built in the USA by Chevrolet for the British Army, ( the US Army didn't think it fitted with their doctrine), the Staghound had a 37mm main gun and coaxial 30 cal in a turret that looked like Grant turret, but in fact wasn't, plus a hull 30 cal, twin 269.5 cubic inch, 6 cylinder, Chevrolet engines producing 97 horsepower each and driving all four wheels which gave it a top speed of 55mph. Used by the British, Poles, Canadians and possibly others during WWII and by the Australian Army post-war, it was found to be a most affective and useful Armoured Car.

The two sprues in the kit are packed full of well moulded and detailed parts, 94 on the hull sprue in light to medium grey and 79 on the turret and accessories sprue in dark grey. All the access, entry and vision hatches can be modelled opened or closed and although there isn't a full interior, there's enough that if any or all of these are left open, there won't be an empty interior.
Click the thumbnails below to view larger images:
---
The interior detail consists of two 11 part engines, driver's seat and controls, bow machine gunner's seat and 30 cal., 37mm and 30 cal breaches and supports plus radios in the turret and a turret basket with seats for three. All the pioneer tolls are separate along with periscopes, both hull and turret, jettisonable fuel tanks, equipment boxes, exhausts, towing eyes, handles and an optional A/A machine gun on the turret. The underside is not forgotten either with transfer box, drive shafts, differential/axle housings, leaf springs and steering.

This is a very complete model but still with latitude for super detailing if desired.

My only criticisms are concerning, firstly, the history is entirely in Polish with no English translation so I had to go look elsewhere for any information on the vehicle (ah, poor diddums) and secondly, there's only one markings scheme in the kit which I thought was a bit mean (Again poor diddums, yeah, alright). However, I would prefer this excellent kit with only one scheme rather than no kit at all.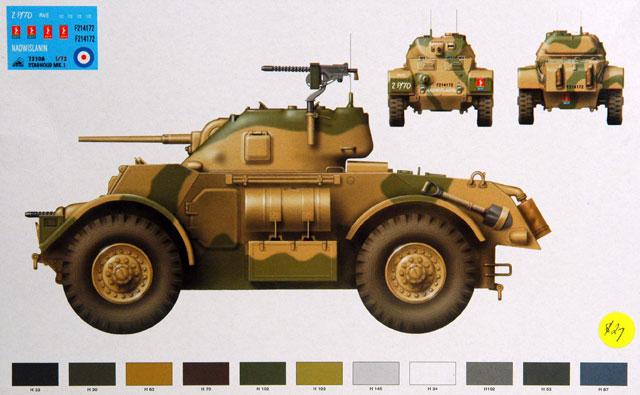 The small decal sheet, possibly by Techmod, looks well printed with good register and has marking for one Polish Staghound in Italy (I think) during 1944. The other Staghound kit by RPM, 72309, is almost identical and with British markings.

Like many other models that I've recently reviewed, this is another that I'm really looking forward to building. Trouble is, there are so many!

Highly Recommended.

Thanks to Ley Reynolds for the review sample.
Text by Glen Porter
Page Created 24 January, 2006
Page Last Updated 12 March, 2006