Home > Reviews > Small Scale > Australian Leopards & British Tanks in the Desert # 3Quarter Master's Depot 1/72 scale Decals (QMD 72032 & 72028)
Australian Leopards &
British Tanks in the Desert # 3
Quarter Master's Depot, 1/72 scale Decals.
Reviewed by Glen Porter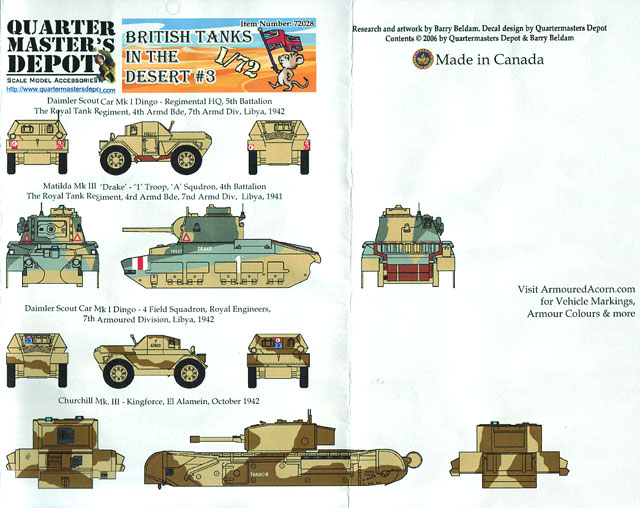 Summary
Planet Models MV 070 German Commander's Caravan
Stock Number and Description
QMD No 72032 Aussie Leopards and 72028 British Desert Tanks
Scale:
1/72
Media and Contents:
Both sets have 1 decal sheet,107mm x 48mm, (107mm x 18mm for 72028), with markings for four vehicles plus 2 A4 single sided instruction sheets, the second of which has the markings placement instructions.
Price:
$12.00 Canadian each plus postage from Quarter Master's Depot's website
Review Type:
First Look
Advantages:
Beautifully printed, perfect register and good colour density for vehicles not previously done in this scale.
Disadvantages:
No top views of vehicles
Recommendation:
Highly Recommended
FirstLook
Quarter Master's Depot is a new decal manufacturer to me although I believe they've been producing 1/35th scale decals for quite some time. Dana J. Nield, the owner and Web master, also looks after the Armoured Acorn Web site who's art-work he uses for his decals. He also does decals and accessories in other scales, 1/48th and 1/24th. Both these sites are worth a look. The addresses are http://www.quartermastersdepot.com and http://www.armouredacorn.com

There are only two very minor criticisms I can make of these decals, and I do mean minor. 1. As they're printed on an Alps printer, they haven't got individual decal film for each marking so you will have to be careful to cut each marking out. 2. There are no plan views of the vehicles to show the camouflage schemes. However, if you go to the Armoured Acorn website, some of these top views are shown.

72032 has four Australian AS1 Leopard MBTs, two from the Armoured Centre, Puckapunyal, Victoria, Australia, both in standard Australian Olive Drab and two from the 1st Australian Armoured Regiment also at Pucka. One of the 1st AAR vehicles, 'Assassin', (great name for a tank), is in Olive Drab and Mud. Thats not Mud coloured paint but actual mud and it's about the colour of Tamiya's Buff XF-57. The other 1st AAR vehicle, 'Binh Ba', is in the newer three colour scheme. The three colours are Black, Olive Drab and Light Brown. A good colour match for the Olive Drab is Model Master Olive Drab 1711 for a newly painted vehicle and Model Master Faded Olive Drab for one that's seen a bit of use. For the Black I would just use Revell's Anthracite Grey matt 9 but I'm not sure about the Light Brown. Perhaps Tamiya Dark Earth XF 52 with some white to lighten it. The colour on the vehicles has a very distinct pink tinge to it.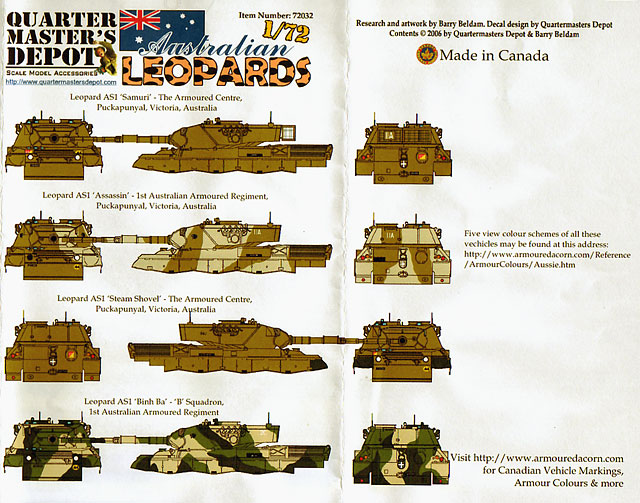 The artwork, by Barry Beldam of The Armoured Acorn, is done from information supplied by the Australian Army Tank Museum so it should be very accurate.

The other set, 72028 British Tanks in the Desert, also has markings for four vehicles, two Daimler Mk1 Dingo scout cars, a Matilda Mk III and a Churchill Mk III. The Matilda is in the Caunter Scheme dated 1941. The first Dingo is in over-all Sand and the other is in Sand with Brown patches, both dated 1942. These first three are 7th Armoured Division. The Churchill if from the famous Kingforce, El Alamein, 1942 and is in Sand patches over Brown which corresponds with Mike Starmer's recommendations. Italeri have already released the old Esci Churchill Mk III and are about to release the Matilda. I don't know of a 1/72 scale Dingo but I live in hope.

Both of these sets have markings for vehicles that I, and others, have wanted to build for some time. Now I have no excuse.

Highly Recommended.
Sample purchased with reviewer's funds
Text by Glen Porter
Page Created 20 August, 2006
Page Last Updated 20 August, 2006