T-90MS Main Battle Tank
Zvezda, 1/72 scale
Reviewed by Cookie Sewell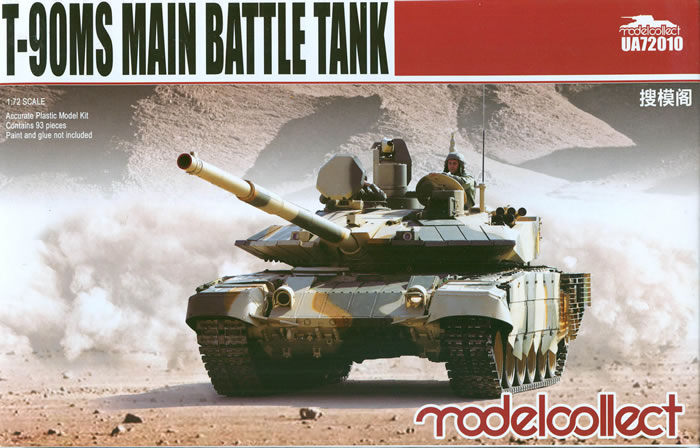 Summary
Stock Number and Description

Modelcollect 1/72 scale Kit No. UA72010 - T-90MS Main Battle Tank

Scale:
1/72
Media and Contents:

187 parts (184 in grey styrene, 2 in tan flexible plastic, 1 cast white metal)

Price:
retail price US$17.95
Review Type:
First Look
Advantages:

First kit of this vehicle in any scale in styrene; nicely done modular details to build the correct version

Disadvantages:

Cast white metal lower hull passe

Recommendation:
Highly Recommended

for all small scale Soviet/Russian armor fans

FirstLook
For many years those modelers who stuck with 1/72 armor (or worse, 1/76 armor) were not quite pariahs but to paraphrase Rodney Dangerfield "they don't get no respect". Generally referred to as "braille scale modeling" it sort of sank into semi-obscurity.

This has undergone a massive change in the last ten years, and now not only has it taken off but there appear to be as many companies making new kits as there are in 1/35. I saw the display by Free Time Models out of Georgia (US one!) at the 2016 AMPS Show and they had what appeared to the entire line of Modelcollect kits for sale. These models are produced in Guangzhou, China and the offering seem to cover every extant version of the Soviet and Russian T-72, T-80 and T-90 tank families. I picked up this one to see how it compared with both DML 1/72 kits as well as modern 1/35 scale offerings.

On sorting through the box my only real disappointment with this kit was that it reverted to the original DML 1/72 offerings with cast white metal lower hulls. While it does give the model some badly needed "heft" it also makes construction and/or modification a lot more difficult.

Other than that it is a very nicely done kit. Modelcollect makes things simple for the T-72/T-90 kits by provind all three sets of outer wheels in one go - early eight-bolt T-72 wheels L-3), six bolt T-72 wheels (L-2), and six-bolt T-90 style wheels (L-1). The tracks are not shown as using ACC for attachment and may, as they appear to be nearly identical in color and composition to DML "DS Plastic" tracks, be connected with a good quality liquid plastic cement.

Oddly enough the construction starts with the turret. The gun is designed to operate but most modelers will probably fix it in place but as an armored cover fits over it you probably don't need to putty up the mantelet cover to look right. The barrel itself is slide molded with an open bore and also has the attached UUI muzzle reference sensor in place.

The remote operation 7.62mm machine gun consists of six parts but does not operate. The commander's and gunner's hatches may be fitted open or closed. Grenade launcher banks are built up in three sections for each side of the turret and look correct.

The hull is nicely designed to take different glacis plates so one hull sprue can serve for all tanks from the T-72A up to the later T-90 variants. This one has a separate panel for "Relikt" ERA and a separate driver's hatch as well. Like the previous T-72B2 "Rogatka" it has a mount at the left rear of the hull for an APU and the V-92S2 "Sil'fon" exhaust outlet attaches to the section in front of the APU.

The T-90MS combines new frontal armored skirts with built-in ERA and the "Reshetka" grill (slat) armor sections from the "Rogatka" at the rear. These are present in the kit.

Wheels are nicely done with even the guard in the middle of the drivers present (B14). While the directions do not state it you will need ACC to attach the wheels to the metal lower hull. Some modelers will probably not appreciate the fact the scraper blade assembly is cast into the lower hull, but the stern plate and all of its details are separate and made of styrene.

Finishing directions cover only the version of this tank (there are an unknown number that have been built with only one having been shown at a time) shown at Nizhniy Tagil in 2014 in two-tone brown and sand. The box photo shows one in three tone sand, ochre and dark green however. While a nice little decal sheet is provided, neither tank uses any markings.

Overall this is a gem of a kit and in the hands of someone like Alex Clark can be a masterpiece. But the throwback cast metal hull will cause some disappointment.
---


Sprue Breakdown
B 40 Late model T-72/90 hull top - skirts, inner wheels, drivers, idlers, rollers
H 13 T-90MS details - skirts, "reshetka" grills, glacis, details
K 27 Turret, gun, smoke grenade launchers, details
L 52x2 T-72/90 style wheels (three styles), fuel canisters, detail parts
– 1 White metal hull pan
– 2 Track runs

Text by Cookie Sewell
Page Created 17 April, 2016
Page Last Updated 17 April, 2016