Demag D-7 Europe & DAK
MK 72, 1/72 Scale
Reviewed by Glen Porter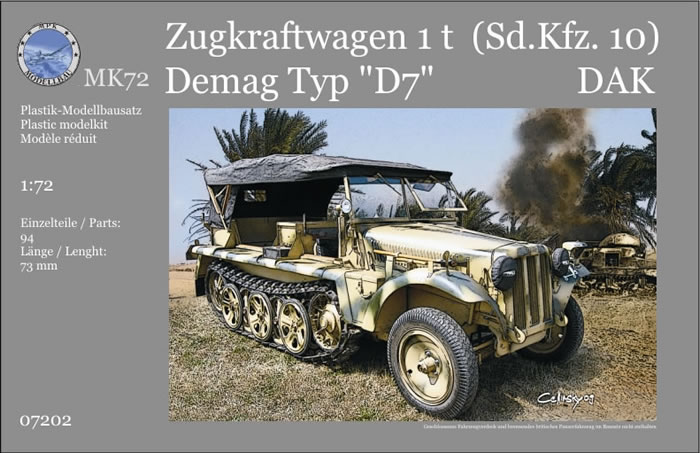 Summary
Stock Number and Description

MK 72 07201 Demag D-7 (Europe) & MK 72 07202 Demag D-7 (DAK)

Scale:
1/72
Media and Contents:

101 mid-grey plastic parts on one sprue, 4 A5 sized instruction pages with 19 well drawn and very clear build diagrams, decals for 3 vehicles and one small piece of thin and clear acetate for the wind screen, all inside a resealable plastic bag a la Eduard, MPM, etc. There is no parts plan and the Paint/Decal instructions are on the box rear.

Price:
Review Type:
First Look
Advantages:

A long awaited subject in the scale, highly detailed, innovative tracks, jerry cans and road wheels and clear material for windscreen.

Disadvantages:

No parts plan, small amount of flash plus sink and ejector pin marks on dash.

Recommendation:

The only other Demag that I know about in this scale is by Ace, and although the one I have is quite good, these new kits from MK 72 are far superior in both detail and mould quality. Add to that the innovations and Wow.


A Brief History
The Sd.Kfz. 10, Demag D-7 was the smallest of the WWII German half tracks built between 1938 and 1944 when around 17,500 were delivered. It was also the basis for the Sd.Kfz 250 series of armoured half-tracks.
MPK Modellbau GMBH (MK 72) from Switzerland, up till now, have only been known for high quality resin kits. These are their first Injection moulded kits and boy, have they been worth waiting for.
---
FirstLook
This is NOT short- run technology and first glance at the one sprue will have you assume it is from Hasagawa, Revell or even Dragon, so good and clean is the moulding.
That's not all either, us Braille Scalers have been winging for years about rubber band tracks and even Dragons DS 100s, as good as they are, are not as popular as hard plastic Link & Length tracks. Well, MK 72 have come up with something new in that regard. Two lengths of track, where each link is joined to the next with a very small piece of plastic so that the track can be bent around the drive and idler wheels with ease. It may not work for every style of track, I'm thinking of Tigers or T-34s, but for a Demag its perfect.
There are two distinct kits, a European operated vehicle with a large wire loop attached to its rear and one from the DAK with a rack of seven jerry cans replacing the wire. The plastic in both kits is identical, the only difference is the box-art, decals and instructions. Speaking of jerry cans, there are 10 in the kits and they are in two halves so you get two neat little handles on each can which is much better than what you get from the likes of Academy.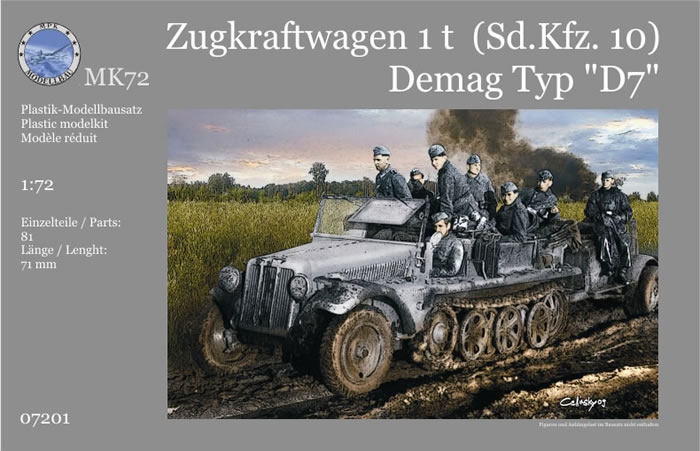 The detail on the parts is incredibly fine with the attachment points being very small and for the road wheels, MK 72 have taken a leaf out of Dragons book and adopted a similar process where the inner rows are joined together for ease of alignment. Well, if it is good enough for Revell to copy it, why not MK 72?
Okay, no model is perfect and this is no exception but hay, if every model came with only these problems we'd be a happy bunch of modellers. There is a small amount of flash around some of the smaller parts, which should not be hard to remove, and there is a sink mark and two ejection pin marks in the middle of the dash below the windscreen which will have to be fixed. I was a little disappointed by there not being any raised detail on the instrument panel, just a decal but that would have been a real disaster. As it is, it's not.
The instructions are very good for a first time manufacturer, well drawn and very clear. There were two areas of concern. One is that with 101 parts on the sprue, some are very small and although the parts are numbered on both the sprue and instructions, there is no parts plan. Even us more experienced modellers occasionally have trouble finding the correct part, especially if the sprue is cluttered and this one is. The other problem is the arrangement of the road wheels. You will have to study them extensively and make sure you know which wheels go where as there is a trap just weighting to gobble you up.
Be warned.
---
Conclusion
Of all the German half-tracks from the Second World War in this scale, the Demag is the one most wanted and although there is a short-run kit from Ace, it has PE tracks which puts a lot of people off and for this one to be moulded so well and with so many innovative ideas, tracks, road-wheels and jerry cans, I am sure it will be a winner for MK 72.
They have told me what's coming next but I'm not allowed to say yet, but I can tell you they are subjects that us Braillers have been wishing for a long time.
Watch this space.
Text by Glen Porter
Page Created 25 July, 2010
Page Last Updated 25 July, 2010