Mirage Hobby: C740(r) light tank, 1/72 scale
Kit No. 72619 (in box review)

by Alex Clark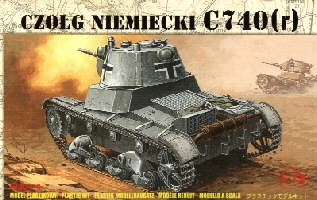 A range of kits based on the Vickers E/7TP light tank have been released by the Polish company Mirage Hobby. The C740 (r) was the German designation for captured Russian T-26 tanks and these were usually repainted and pressed back into service under their new owners.
The kit is provided as 5 sprues and 2 runs of single piece, flexible track. There are a surprising number of parts considering the small size of the model, especially in this scale. The moulding is very good with no flash present and delicate, clearly defined detail. There were a few sink marks on some of the parts but many of these will be hidden when the kit is built. The others will be easy to fix with a little putty or filler. I'm not a fan of flexible track, but the lengths provided are nicely detailed. They are also very soft which should allow them to conform to the running gear. Whether they take paint well remains to be seen.
The commander's and driver's hatches are moulded open and a basic gun breech is even provided. I was also pleased to see the on-vehicle tools moulded as separate pieces - a nice feature not always seen on small-scale kits.
The instructions are clear and well laid out with dual Polish / English text. A brief overview of the vehicle family is given first, followed by a set of comprehensive construction steps. Markings are provided for one, panzer grey coloured vehicle and comprise just 4 German crosses. These are both thin and printed in register on my sample. The colour guide lists both Humbrol and Vallejo numbers.
The box artwork does show some additional German stowage but unfortunately the kit doesn't include any of these items. Overall though, this is an excellent kit. The high quality of the parts is further enhanced by other nice touches such as open hatches and separate tools.
There are also a number of aftermarket accessories now available for these kits. Armo have a turned aluminium barrel. Mirage and Part sell general photoetched sets for 2 versions of the 7TP tank. Probably the most useful item, for those who don't like rubber band style track, is the photoetched track set from Part.
Mirage Hobby website: www.mirage-hobby.com.pl