KV-1 m41
Italeri 1/72 Scale
Reviewed by Glen Porter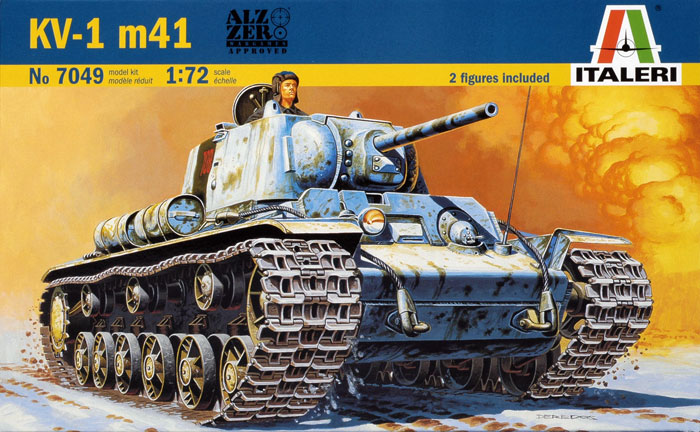 Summary
Stock Number and Description
Italeri No 7049 KV-1 m41
Scale:
1/72
Media and Contents:
104 Olive Drab plastic parts on two sprues, 2 lengths of Metallic Grey tracks (rubber bands), decals for four vehicles plus a 5 page double sided fold-out instruction sheet with history, parts plan, 10 build diagrams and 2 pages of paint/decal instructions.
Price:
Review Type:
First Look
Advantages:
Very good detail, open hatches with detail inside, 2 plastic figures, good decals and interesting colour schemes.
Disadvantages:
Rubber band tracks
Recommendation:
Highly Recommended

A Brief History
The KV-1 Heavy Tank was built concurrently with the T34s and with the same gun. Compared to the latter, it was not a success with poor reliability and maneuverability, its only advantage being it's armour thickness. There are many stories of brave KV-1 crews fighting to the death from a disabled vehicle but what's not mentioned is their tanks was disabled through mechanical break-down not enemy action. However, it, along with the T-34, caused the Germans to build the Panther and Tiger tanks.
---

FirstLook
This is of course the ex-Esci kit which has been out of production for many years.
Since then, the only Braille KV-1 has been from PST which was not bad. They did the entire range of KV-1s and they featured link and length tracks, but some of the detail was a little soft and the road wheels were moulded off centre so that the rim was thicker on one side. PST's tracks were not as crisp as Revell's either. Trumpeter have just released a series of KV-1s and although I haven't seen inside the box, I know they don't have link and lenth tracks either. I would expect the mould quality to be better than PST but are they as good as this Italeri? Time will tell as Trumpeter have proved in the past to be anything from very good to bad.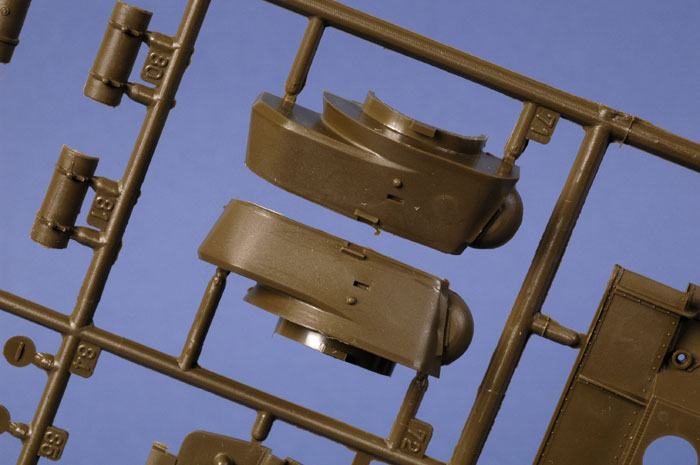 Click the thumbnails below to view larger images:
---
In the Italeri KV-1 the lower hull and road, drive, idler and return wheels are all on sprue "A". "B" has the upper hull, turret and all the bibs and bobs that fit on to them plus two figures that look quite usable. Both the turret hatch and driver's hatch can be posed open with detail on the inside and the machine guns in particular are a big improvement on those from PST. The moulding on both sprues is very crisp with no sign of flash and only a small amount of seam lines to be cleaned up.

The tracks? Well, what can I say that hasn't already been said. They're rubber bands, a little on the stiff side, have no detail on the in-side apart from guide teeth and a ejector pin mark about every 7 to 10 links on the out-side. The odd thing is, Italeri have just released a JS-2, ISU-122 and ISU-152. Now these three vehicles use an almost identical track and all three kits have them in L&L. In this scale, the difference would not be noticeable so why didn't Italeri include them in this kit?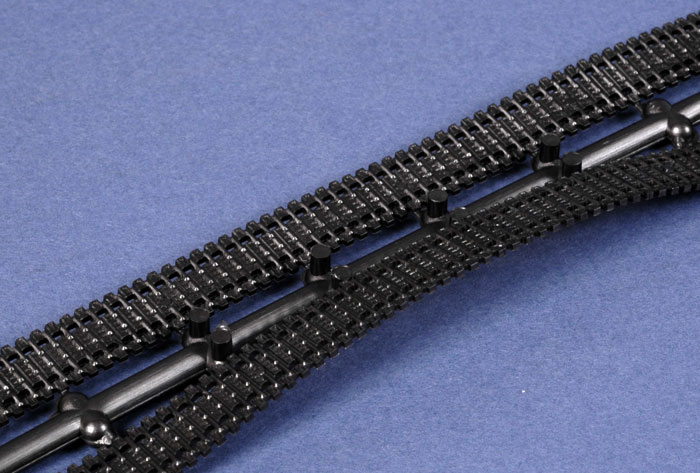 We in Braille appreciate that Italeri are re-issuing these old Esci kits but if they can improve them so easily, why not?

The very small decal sheet has markings for 4 KV-1s.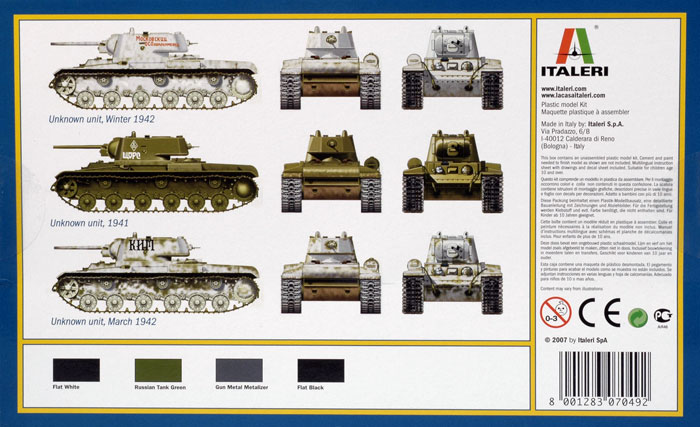 The first is in winter white-wash with three Russian Armour Green panels, one either side of the turret and one at the rear of the hull. The turret panels have a 700 in red painted in them. Unit is unrecorded, Winter 1942. Next is another KV-1 in over-all winter white wash with a Russian slogan in red on the turret side, again the unit is unknown, Winter 1942. Third is an over-all Russian Armour Green example with a white slogan, same as above, 1941. Last of all is a very patchy winter white wash over RAG with a black slogan, March 1942.
---

Conclusion
There is no doubt that the plastic this kit is an improvement over the PST offering and is let down only by the tracks. Just what can be done about those tracks is up to the modeller. I'm told the PST L&L tracks are available but I don't know from where. An alternative would be to get hold of a set of Italeri JS-2 tracks but that may mean junking a perfectly good JS-2 unless you can buy them from Italeri. If the modeller decides to go with the kit tracks well, good luck.

Recommended to all Soviet Armour fans.

Highly Recommended
Thanks to Italeri for the review sample.
Text by Glen Porter
Page Created 03 November, 2007
Page Last Updated 02 November, 2007