ISU 122 Tank Killer
Detailed kit and Fast Assembly kit
Italeri 1/72 Scale
Reviewed by Glen Porter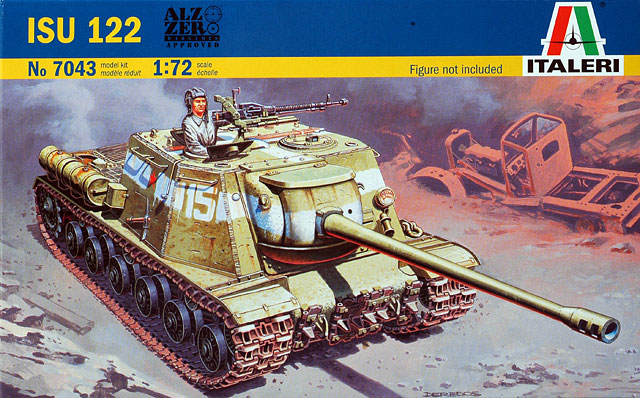 Summary
Stock Number and Description
Italeri No. 7043 ISU 122 Detailed kit and 7503 ISU 122 Fast Assembly kit.
Scale:
1/72
Media and Contents:
151 Olive Drab plastic parts on three sprues, decals for 5 vehicles plus a 5 page A5 sized fold-out instruction sheet with history, parts plan, 9 build drawings and 2½ pages of paint/decal diagrams all in the usual end-opening box. The Fast Assembly kit has parts for two models with 9 part each, no instructions and no decals.
Price:
Review Type:
First Look
Advantages:
New molding, link and length tracks, separate tools and openable hatches.
Disadvantages:
History contains the bare minimum and see-through cavity above tracks needs filling.
Recommendation:
Highly Recommended
FirstLook

The ISU 122 was a tank killer designed by the Russians near the end of the Second World War, based on the IS 2 (JS 2?) Stalin chassis with a powerful 122mm gun. One of few Russian guns able to penetrate a Tiger I's armour at long range, even the high explosive round could knock a heavy tank out, without armour penetration, just by its concussion.
7043 - the Full Detailed kit
This is a brand new moulding by Italeri, not one of the ex-Esci kits that they have been producing of late. The Olive Drab plastic mouldings are very clean and detailed with the main hull parts, both upper and lower, along with gun, mantlet and many small parts on the main sprue. The lower hull sides are separate from the lower hull so that the suspension and running gear can be built up as a unit and then glued to the lower hull at a later time.

The other two sprues are identical, carrying tracks, road wheels, drive and idler wheels, fuel tank halves and some other small parts. The link and length tracks are particularly well done with lots of detail on both sides including guide teeth. Similarly, the road wheels and sprockets have lovely detail on both sides. Pioneer tools and grab handles are moulded to scale but care will have to be taken here as no mounting wholes are provided.

Decals are given for five vehicles the first of which is in overall Russian Armour Green with the thick white stripe roughly painted around the fighting compartment in Berlin, April 1945. Next comes another overall Green machine with five kill markings on the gun barrel, also in Berlin April 1945, a White Washed one in Poland, Winter 44/45, a Green and Sand example also in Poland, Summer 1944 and yet another Green vehicle, Summer 1944 with no location mentioned. All vehicles are marked as "Unit Unknown".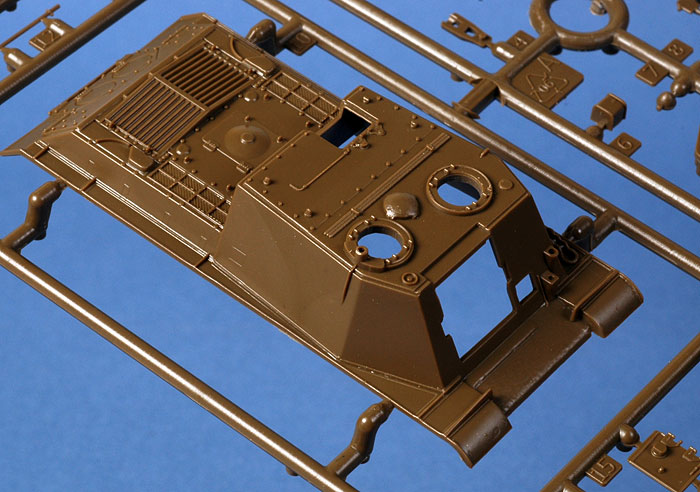 Click the thumbnails below to view larger images:
---

7503 - the Fast Assembly kit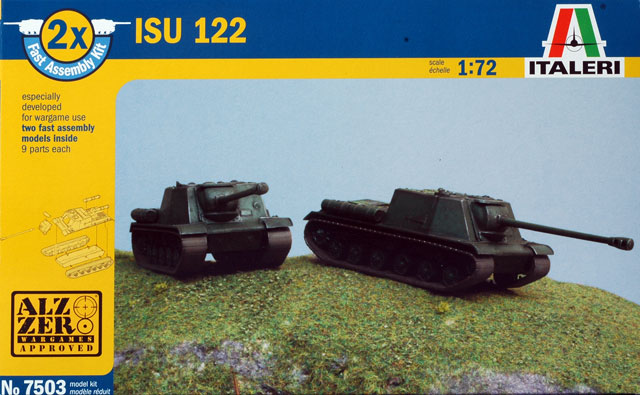 This one, aimed squarely at Wargamers, contains parts for 2 complete vehicles, also in Olive Drab plastic. There are 2 sprues, one for each ISU 122 and each carries 9 parts. Detail level is quite high with the only readily noticeable omission being the grab handles around the top of the fighting compartment. There are quite a few other very small parts such as towing hooks, lights, etc. that are not present on these models compared to the Full Detailed kit but I think the Wargamers won't mind this as emphasis is on speed of construction rather than accuracy. The suspension, wheels and tracks are all one piece but should look quite good with appropriate paint.

A tenth part does exist on each sprue which is not shown on the one build diagram on the back of the box and that is an ISU 152 gun barrel so in fact both vehicles can be built from this set. There are of coarse no decals and the only painting guide is the colour photo on the box front.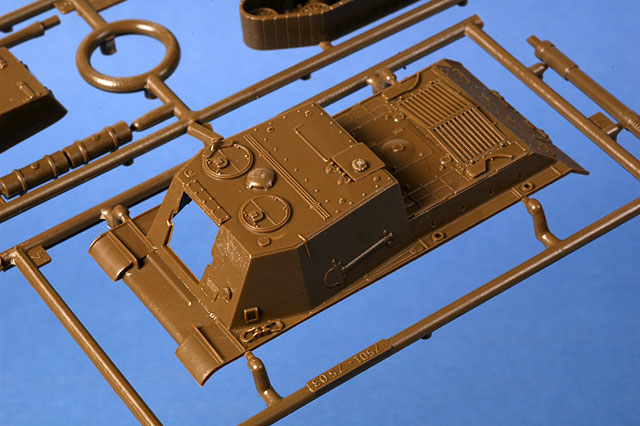 Click the thumbnails below to view larger images:
---
Interestingly, the only Braille models Italeri have produced so far, other than the Ex-Esci kits, which can be directly compared with the same vehicles from other makers, are the SdKfz 234 8 wheeled Armoured Cars against Roden and Hasagawa. Although each has its high and low points, the mould quality, detail and accuracy compare very well. They have not as yet made anything to compare with the leaders in Braille, Revell and Dragon. Watch this space.
Highly Recommended.
Thanks to Italeri for the review sample.
Text by Glen Porter
Page Created 28 March, 2007
Page Last Updated 27 March, 2007