Matilda Mk.II
Reviewed by Glen Porter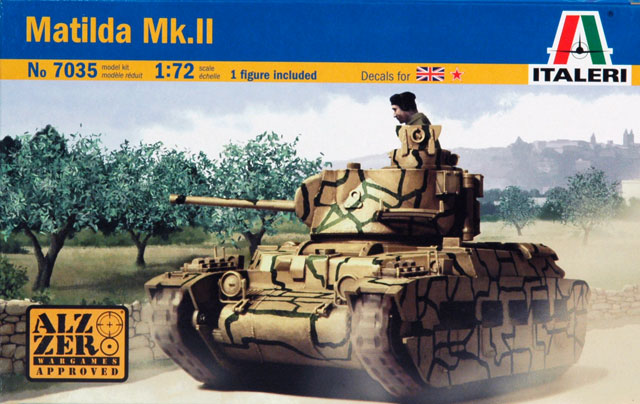 Summary
Stock Number and Description
Italeri No 7035 Matilda Mk II
Scale:
1/72
Media and Contents:
121 sand coloured plastic parts on two sprues, 2 rubbery plastic track parts on one sprue, decals for four vehicles, 5 page fold-out instruction sheet with history, parts plan, 11 build diagrams and 2 pages of paint/decal drawings.
Price:
Review Type:
First Look
Advantages:
The only Matilda in this scale, highly detailed especially around the suspension, excellent decals.
Disadvantages:
Rubber band tracks.
Recommendation:
Highly Recommended
FirstLook
Of all the Esci kits originally released back in the 1970s, a handful have never been seen again. Rumour had it that the moulds for many of these kits had been destroyed or lost.

This Matilda kit was supposedly the victim of one of these imaginary catastrophes, along with another soon-to-be-released Esci kit, the Fiat 13/40. So much for rumour!

Italeri have delivered the Matilda Mk. II very much as it was previously by Esci with the exception of decals, instructions and box. This may not sound so good but the Matilda, and the Fiat, were among the best that Esci ever produced. Let's face it, 121 parts is very high for a 1/72 scale armour kit without link and length tracks. As Doug Chaultry says on the "On The Way" website, "the lower hull is almost a kit in itself."

So, what's in the box? There are two sprues in sand coloured plastic absolutely chock full of parts. All the lower hull bits are on one and upper hull and turret on the other, all beautifully moulded with minimum flash and excellent detail. On opening the box it looks like something you might expect from Revell or Dragon.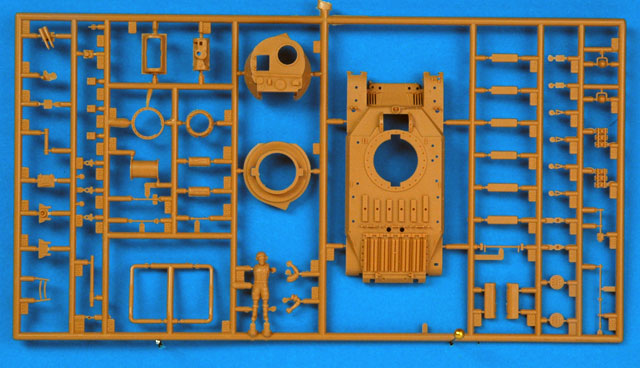 Click the thumbnails below to view larger images:
---
The tracks Glen, tell us about the tracks! Okay, yes they are "rubber bands", but they are quite well moulded with detail on both sides. The Matilda has one thing going for it in as far as the tracks are concerned and that's that the upper run is fully covered and therefore you won't really have to worry about joining them. However, I have another idea. The track lengths are quite stiff, unlike what you would get from the likes of Dragon for instance, and the individual links are well defined, so I'm going to paint them first and then cut them up and use them as I would L&L tracks. It may not work, and if it doesn't I'm in trouble because I won't then have any tracks and will have to look elsewhere. However, if it does, the results should be as good as L&L.

The decals by an Italian company, Zanchetti Buccinasco of Milan, have perfect register, good colour density and just enough film. They cover four vehicles: a Russian Matilda, from the 10th Army, Bryansk Front, 1942, in any colour you want as long as it's Green, and three British Army examples. The first is in the Caunter Scheme, 8th Army, 7th Armoured Division, North Africa, 1941. I would suggest you ignore the colour recommendations in the kit and go with Mike Starmer's colours from either White Ensign or Xtra Color's accurate shades. Next comes an overall sand coloured Matilda from again 8th Army, 7th Royal Tank Regiment, again in North Africa, 1941. Lastly, an oddity from Malta, No. 4 Independent Troop, Malta Tank Squadron, 1942. This Matilda is in what I think was called the Stone Wall scheme, overall stone with wavy dark green interconnecting lines rather like a stone wall. Doh!

Considering the lack of good WW II Allied Armour in 1/72 scale, this has got to be a good seller, especially because of its quality and I hope Italeri will release more related subject matter.

Highly Recommended.
Thanks to Italeri for the review sample.
Text by Glen Porter
Page Created 21 April, 2006
Page Last Updated 27 April, 2006