Haubitze M. 17(t)
Hauler, 1/72 scale
Reviewed by Graham Carter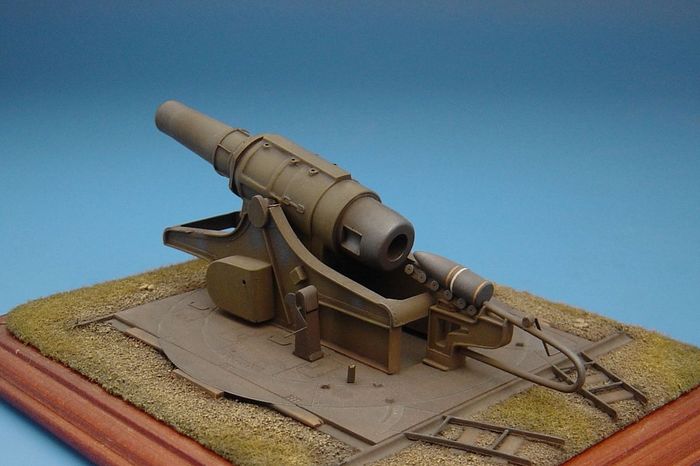 Summary

Background
This monster was a superheavy siege howitzer used by Austria-Hungary during WWI and by Nazi Germany during WWII.
It was designed to penetrate the weakly armoured decks of heavy warships. Howitzers were cheaper to produce than other artillery weapons and could be hidden behind hills to avoid the expense of armouring them. These particular weapons were designed to be set up on a turntable carriage set in a concrete foundation, able to traverse a full 360° for all-around defence. On the 14th of January 1915, Howitzer No. 2, assigned to Küstenhaubitze Batterie (Coastal Howitzer Battery) no. 1, fired its first shot at the railway station in Tarnow, Austrian Poland.
Eight model M14s were eventually ordered (along with a spare barrel and cradle), although one was retained by Skoda. Barrel production was very slow, and few made it into full service.
One surviving M14 was used in 1940 by Nazi Germany to shell the Ouvrage Schoenenbourg from a position near Oberotterbach because the larger 60- and 80-cm guns later used by the Third Reich were not ready in time for the French campaign, so World War I vintage heavy pieces like this had to be used. The Skoda, apparently the sole M17 model, entered German possession following the annexation of Czechoslovakia in 1938/39, and was renamed the 42 cm Haubitze(t); it also served at Leningrad and Sevastopol, even though its barrel life was rated to only 1,000 rounds This howitzer is apparently the subject of this Hauler kit but I stand to be corrected as I am way outside my area of interest and expertise.
It was quite a monster, weighing in at 105 tonnes (231,000 lbs) and its 630cm (20'8") long barrel could send a 1000kg shell over 12.5km at the rate of six to eight rounds per minute. The beast required a crew of 27 chaps!!
Information drawn from Wiki
---
FirstLook

Previously, Extratech has released this weapon in 1/35 and 1/72 but I do not know the tie-up with Hauler, although Hauler is tied in with Brengun.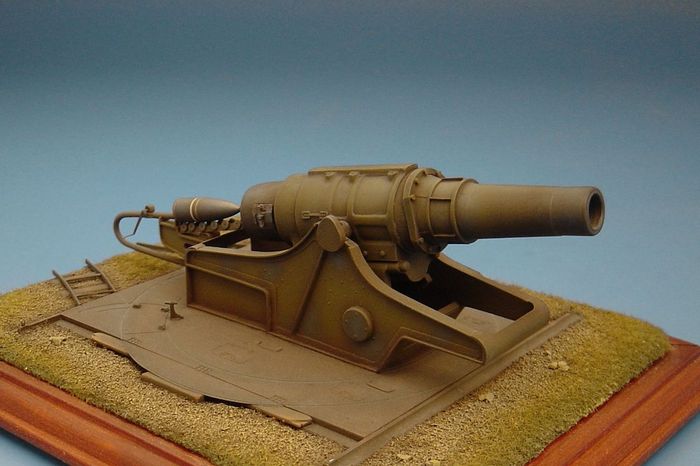 This is a quality resin kit that comes in a strong end-opening cardboard box with a photo of a completed model on the top. Parts are in small plastic bags but curiously there is none of the familiar foam packing that most resin manufacturers use. The resin is backed up with two large thick PE sheets for the mounting turntable, shields, control wheels, handles, hatches, shell cradle, a name plate and other bits and bobs. A neat vignette could be built on a suitable base and the main platform could be made to be rotatable. I can make no comments about accuracy but the parts certainly look like the ones illustrated on the Internet.
Major parts are substantial and well cast in dark grey resin, no bubbles being apparent. Nice rivet and flange detail is moulded into all parts. Carriage sections and smaller pieces have thin webs which will make separation and clean-up quite easy but the two barrel sections have substantial moulding cores that will require time, care and dust protection to remove and sand.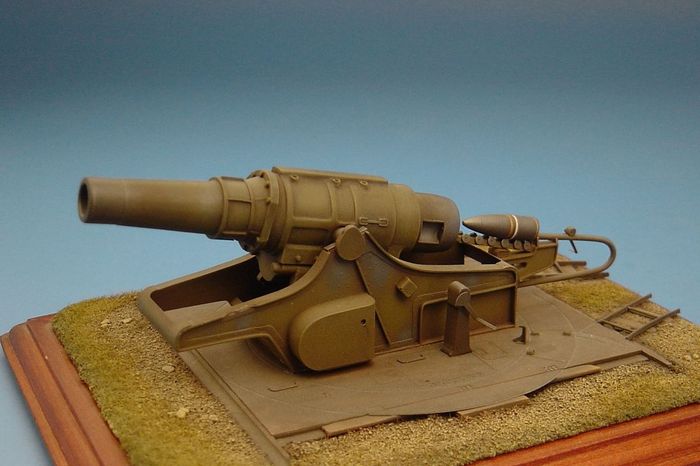 Instructions are simple printed on both sides of an A4 sheet folded into an A5 pamphlet, the four construction steps being clearly illustrated with line-drawings and placement arrows. No colours are quoted for details as I would assume the entire weapon would be painted the one colour. Two guns are illustrated on the instructions in B&W:
From France in 1940 and painted field grey overall with a name on the barrel ( provided on a tiny decal sheet)

From Sevastopol in June 1942 and painted overall khaki with yellow and field grey markings on the carriage.
---
Conclusion
This is an excellent rendition of this minor but significant heavy weapon from both wars. It would make a great vignette in the hands of a competent modeller, and I can imagine a spectacular diorama when fully crewed with wee chaps from other sources.
A quick search revealed a number of suitable crew sets from specialist military suppliers in the 'One True Scale', or one could modify the chaps who come with more readily available styrene gun sets.
Thanks to Hauler for the sample.
Text by Graham Carter
Images by Hauler
Page Created 16 June, 2019
Page Last Updated 16 June, 2019