Thor
Glencoe, 1/87 scale
Reviewed by Cookie Sewell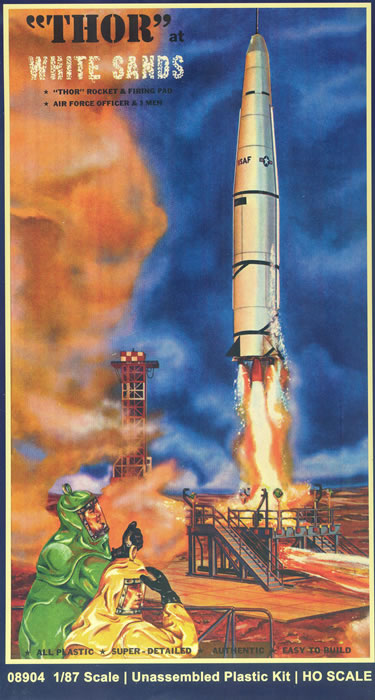 Summary
Stock Number and Description

Glencoe 1/87 Scale Kit No. 08904; Thor

Scale:
1/87
Media and Contents:

60 parts (18 in white styrene, 2 in light grey styrene, 40 in silver styrene)

Price:
retail price US$29.95
Review Type:
First Look
Advantages:
Nice re-release of a kit that has not been seen in over 50 years; well done missile.
Disadvantages:

Phony launch base due to shared parts with another kit (see text).

Recommendation:
Recommended

to all fans of 1950s kits and space program models

FirstLook
In the late 1950s people began to become enthusiastic about space flight and space development, and the fact that missiles and rockets were the coming thing. Disney produced several good cartoons (backed by the science of the day) of space travel, life on other planets, and even had a TWA sponsored commercial ride to the moon at Disneyland when it opened in 1955.
After the Soviets launched Sputnik in October 1957 and the US responded in kind with its Vanguard and Explorer satellites, the dam was broken and many model companies tried to get on board with kits of missiles and rockets. Lindberg, Revell, Strombecker, Hawk, and Monogram all released kits to meet the demand as well as a number of models based on theoretical designs. But nearly all of them were in bespoke scales such as Revell using 1/40 and 1/108 for its kits and the other companies using scales like 1/48 and smaller.
At that time Adams models was basically "siamesed" with Revell and produced a number of kits both on their own as well as with Revell as senior partner. But they were left out of the space kits and decided to jump in with their own kits. Using 1/87 – model railroaders' HO scale - they produced two nice kits of a USAF Thor intermediate range ballistic missile and a US Navy Vanguard satellite launcher. However, to maximize mold usage they shared the same launcher base for both kits - all they did was leave the gantry tower of the Vanguard kit off of the Thor base. (It says "White Sands" on the box lid but most launchers apparently took place at Cape Canaveral and not WSMR.)
But by the time they got their kits to market, people had moved on with the coming Mercury project with actual missiles and capsule designs and real space vehicles that would be used to send men into space. Added to that fact was the point that Vanguard was a one-off missile launcher and the Thor as an IRBM was seen to be obsolete nearly as soon as it was deployed, and all 60 missiles deployed to England were withdrawn by 1963. They were later used as base launch platforms for a number of satellite programs so in the end were not a waste.
I picked up the original kit when it came out from a dimestore in Mayville, New York for 98 cents. I was totally unaware of the politics behind it or what it did other than it just looked neat on its base. Fast forward 60 years and now Glencoe has re-released the kit with a nice new sheet of decals but nothing else changed. They even reused the original box top lithograph for the kit!
That is a bit unfortunate for the Adams kit was of one of the developmental prototypes and did not have the ablative nosecone of the operational missile - only a domed cap on the end of the warhead section. It also as noted shared the base of the Vanguard launcher which was wrong. The actual deployed launchers had a moveable steel "tent" that went over the missile in its horizontal storage position that moved away to permit the missile to be erected onto its launcher base after fueling. The only other launchers associated with Thor were pads 17A, 17B and 17C at Cape Canaveral. All of them have massive gantry structures and are on concrete bases with tunnels for exiting the rocket exhaust from a launch.
It also has four small fins which were only found on the developmental versions of the missile. Once in service, all 60 missiles were under joint US/UK control but were operated by the RAF in 20 squadrons of three missiles each. The nice touch here is that Glencoe does offer the correct RAF markings for a service bird, but no correct launcher base and no corrected warhead cap for the service missiles (as well as the fins).
The base they do provide is quite attractive and comes with four very nicely done figures to complement it - a USAF officer in blues, a technician with hard hat, and two missile launch preparation personnel with thermal protection suits, one standing and one kneeling.
The directions are the original ones from Adams using Revell's excellent layout of the day which labels every part and also flags the proper color for each item - no "monkey see monkey do" stick-here items with obscure references to a lengthy paint chart.
Overall this is a nice pickup for nostalgia - but anyone wanting to do an accurate service model of the Thor will need to get good references for scratchbuilding as well as a new nosecone.
Cookie Sewell
---


Sprue Breakdown
– 2 Missile airframe
– 1 Launch table
– 15 Figures, missile nosecone, engine, details, fins
– 6 Base frame, stair railings
– 7 Base frame, stair railings, crane
– 27 Base, main frames, piping, searchlights
– 2 Stairs

Text by Cookie Sewell
Page Created 6 May, 2017
Page Last Updated 6 May, 2017