Home > Reviews > Small Scale > Dragon 1/72 Scale HMMWV Cargo and Troop Carrier w/field add-on armor and HMMWV Cargo and Troop Carrier w/canvas tilt (7309)
HMMWV Cargo and Troop Carrier w/field add-on armor
HMMWV Cargo and Troop Carrier w/canvas tilt
by Cookie Sewell

Summary
Stock Number and Description
Dragon Models Limited 1/72 Scale Armor Pro Series Kit No. 7309; HMMWV Cargo and Troop Carrier w/field add-on armor and HMMWV Cargo and Troop Carrier w/canvas tilt
Scale:
1/72
Media and Contents:
158 parts (117 in grey stryene, 22 clear styrene, 10 vinyl tires, 9 etched brass)
Price:
retail price around USD$13.98
Review Type:
First Look
Advantages:
Two more variants to the growing DML line of 1/72 scale Humvees
Disadvantages:
Line is becoming confusing with similar models in each box (kit is very similar to No. 7297)
Recommendation:
Highly Recommended for all modern "softskin" and gun truck fans
FirstLook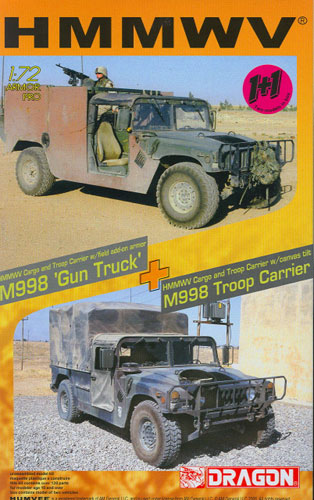 It would seem that DML is now bent on producing as many variants of the M998 series HMMWV as there are in US Army service! The latest two provide for a straight cargo carrier with canvas top and another variation on a "Gun Truck" from Iraq.
What the modeler gets in the box are two identical chassis sets with the now-standard DML HMMWV body (unarmored) and the 35 part "boilerplate" sprue with details and interior parts, the "boilerplate" styrene sprue for the windshield and doors, and then the new bits.

Two canvas tops are included as are several options for finishing the model, so the modeler may make two cargo carriers with tops if he so desires. One cargo carrier may be finished with the bows up and details, and the other may be made into a gun truck.

This gun truck variant combines a "Drop-In" seat package with a pedestal mount for an M60 machine gun and locally made – usually called "hillbilly" – armor applique sheets for upgrading its protection. This is based on a prototype from Iraq used by the 9th Engineer Battalion, 1st Infantry Division, in Iraq during late 2003.

Markings and finishing directions are provided for three vehicles: the above mentioned gun truck, a 101st MI Battalion 1st Infantry Division cargo carrier in Iraq, 2003, and another vehicle from the 82nd Engineer Brigade (actually battalion) attached to the 1st Infantry Division in Germany in 2003. The latter vehicle has the tactical seats and other kit from the gun truck but no gun and no armor.

Overall these are nice little models, but as noted they are becoming a bit confusing.
Highly Recommended.
---

Sprue Layout

A 35x2 HMMWV common base parts (wheels, axles, details)
B 9x2 clear styrene doors and windows
C 1x2 HMMWV body
D 4 clear styrene doors
L 18 Gun truck parts
K 25 Gun truck parts
- 1x2 Canvas tilt
MA 2 etched brass seat backs
MB 7 etched "hillbilly" armor
Thanks to Freddie Leung for the review sample.

Text and Images by Cookie Sewell
Page Created 20 Sepetmber, 2006
Page Last Updated 19 September, 2006