Sturmgeschutz III Ausf. G (early)
Reviewed by Glen Porter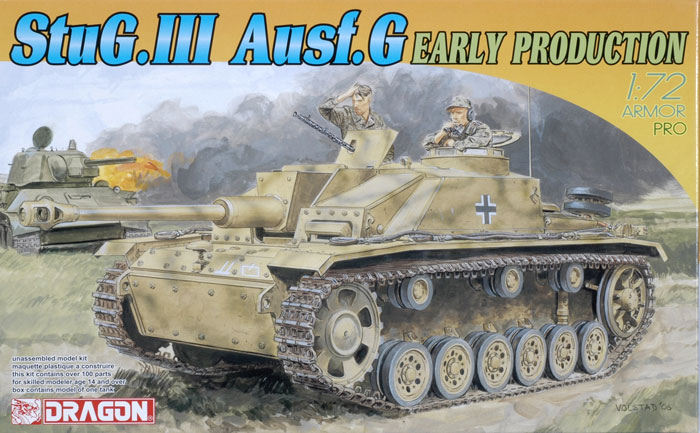 Summary
Stock Number and Description
Dragon Armor Pro Kit No. 7283 StuG.III Ausf. G Early
Scale:
1/72
Media and Contents:
126 light grey plastic parts on three sprues with three parts separately packed, 5 PE parts on one fret, 2 sand coloured DS 100 soft plastic one-piece tracks, decals for 5 vehicles plus a 3 page double sided fold out instruction sheet with parts plan, 7 build drawings and 2 pages of paint/decal full colour art-work. No history is given.
Price:
retail price estimated at US $13.98
Review Type:
First Look
Advantages:
Dragon's first Panzer III based vehicle; highly detailed exterior; detail on under-side of guards; separate dampers and all hatches open or closed. PE intake screens.
Disadvantages:
No interior detail; individual road wheels instead of twinned with separate faces as in Panzer IV based kits. No right side profile and no spare tracks.
Recommendation:
Highly Recommended
Introduction

The StuG.III was initially designed as an infantry support self-propelled gun based on the Panzer III chassis. However, it was soon found to be an effective anti-tank weapon when fitted with a Pak 40 anti-tank gun. The Ausf. G was the last production model and this is the early version of that vehicle.
The Model:

Dragon is now the undisputed leader in Braille Scale Armour and is unlikely to be challenged by any other model company in the near future. Although their first kits in this scale were some-what flawed, they have improved to a level of accuracy and detail never seen before in this scale. They have brought forth so many innovative ideas that their opposition must be wondering how on earth they can possibly make up the difference. Take their DS 100 tracks for instance, they don't work in every case (T34/76-85) but they are the next best thing to Link&Length, beautifully detailed, can be glued with ordinary plastic glue and will take any type of model paint. Apart from the fact that some came out initially distorted and others were too short, they seem to work whether you paint them before mounting or after. If the above was not enough, Dragon have shown themselves to be prepared to fix mistakes and inaccuracies.

The only early StuG.III Ausf. G we've had up till now is the old Esci kit recently re-released by Italeri. Now it was not a bad kit, had some shape problems and some of the detail was a bit soft but over-all quite good. Then Revell did a late Ausf. G and it was so good it over-shadowed the Esci kit in both accuracy and detail. However, it was a late one and the Esci was still the only good early offering. Now this Dragon early Ausf. G is, in my opinion, as good if not better than the Revell offering. The Revell kit has schurzen rails and mounts plus link and length tracks while the Dragon has all hatches open, separate dampers and PE grilles plus the DS 100 tracks are almost as good as Revell's link and length. The mould quality in both cases is excellent as is the level of detail. I don't know if there is any value in the detail on the under-side of the Dragon guards as it probably won't be seen after construction but at least it shows Dragon is committed to produce as much detail as possible.

---

FirstLook
This then, is the first in a new line of Panzer III based vehicles and judging by those that have come before, those based on the Panzer IV, Sd Kfz 251, Shermans, T-34s etc, there are quite a few still to come.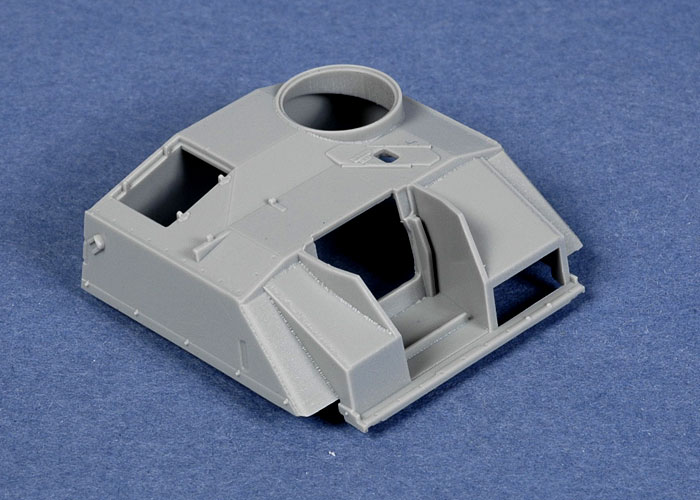 Click the thumbnails below to view larger images:
---
With the lower hull, fighting compartment box and engine deck as separately bagged parts, sprue "A" has guards, front armour plates, rear armour, tow cables, tools, separate dampers, exhausts and many other small parts. Of all the tools, only the axe, shovel and "S" shaped towing hooks are moulded on other parts.

"B" carries the gun and all the parts to go in or on the fighting compartment. This includes mantlet, loader's hatch (open or closed), cupola and hatches (one or two piece), periscopes, smoke bomb tubes, aerial mounts and close support MG and shield. On the side of the box it states that the gun site is in clear plastic. This is wrong. It's on the "B" sprue in light grey plastic.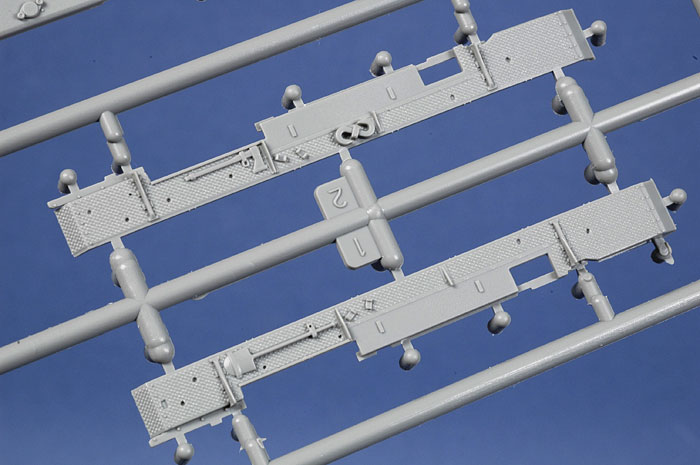 There is no "C" sprue and "D" has all the wheels, drive sprockets, return and support rollers. Here is what I consider the only backward step in this kit although it is not large. In the Panzer IV based kits, the pairs of road wheels were twinned together to form one part with a separate face. This meant the wheels could be painted the tyre colour and very squarely mounted with the face painted in camouflage being added later. However, it meant there was no detail on the inside of the inner wheel. In this StuG III kit, the road wheels are separate with the faces moulded on so it will be a little harder to paint them and extra care will be required when mounting them on the axles. The smaller support rollers are still paired as in the earlier Panzer IV based kits.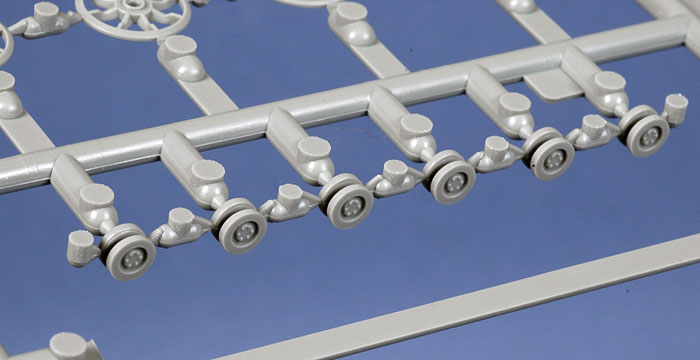 One area where both Dragon and Revell have got it right is the road wheel alignment. Because all the swing-arms on the Panzer III pointed aft, and were on individual full width torsion bars, the road wheels on the right hand side are further forward than those on the left. Tigers and Panthers have swing-arms on one side pointing aft while those on the other side point forward and this allows the road wheels on both sides to be aligned. Esci got this wrong and of course Italeri have just reproduced the Esci moulds as is.

On all of these plastic parts, there are no sink marks, ejector pin marks or flash and the finest, cleanest moulding I have ever seen in any model by any company in any scale.

The PE consists of only five parts. There are three screens and two guard supports. Looking at the guard supports, I don't think I would bother with them. They're just too small. If you are not into PE at all, there are two alternative intakes with the screens moulded on. It's up to the builder.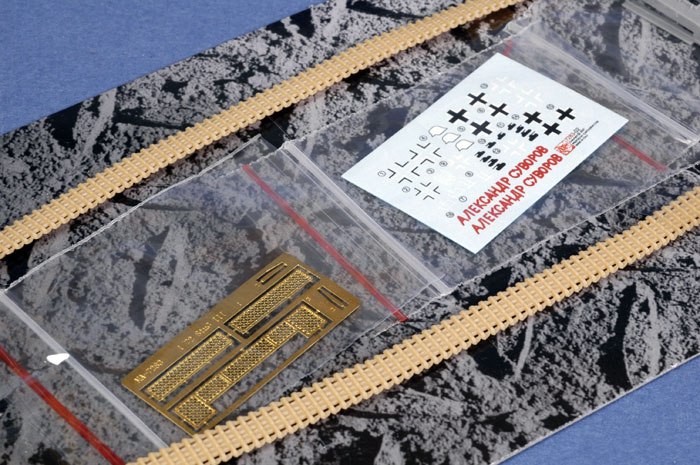 The small decal sheet is printed by Cartograf and the quality is as good as you would expect. There are decals and art-work for 5 vehicles in various colours. The first two are overall Dark Yellow with Olive Green wavy lines on the upper hull from "Das Reich" and "Grossdeutschland" respectively, Russia 1943. Next is an overall Dark Yellow StuG with no second colour from "RFSS", Italy 1944. Then there are two with Dark Yellow lower hull and winter White Wash on the upper. One is from "Totenkopf", Ukraine 1944 and the other is a StuG captured by the Red Army with some Red Russian script on either side of the fighting compartment also in the Ukraine in 1944. Gunze Sanoyo/Mr Hobby and Model Master colours are called out through-out the instructions and art-work and although the left profile of each vehicle is shown there is no right side so the modeller will have to fake the camouflage patten on that side.

The only criticism of this kit other than the wheels, which I don't consider serious, is the lack of any provision for spare tracks. Esci has them across the front of the vehicle and on either side of the fighting compartment while Revell put them across the rear of the fighting compartment. They don't have to be used of course but I believe most StuGs carried them and it would have been nice if Dragon had supplied them.
---

Conclusion
The above minor criticisms notwithstanding, this is a superb little kit, highly detailed and beautifully moulded and it will be interesting to see how far Dragon goes with this Panzer III series.

Highly Recommended.
Review kit purchased by reviewer
Text by Glen Porter
Images by Brett Green
Page Created 24 November, 2007
Page Last Updated 24 November, 2007