T-34/85 Model 1944
by Cookie Sewell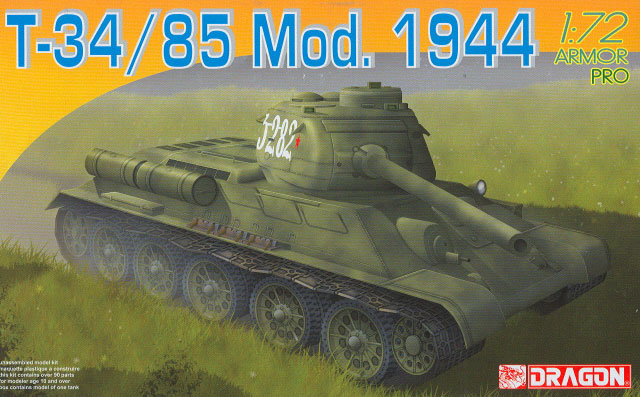 Summary
Stock Number and Description
Dragon Models Limited 1/72 Scale Armor-Pro Series Kit No. 7269; T-34-85 Model 1944
Scale:
1/72
Media and Contents:
98 parts (1+19+60+14, 2 DS plastic tracks in tan, 1 section of twisted steel wire, 1 etched metal grille)
Price:
USD$11.95
Review Type:
First Look
Advantages:
Clean, nicely done kit nearly the equal of the 1/35 scale DML T-34-85
Disadvantages:
Cast metal wheels will need the lightening holes either drilled out or deepened
Recommendation:
Highly Recommended to all small-scale Soviet or '34 fans
FirstLook
The T-34-85 was another shock for the Germans when it first entered combat in early 1944, as it could defeat most of the German tanks then on the battlefield. The Soviets note that in the first encounter between the Tiger II and the T-34-85 the T-34s knocked out three with no losses (they did this from ambush, to be sure, but it was still something the Germans were not happy to see.)

DML has now produced a small-scale T-34-85 to go with their earlier Model 1940, Model 1941 and Model 1942 kits. They use the term "Model 1944" for the early production versions with the ZIS-S-53 gun and two-piece commander's hatch, both of which are faithfully reproduced on this model.

The model comes with the cast wheels with 12 lightening holes, molded as is now standard in two-wheel pairs using "slide molding" techniques. However, this also means the lightening holes are solid, and will have to be either drilled out or deepened by the modeler to get the right look to the finished model.

The model comes with the correct cast turret and mantelet, but note there are two identical mantelets provide with two different numbers (B3 and B22). The directions call out for B3 to be used; I have no clue what the difference is between the two, and if what the other mantelet is for (either it is for a turned metal barrel for a later kit or it should have been the one found with later Model 1945/46 tanks, but for the life of me I can't seen any differences.)

As is standard on DML kits, the modeler has an option to use or pass on the etched metal screen for the engine deck. Some early Model 1942 kits suffered from a poor fit with this screen option, but this kit seems to have it dead on and it should work well. (Note the screen cements in with ACC glue from below.)

The transmission access hatch (part A5) is separate, but no interior is provided. Also the driver's and crew hatches are separate and may be positioned open or closed.

Each 90 liter fuel tank consists of three parts, and the ends are "slide molded" with lifting handles in place.

DML provides four marking options, all in 4BO (FS34102) green: 22nd Guards Armored Brigade, Prague 1945; 4th Guards Tank Brigade, Belorussia 1944; 4th Guards Tank Brigade, Belorussia 1944 (different regiment); and an unidentified German unit with a captured tank, Poland, 1945.

In summary, this is a match to the earlier T-34 kits, and should be very popular.
Highly Recommended.
Thanks to Freddie Leung for the review sample.

Text and Images by Cookie Sewell
Page Created 07 January, 2006
Page Last Updated 04 June, 2006