Home > Reviews > Small Scale > Dragon Model Limited 1/72 Scale Armor Pro Kit No. 7254; Sd. Kfz. 182 King Tiger (Porsche Turret) w/Zimmerit
Sd. Kfz. 182 King Tiger
(Porsche Turret) w/Zimmerit
Reviewed by Cookie Sewell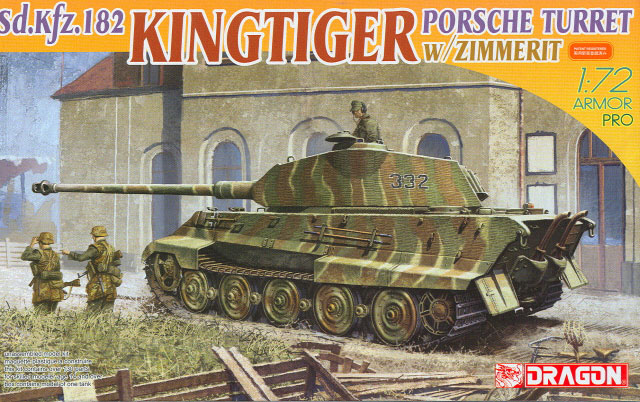 Summary
Stock Number and Description
DML 1/72 Scale Armor Pro Series Kit No. 7254; Sd. Kfz. 182 King Tiger (Porsche Turret) w/Zimmerit
Scale:
1/72
Media and Contents:
193 parts (187 in grey styrene, 4 etched brass, 2 DS tan plastic)
Price:
retail price estimated at US $13.98
Review Type:
First Look
Advantages:
Total rework of an earlier kit; nice new parts; molded zimmerit a great idea
Disadvantages:
Zimmerit will require some planning to mount parts correctly against the hull
Recommendation:
Highly Recommended for all German small scale modelers, especially beginners
FirstLook

When DML first released their small-scale Tiger II with Porsche turret in February 2004, it was something of a disappointment as it had a diecast hull which made clean assembly difficult at best. The modeler would also have to add zimmerit paste, which in this scale and with metal would be a mess.

Now a new kit has been released that obviates the first one and should be very popular with small-scale German modelers. The kit has been totally reworked and only has some partial sprue elements remaining from the earlier kit. Two new sprues provide both an injected styrene hull and all of the parts coated with zimmerit molded on. So far this has proved to be a very popular option with modelers, especially beginners who just getting into the hobby or oldsters coming back, as well as modelers who just enjoy "slapping plastic" together.

As mentioned above the two-piece diecast metal hull designed to screw together is now gone, and while the new parts have some basis in the old ones (such as screw holes under the engine deck and radio operator's hatch) the new parts are much better. The axles remain attached to the hull, but this is slide molded with sponsons in place as well.

The rest of the parts are cleaned up versions of the original parts . A very shallow engine bay is also included (recall it used to have to clear the screw mounts) as well as solid plastic screens for the front intakes on the engine deck; however, this kit now also includes much better and more accurate etched brass ones as well. The turret has two optional position crew hatches and the rear gun removal hatch. A breech is included for the 88mm gun but no other turret interior.

The wheels appear to be nicely done, and all injection pin marks are hidden when the suspension is in place. The tracks are now the DS ones so may be glued together as with normal styrene plastic.

Oddly enough the kit comes with at least 42 spare track sections – but no provision or directions to mount any of them anywhere on the model! Well, if you keep them, eventually you can probably do another Tiger II chassis with paired link tracks!

A total of six different finishes are offered, with two sheets of targeted Cartograf decals. They include: 3/s.Pz.Abt. 503, Mailly le Camp, 1944 (tricolor stripes, black 332); 3/s.Pz.Abt. 503, Hungary 1945 (white overall, black 314); s.Pz.Kp.(Fkl) 316, France 1944 (sand, white 13); s.Pz.Abt. 506, Arnhem 1944 (sand and green patches, no number); unidentified unit, Eastern Front 1944 (tricolor patches, no number); s.Pz.Abt. 503, Normandy 1944 (tricolor stripes, black 113).

Overall, the model as it is now is a very nice little kit, and the fact that you do not have to add zimmerit is a big plus. It is now an easy one to use to teach a child, and I heartily recommend it for that purpose.
---

Sprue Breakdown
A 76 Tiger II wheels
B 41 Tiger II turret and hull details
C 47 Jadgtiger engine deck and hull details
D 16 Tiger II upper hull with zimmerit and details
E 7 Tiger II Porsche turret and lower hull with details
K 2 DS plastic track runs
MA 4 etched brass
Thanks to Freddie Leung for the review sample.

Text by Cookie Sewell
Page Created 09 December, 2007
Page Last Updated 23 December, 2007