Sd.Kfz.10 D7
German WWII Light Half-Track
Ace 1/72 Scale
Reviewed by Glen Porter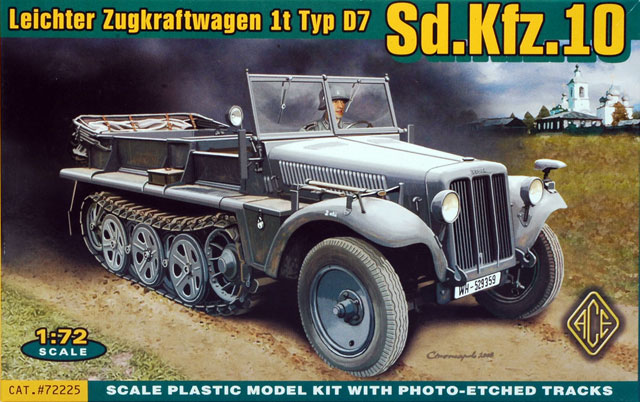 Summary
Stock Number and Description
Ace No. 72225 Sd.Kfz.10
Scale:
1/72
Media and Contents:
83 short run white plastic parts on five sprues, 15 PE parts on one fret, decals for 3 vehicles plus a 2 page instruction sheet with parts plan, 11 build drawings and 1 page of paint/decal diagrams. History is on the side of the box top.
Price:
Review Type:
First Look
Advantages:
Rare subject, well detailed and good decals.
Disadvantages:
Small amount of flash, PE tracks, short run means not for beginners.
Recommendation:
Highly Recommended for experienced modeller only.
FirstLook

When was the last time you came across a Braille Demag? Never? Well that's probably because there has never been one made.

But this sad situation has now changed. Ace, that fearless, small, short run model business from the Ukraine has bitten the bullet and produced one for us Braillers. And done a damn good job too.

The smallest of the German half-tracks, excluding the Kettenkrad, the Sd.Kfz.10 was designed in 1932 by Demag, hence the name, with production beginning in 1937. It found many uses including troop carrier, gun tractor and some were built as a gun platform. It also formed the basis for the Sd.Kfz.250 armoured half-track.

Ace is one of the small manufacturers making a name for themselves producing very good models for the 1/72 scale modeller. Initially they did only Eastern Block vehicles but recently began a series of German guns and this is their second tow vehicle, the first being the little RSO in three variants. The one bad thing I can say about Ace is their moulds seem to deteriorate fairly quickly but if you can get one of the first few batches you end up with a well moulded and detailed model. You can still get a good model out of their later runs, it just takes a lot more work.

My example was among the first received by NKR in Australia so there's only a small amount of flash to remove. Of the five sprues, the first has the chassis, engine compartment and driving position with the rear body being on the second so I guess there are other variants to come. Next is the road wheels and drive sprockets on one sprue with all the small stuff like seats, tools, lights and fuel cans on the fourth. The fifth sprue carries the two front wheels only.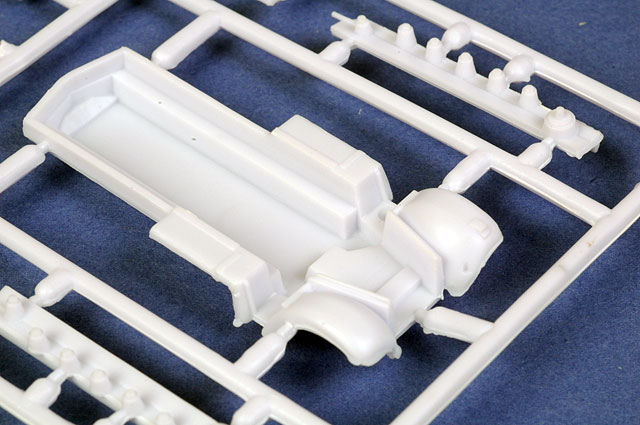 Click the thumbnails below to view larger images:
---
The windscreen is just a frame but there is a template supplied to make up the glass. No clear plastic was present in my kit.

There are three colour schemes in the kit along with the appropriate decals. The first is from a Luftwaffe unit in Panzer Grey, 1942, then an Army vehicle also in Panzer Grey but with fine Dark Yellow diagonals, 1943, and lastly an Army Artillery Tug again in Panzer Grey, 1942. Not much variation in colour schemes but I guess if you look hard enough you will find something else.

A rather nice looking heavy machine gun is supplied on one of the sprues but there is no mention of it in the instructions so either just use your imagination or into the spares box it goes.

The only thing I don't like about this kit is the photo-etched tracks, but that is more me being anti photo-etch rather than anything else. Even so, I can foresee a challenge bending them around the drive and return wheel. Fortunately the photo-etched fret does appear to be copper rather than brass, so this may make working them easier.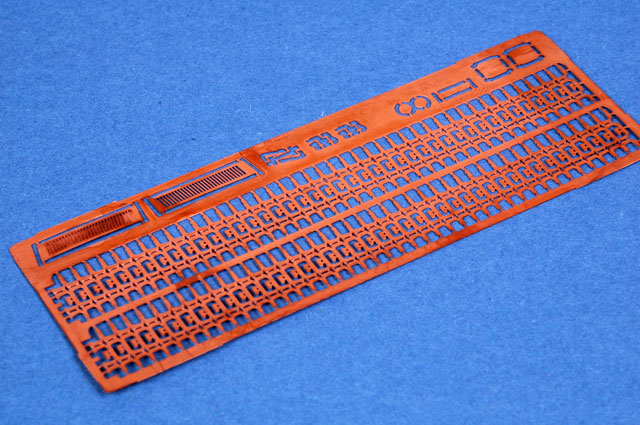 I have quite a few of these Ace kits now and the more I get the more I like them.
I have built one, a Sig 33, and although is was not one of the early batches, it still built into a nice little model.

Highly recommended to all but the Newbies.

Sample purchased by reviewer
Text by Glen Porter
Page Created 21 December, 2006
Page Last Updated 26 December, 2006