PaK 43/41
88mm German Anti Tank Gun
Ace Models, 1/72 scale
Reviewed by Glen Porter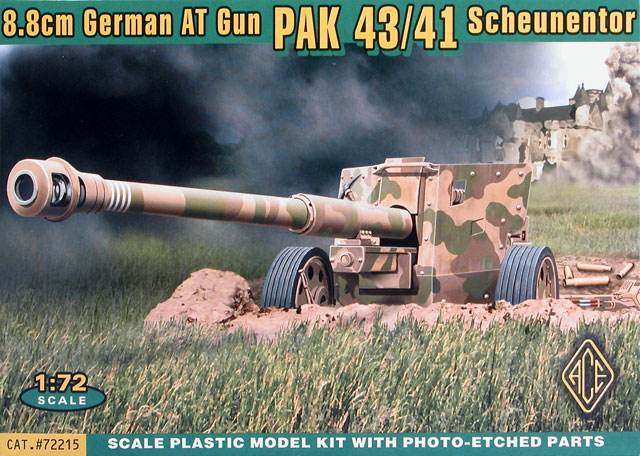 Summary
Stock Number and Description
Ace Models 72215 88mm PaK 43/41
Scale:
1/72
Media and Contents:
79 white short-run plastic parts on four sprues, 6 PE parts on one fret, a 2 page fold-out A5 sized instruction sheet with parts plan, 5 build diagrams and 3 paint instruction drawings. There are no decals and history is on the side of the box.
Price:
Review Type:
First Look
Advantages:
Rare and interesting subject, highly detailed and optional plastic or PE parts.
Disadvantages:
Short-run technology means some clean-up, some confusion in instructions.
Recommendation:
Highly recommended to Braille Scalers with experience.
FirstLook

In some recent reviews I have commented on poor box art, but this Ace kit reverses the trend. Their box art is excellent and inspiring. Perhaps it is even a bit too good as the first reaction on opening the box is disappointment at the quality of the plastic, that is until you realize how much detail there is and that the flash and seam-lines are really not going to be all that hard to fix. It is a short-run kit after all and you have to expect a bit of extra clean-up of almost every part.

Ace has picked their subject well and in most cases only model thing that no other company produces. They started out doing mostly Eastern Block equipment, some tanks but mostly wheeled vehicles. Lately, they have started churning out a host of German WWII artillery and anti-tank guns, among them, the likes of the sIG 33, K 18 and IG 18. The subject of this review, the Pak 43/41 is a dedicated anti tank version of the 88mm Flak 36 but mounted on a Pak 41 chassis because it's own fell behind schedule. It looks like a Pak 40 but with a bigger gun.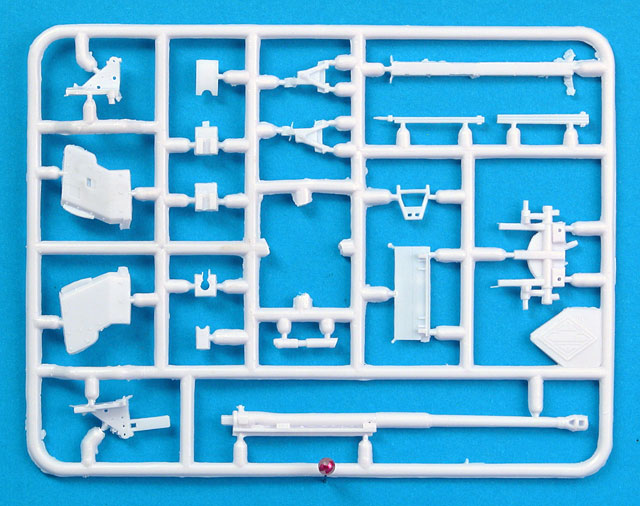 Click the thumbnails below to view additional images:
---
Parts 22 to 57 are mostly for the gun on two sprues and I would think are straight from the Pak 43 kit # 72217 while parts 1 to 21, on the third sprue are for the Pak 41 chassis. A fourth sprue just carries the two wheels numbered 58.

A number of build options are possible. The breech block can be assembled opened or closed, the trails can be assembled in the firing position or moved together for transit and the recoil blades can be mounted again for firing or folded forward for transit. These recoil blades are the only thing to feature on the PE fret and they are also supplied in plastic.

Part 18 on the parts plan, (I'm assuming it is part 18 although it's not numbered, because it's between 17 and 19), is crossed out and not for use. However, part 13, on the same sprue, is not mentioned in the instructions so I assume it should also be crossed out. On the inside of the gun shield there are four support rods which go from the upper part of the shield to the gun cradle. The instructions show where these rod mount to the shield but not where they mount to the cradle. This problem also exists in some of the other Ace kits that I have but if you can get to the Ace web-site, in the catalogue, for each kit there are supplementary photos some of which have walk-rounds which will show where these rod are mounted. It is suggested that wire be used for these but I think plastic rod would do. There are quite a few wire handles to be made and the instructions show where they go. The instructions are generally quite clear but the placement of some parts is vague and again photos from the website will help.

Because there are no decals, the three paint instructions only show colours. First is an all Dark Yellow example, no location, a Dark Yellow with German Grey barrel, again no location and the third is in the Karpatian mountains in a three colour scheme.

The fact that these kits are available at all is outstanding, but that they are so well detailed is a credit to Ace models themselves as they could have got away with far less. If anyone wants to know more, go to http://www.acemodel.com,ua for a look at their cattle dog or to order kits.

Highly Recommended.

Text by Glen Porter
Page Created 24 August, 2006
Page Last Updated 23 August, 2006