Academy 1/72 Scale Kit No. 13401; 1/72 WWI Ground Vehicle Set 3, German Fuel Truck & Schwimmwagen
by Cookie Sewell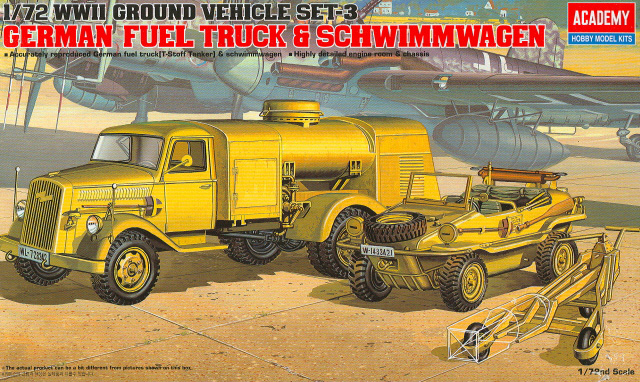 26 parts (117 in tan styrene, 9 in clear styrene); price US $19.
Advantages: another nice "dual purpose" kit from Academy; bomb trolley a handy item; state-of-the-art kit will be appreciated.
Disadvantages: may be viewed as "too aircraft" by armor modelers or "too armor" by aircraft modelers.
Rating: Highly Recommended.
Recommendation: For all German WWII ground AND air "small scalers"
I recall as a kid reading a book on the RAF that discussed the "sinews of war" or what it took to get things done. Surprisingly it covered little of the support equipment needed to get the job done.
The first inklings of support vehicle equipment showed up in the mid 1960s when Airfix did three nice kits of RAF support equipment – "petrol bowsers," ambulances, cranes, and recovery vehicles, albeit in 1/76 they had to be "fudged" to fit in with 1/72 aircraft. In the early 1970s Hasegawa provided a Hucks starter and fuel tanker for Japanese aircraft in proper 1/72 scale. But other than a few odds and ends, such as the items thrown in with aircraft kits as a "bonus," few dedicated kits were released.
Academy now is continuing with its line of 1/72 WWII Ground Vehicles, primarily designed to complement aircraft models, but which can also be used with 1/72 armor. The first two were a Jeep/Kubelwagen double kit and a very nice US GMC CCKW. This third member of the series, providing a VW Typ 166 Schwimmwagern and an Opel Blitz 4 x 2 3.6 liter configured as a fuel tanker. Also included is a bomb transport and lifting trolley.
The kits are quite detailed, with the Schwimmwagen appearing to be nearly as complex as the original 1/35 scale Tamiya kit from the early 1970s. All of the interior parts are separate, to include a shifter and parking brake handle, and the modeler is given an option on windshields as well – two-piece (clear insert and tan frame) or a one-piece with integral frame (e.g. mask to paint.) It comes with a paddle and eight "jerry" cans as accessories, but the handles on the cans are one piece so the modeler wishing greater detail will have to separate them into three distinct bars (a file or saw and a few minutes each should work.)
The Blitz is a standard chassis, as Academy have already indicated more ground-oriented items will coming such as cargo and troop transport versions. The chassis is, like that of the GMC, quite detailed with all of the springs and the drive shaft as separate parts. The kit also provides a nice engine block and transmission with a separate fan and generator assembly, but then as with the GMC provide no way to see it once assembled. The panels on the sides of the hood will have to be cut off before assembly if the modeler wants to provide a "field service" type of vehicle, especially in a North African setting.
The cab comes with all basic details and a full set of offset (e.g. flush exterior when installed) clear windows. With some care the doors may be cut out and repositioned in the open position, but the kit does not give a great deal of provision for that other than the separation line for the door from the body on the inside of the parts. Headlight lenses are also separate clear parts, and to their credit, for the fumble-fingered among us they provide three with the kit. (It also immediately permits the installation of MV Lenses of suitable size without drilling, a benefit in this scale.)
The tanker body comes with a number of diorama-friendly options, such as separate lids for the service lockers forward and separate rear doors for access to the pump assembly. No hoses or hose material is provided, however.
Decals are provided for only Luftwaffe vehicles, alas, so the modeler is on his own to come up with other branches of service markings. As the tanker is a semi-tactical vehicle (the 4 x 2 types are not as viable off road or in nasty conditions such as Russia) it is probably just as well.
Overall, the vehicles are nicely done and appealing, and Academy may have found a good way to "walk the line" between armor and aircraft modelers.
Thanks to Bob Lewen of MRC for the review sample.
Cookie Sewell