Home > Reviews > Russia >

Panda Models 1/35 Scale Classical Scale Series Kit No. PH35024; Kurganets-25 BTR Object 693
Kurganets-25 BTR Object 693
Panda Models, 1/35 scale
Reviewed by Cookie Sewell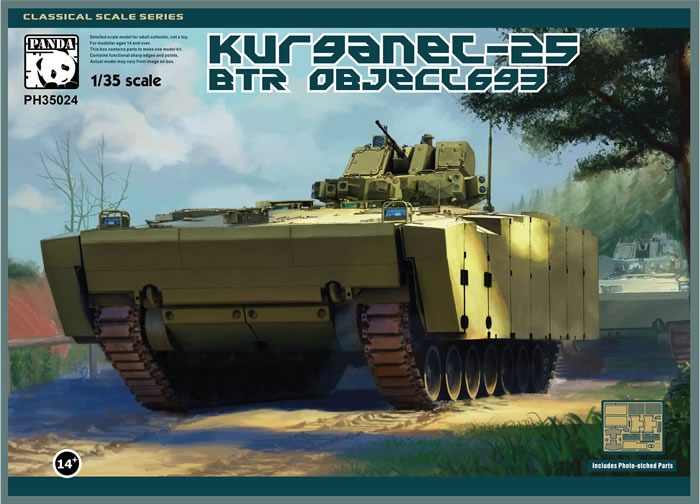 Summary
Stock Number and Description

Panda Models 1/35 Scale Classical Scale Series Kit No. PH35024; Kurganets-25 BTR Object 693

Scale:
1/35
Media and Contents:

805 parts (540 in brown styrene, 212 in tan styrene, 45 etched brass, 8 clear styrene)

Price:

US retail price US$59.95

Review Type:
First Look
Advantages:

First kit of this new Russian light tracked chassis vehicle

Disadvantages:

Very busy tracks, still a prototype vehicle

Recommendation:
Highly Recommended

for all modern Russian armor fans

FirstLook

In 1995 General-Lieutenant Sergey Mayev, then head of the Main Armored and Automotive Directorate of the Russian Army, noted how nearly impossible it was to maintain the vehicles then in service; he cited the fact they had something like 22 different types of tanks that all needed different parts and shared very few items among them, as well as light vehicles which were vastly different and four different lines of wheeled armored vehicles. A study was begun and later came out with the recommendation that all future Russian Army combat vehicles would only be based on four chassis: a heavy tracked chassis (Armata); a light tracked chassis (Kurganets-25); a wheeled armored chassis (Bumerang); and an airborne vehicle chassis (Rakushka).

Starting in 2011 prototypes began to appear and in 2015 the vehicles were paraded at the annual Victory Day parade across Red Square in May. Kurganets-25 is produced by Kurganmashzavod, the same plant that built the BMP series of vehicles. Currently only two of the proposed family of vehicles have been built: Object 693, an armored personnel carrier with a 12.7mm machine gun turret, and Object 695, an IFV with the same turret used on the Bumerang VPK-7829 8 x 8 armored vehicle and also on the T-15 Armata BMPT vehicle.

Panda is now producing kits of these new vehicles and this one was released at the same time as their Bumerang IFV kit (PH35026); that kit shares its turret with the T-15 (PH35017).

The kit is neatly done and highly detailed and while no credit is given would appear to have received assistance from Kurganmashzavod. But like the Bumerang before it there is no interior and the rear ramp is molded in place, with only the access door left as a separate part. The driver's and commander's hatches are also separate.

Construction starts with the lower hull and suspension in the classic kit assembly order. The water jet drives are included but it will require leaving the covers in the open position (parts H15) if you wish to see any depth to them.

The tracks comprise 540 parts; each link has a shoe, a pad and a center guide, but careful examination shows that these are designed to work. The kit does not say so but there are small pins on each shoe and the center guides clip between links so you can figure out that they may work if you are careful during assembly.

Most of the assembly after that is pretty straightforward and the main engine radiator intake grille is a neat pre-connected set of three etched grills that fold over the grill on the kit. The wave breaker (B13) apparently can only be attached in the stowed position.

The flotation assists/reactive armor arrays are formed out of eight parts, two of which are pins that are quite small.

The APC turret is very busy for a small assembly and needs a large number of PE mounts fitted to it for the apparently prolific smoke grenade launchers (there are what appear to be 12 tubes on the turret in single and double fittings) plus some sensors and electronic arrays. The antennas are, like those on all other new Russian vehicles, correct as they are specially designed for specific functions such as battlefield servers and connectivity and should not be replaced with wire or stretched sprue.

As with all of the other prototype vehicles, the only finishing directions are for overall new protective green (FS34102 equivalent) and the St. George star and ribbon logos on both sides of the hull.

Overall, given the prototypical nature of this vehicle, it is a nicely done kit and while the tracks look tedious they do appear to be nicely made.
---

Sprue Layout:
APC 35 APC variant turret and machine gun
B 20 Rear plate, access hatch, wave breaker, details
C 24 Side armor arrays, water jet drives, details
D 5 Supplemental details
GP 8 Clear styrene
H 63x2 Wheels, drivers, idlers, road wheel arms, suspension details
PE 45 Etched brass
T1 15x12 Track pads
T2 60x6 Track shoes, guide teeth
– 2 Upper and lower hull
---