Home > Reviews > Russia > Modelling the T-34/76, by Jorge Alvear, Mig Jiminez, Mike Kirchoff & Adam Wilder
Modelling the T-34/76
Reviewed by John Prigent

Summary
| | |
| --- | --- |
| Publisher and Title | Osprey Modelling 33, Modelling the T-34/76, by Jorge Alvear, Mig Jiminez, Mike Kirchoff & Adam Wilder |
FirstRead

Here we have four T-34 models, all different versions and showing different techniques and all at Advanced level.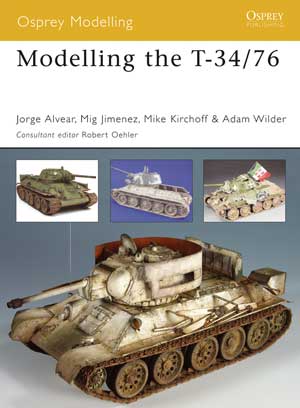 First is a Factory 112 version as built in 1942, produced by combining the DML kits of the T-34/76 Model 1941 and the T-34/85 UTZ Model 1944 with Aber etched sets and gun barrel, Artisan Mori early sprockets, a Chesapeake Model Designs Model 1941 cast turret, Modelkasten tracks and Moskit exhaust pipes. There's some scratchbuilding too, and those who haven't tried soldering for their etched metal will find a complete explanation here of how to do it.
Next is an early Model 1943 with hexagonal turret, built with parts from the same two DML kits plus Tamiya's T-34/76 Model 1943. This one includes the Trakz early T-34/76 interior, Miniarm's T-34 (UVZ) N. Tagil 1942 turret and T-34 spider wheels, Modelkasten tracks and bolt & nut set, CMK's T-34 transmission, and Aber etched trackguards. The concentration here is on detailing and painting the interior, including the gutted engine bay of the tank being modelled, with some very useful tips given.

Next is an STZ T-34/76 of the Italian Army, built from DML's early T-34/76 Model 1941 German Army kit with the MIG Productions STZ T-34 conversion set, Eduard and On The Mark etch, a turret from the MIG Productions Bronekater Bk 1125, and Friuli tracks. Here the main subject is the painting.
The final model is a T-34/76 model 1943 as German Pz 747(r)-3, used on the Western Front in 1944. This one again uses DML's Model 1941 and Model 1944 UTZ, together with a Model 1943 turret from Tank Workshop, the turret roof with cupola from Tamiya's Model 1943 kit, a PART etched set and MIG Production fuel boxes. This one gets scratchbuilt skirt armour, but the main concentration is on producing the very realistic weathered winter white finish.

Although there are only four models here they each show how to use advanced techniques and are also very interesting in their own right as inspiration for your own models.
Highly Recommended.
Thanks to Osprey Publishing for the review sample
---