T-60 Late Series Screened Gorky Plant
MiniArt, 1/35 scale
Reviewed by Cookie Sewell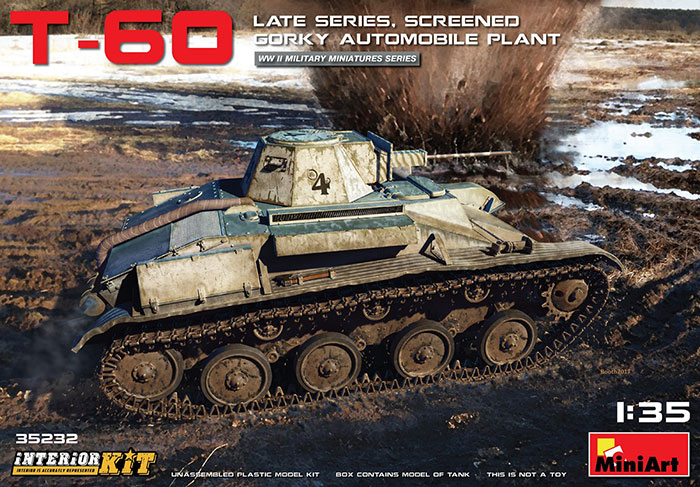 Summary
Stock Number and Description

Miniart 1/35 Scale Kit No. 35232; T-60 Late Series Screened Gorky Plant

Scale:
1/35
Media and Contents:

539 parts (452 parts in grey styrene, 85 etched brass, 2 clear styrene)

Price:

US retail price US$59.95

Review Type:
First Look
Advantages:

New mold variant of this early war Soviet tank; complete interior; various options for display

Disadvantages:

Single link tracks near 1/72 scale medium tank size; many small etched brass parts

Recommendation:
Highly Recommended

to all early war Soviet and light tank fans

FirstLook
While the designer of the T-60 was Nikolay Astrov, chief designer at Factory No. 37 in Moscow, the tank was designed to be easily built at automotive factories and as such was also built at Factory No. 38 in Kirov and the Gor'kiy Automotive Plant (GAZ) in Gor'kiy; later another production line was opened at Barge Factory No. 264 in Krasnoarmeysk. Overall more than 6200 T-60s were built.
But early in WWII it became obvious that the armor protection on the little tank (it only weighed 5.8 metric tons) was too light to offer meaningful protection to its crew. While its 20mm cannon could penetrate 35mm of armor plate at 500 meters, it could not get close enough to any German tank to use that without suffering the chance of being knocked out first. Therefore the tank was fitted with applique armor early on in its production career. This started in January 1942 first at GAZ and then at the other factories. 20mm armor protection was upgraded to 35mm and 15mm protection to 25mm; the mantlet and driver's compartment were upgraded to 35-45mm. This did increase the weight of the tank to over 8 metric tons but it was now more survivable on the battlefield.
Gor'kiy also made a number of other changes as the vehicles progressed. From the start they had used solid cast steel road wheels instead of the spoked wheels at Plant 37 and, due to complaints about noise, added an extended exhaust pipe and muffler located on the stern plate of the tank. This was the final production version of the tank. The last effort was to upgrade the main gun from 20mm to first a 37mm weapon and then the 20-K 45mm tank gun, which needed a new turret and redesign of the hull. A T-60-45 prototype was created, but it was overstrained and as a result a new hull with twin engines and other major changes to include thicker armor was design, eventually entering production as the T-70.
While an upgraded ("premium") kit of this tank was offered by Techmod with 127 clean parts in light grey styrene and a fret of 127 etched brass parts and three white metal crew figures, this is the first all-styrene new mold kit of this little tank. Like its predecessor kit (No. 35224 of the Early Plant 37 version) it also comes with a complete interior less the radiator and fuel tanks. There are 29 new parts to this kit and a new fret of brass with 83 items, most replacing the early model bits. As before I recommend "T-60 i Mashniny na Ego Baze" by Yuriy Pashalok (in Russian, but a similar book based on this one is available in English from author Jim Kinnear) for a guide when building this kit.
As before it comes with a very well done and colorful assembly manual that also includes the finishing instructions. While only about the size of a 1/72 heavy tank the T-60 model is literally stuffed with details. That is one reason it follows old-fashioned Eastern European "flat" construction techniques as it needs them to capture all of the details.
Construction begins with the belly pan, controls, transmission and brake assemblies. The driver's seat is a simple canvas sling affair but is nicely done from four parts.
The engine is a 26 piece affair with the transmission, and the automotive style shifter is installed with it as it sits to the right of the driver.
Hull assembly starts with Step 9 and works around from right to rear to left to roof. There is a lot of ammo storage - 63 round disks for the DT and 58 round box magazines for the TNSh cannon. There is no radiator or fuel tank in the rear of the tank so the interior ends with the firewall separating them from the engine/fighting/control compartment.
Note that there is an option for road wheels - solid or spoked - but that the idlers are all solid cast types. Both sets are included in the kit.
The driver's hatch/viewer assembly is quite detailed with 17 parts and an optional hatch lock to keep the hatch open (something akin to a hood prop in a car). There is a choice of headlight and horn installation for this model which are called out in the painting directions. Note that many of the tanks did not mount headlights so that also must be attended to at this stage.
While there is no radiator, the armored louvers are all separate parts and provided with a two-piece etched brass grill screen. The air intake on the right of the hull also has two-piece brass screens.
The single link tracks are going to be a bit tedious as they are tiny and a lot of them. You need 170 per the directions (85 per side) and get 176 so there are a few spares.
All of the tools are separate and all of them come with up to four separate etched brass clasps, which are quite small. They include a tanker bar, shovel, jack, tow cable. and other kit.
The turret is neatly done but as noted it is about the size of a 1/72 scale medium tank so a lot to go in a small space. The commander has a seat on a J-bar that is suspended from the turret race. All viewers are multiple parts as well as the rest of the turret fittings; the mantlet is fixed so the guns do not elevate. Both guns come slide molded with open bores.
Alternative winter shrouding is provided for the engine grill if desired, but then one loses the nicely done louvers if used.
If assembled with care the turret, driver's hatch assembly, and front transmission cover may be left loose to display the excellent interior details.
Surprisingly while there were more of this version built than some of the others only four finishing options are offered; Red Army, February-March 1942 (4BO green with whitewas, black 4 on turret in four places); Possible 22nd Tank Corps, Southwestern Front, July 1942 (4BO green , white 216 on turret; Plant 38 build with spoked wheels); 3rd Shock Army, Kalinin Front, Velikiye Luki, December 1942 (4BO with whitewash, no markings); Red Army, 1942 (4BO green, white 460 on turret). A small decal sheet is provided with the suitable markings.
Overall as with its early predecessor this is an excellent model but not for those suffering from "pipe fitters syndrome" and having problems with very tiny parts.
---


Sprue Layout:
A 53 Hull interior - seat, ammo drums and magazines, details
Ab 34 Engine
Ba 19 Belly pan, fenders, mantlet, details
Bc 34 Glacis/Hull Roof; firewall, turret race, armament, hatch
Ca 20x3 Drivers, ZIP bins, road wheel arms, idler mounts, details
Cb 7x2 Batteries, fire extinguishers, details
Ce 4x3 Return rollers
Cf 16x11 Individual Track Links
Ch 4x3 Cast Road wheels
Ci 6x4 Road wheels/idlers, hub caps
Da 2 Riveted hull sides
Db 3 Turret roof(s), hatch
Dc 3 Alternate stern and lower glacis plates
Dg 2 Exhaust pipe, muffler
Ea 11 Driver's hatch shell, lower glacis, stern plate
Ei 2 Clear styrene
Ej 9 Bulkhead, light, horn, exhaust outlet
Fc 1 Applique turret shell
M-50 83 Etched brass
---