Home > Reviews > Russia >

Miniart 1/35 Scale Kit No. 35224; T-60 Plant No. 37 Early Series - Interior Kit
T-60 Plant No. 37 Early Series - Interior Kit
MiniArt, 1/35 scale
Reviewed by Cookie Sewell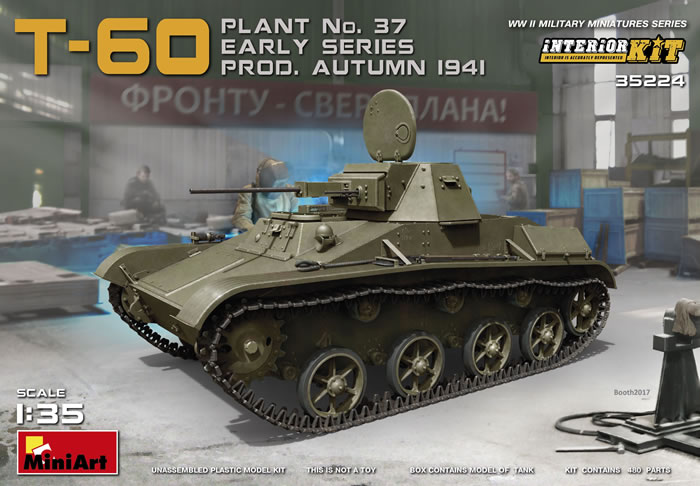 Summary
Stock Number and Description

Miniart 1/35 Scale Kit No. 35224; T-60 Plant No. 37 Early Series - Interior Kit

Scale:
1/35
Media and Contents:

539 parts (452 parts in grey styrene, 85 etched brass, 2 clear styrene)

Price:

US retail price US$59.95

Review Type:
First Look
Advantages:

Best rendering of this early war Soviet tank; complete interior; various options for display

Disadvantages:

Single link tracks near 1/72 scale medium tank size; many small etched brass parts

Recommendation:
Highly Recommended

to all early war Soviet and light tank fans

FirstLook
Nikolay Astrov was an accidental tank designer but that turned out to be a fortuitous event for the Soviets. Denounced and placed in prison in the early 1930s, he was "reformed" and assigned to Factory No. 37 as chief designer in 1934 after designing the PT-1 amphibious tank. His first job was to fix the problems with the T-37 light amphibious tank, which resulted in the redesign of the vehicle as the T-38. After that, he designed a better amphibious tank in the T-40. But by 1941 it was determined that amphibious light tanks were not as useful as first thought, so the task was to design a better light tank for scouting.
The result was the T-60, a two-man vehicle weighing less than 7 tons and armed with a 20mm TShN cannon and a 7.62mm DT machine gun. It used a standard GAZ six-cylinder gas engine and could run at up to 45 kph, not particularly fast but highly maneuverable.Production began at Factory No. 37 near Moscow in August 1941, but after only 20 T-60 tanks were built the factory was torn down and all machinery and blueprints shipped to Sverdlovsk in the Urals. Production of the tank continued at the GAZ Plant and also Kharkov Tractor Plant No. 75 until the latter also had to move; later another line started up at Stalingrad Barge Factory No. 264.
The tank suffered as in many cases it was used for infantry support and easily knocked out due to its thin armor, but in one case the T-60 turned the tables on the Germans. On January 16, 1943, a T-60 from the 61st Light Tank Brigade crewed by Lieutenant Osatyuk and driven by Starshina Makarenkov, encountered three Tiger I tanks from the 502nd Heavy Tank Battalion near Leningrad. Osatyuk charged the three Tigers, catching them unawares, and firing his 20mm gun proceeded to annoy their crews to the point that they chased the little tank. They went through a peat bog but that did not stop the Tigers chasing him, and as he kept maneuvering they could not get a bead on the little tank. Osatyuk finally ordered Makarenkov to charge into a nearby woods - as he knew that parallel to the route they had taken a 76mm ZIS-3 battery was hidden in a tree line. Sure enough, the Germans pursued him. Two 76mm slammed into the first Tiger, causing it to blow up when its ammo detonated, followed a few seconds later by the second Tiger that suffered the same fate; the third Tiger reversed out of the action and left. Both Osatyuk and Makarenkov were awarded the Gold Star Medal and title Hero of the Soviet Union for their actions.
There have been two kits of the T-60 prior to this: one was the very first kit put out by Zvezda, with rubber band tracks and production values similar to the Japanese kits of the early 1960s. Much later a second kit was produced by Techmod of the base T-60; it consisted of 127 clean parts in light grey styrene and was a shared mold with other companies. The RPM release was of the upgraded applique armor variant with a fret of 127 etched brass parts and three white metal crew figures. But while far better it left a lot to be desired.
Miniart is now continuing its great series of "Interior" kits with five different T-60 variants being offered, of which this is the first. The variations include wheels (3 types), hulls (2 types), turrets (welded and cast T-30/40 type), armor fit (regular and applique), exhaust (2 types) and other detail differences. This kit is based on the first 20 built, but most of the information on the restart at Sverdlovsk in February 1942 shows tanks which are quite similar. As a result it comes with cast spoke wheels, a riveted hull, fishtail exhaust outlet, and many of the early detail fittings per the best single source book on the vehicle, "T-60 i Mashniny na Ego Baze" bu Yuriy Pashalok (while this is in Russian, a similar book based on this one is available in English from author Jim Kinnear).
As with all Miniart kits it comes with a very well done and colorful assembly manual that also includes the finishing instructions. While only about the size of a 1/72 heavy tank the T-60 model is literally stuffed with details. That is one reason it follows old-fashioned Eastern European "flat" construction techniques as it needs them to capture all of the details.
Construction begins with the belly pan, controls, transmission and brake assemblies. The driver's seat is a simple canvas sling affair but is nicely done from four parts.
The engine is a 26 piece affair with the transmission, and the automotive style shifter is installed with it as it sits to the right of the driver.
Hull assembly starts with Step 9 and works around from right to rear to left to roof. There is a lot of ammo storage - 63 round disks for the DT and 58 round box magazines for the TNSh cannon. There is no radiator or fuel tank in the rear of the tank so the interior ends with the firewall separating them from the engine/fighting/control compartment.
The driver's hatch/viewer assembly is quite detailed with 16 parts and an optional hatch lock to keep the hatch open (something akin to a hood prop in a car). There is a choice of headlight and horn installation for this model which are called out in the painting directions. Note that many of the tanks did not mount headlights so that also must be attended to at this stage.
While there is no radiator, the armored louvers are all separate parts and provided with a two-piece etched brass grill screen. The air intake on the right of the hull also has two-piece brass screens.
The single link tracks are going to be a bit tedious as they are tiny and a lot of them. You need 170 per the directions (85 per side) and get 176 so there are a few spares.
All of the tools are separate and all of them come with up to four separate etched brass clasps, which are quite small. They include a tanker bar, shovel, jack, tow cable. and other kit.
The turret is neatly done but as noted it is about the size of a 1/72 scale medium tank so a lot to go in a small space. The commander has a seat on a J-bar that is suspended from the turret race. All viewers are multiple parts as well as the rest of the turret fittings; the mantlet is fixed so the guns do not elevate. On my example both guns came with bent barrels due to the tight packing of the parts in a plastic bag but I am not sure if this will be common or not; both are slide molded with open bores.
Alternative winter shrouding with thumbscrews is provided for the engine grill if desired, but then one loses the nicely done louvers if used.
If assembled with care the turret, driver's hatch assembly, and front transmission cover may be left loose to display the excellent interior details.
Eight different finishing options are available: captured German, grey with white crosses; captured German, sand with black and white crosses; Red Army 1942, overall 4BO green, white 909; 52nd Red Banner Tank Brigade, 9th Army, Northern Group, Transcaucasian Front, December 1942 (4BO green, white diamonds); Red Army, winter 1942/43 (4BO with whitewash); 171st Independent Tank Battalion, 4th Shock Army, Kalinin Front, Kholm February 1942 (4BO green with whitewash, circle with black 1/71); Red Army, spring 1942 (4BO green, white 56); 64th Tank Brigade, 21st Tank Corps, 6th Army, Southwestern Front, Kharkov May 1942 (4BO green, white strike with red star on turret roof, white triangle with 4/226. 58-68 on rear of turret). A small decal sheet is provided with the suitable markings. As noted this kit covers both the first 20 tanks and the initial output from Sverdlovsk so explains the number of options here.
Overall this is an excellent model but not for those suffering from "pipe fitters syndrome" and having problems with very tiny parts. As noted above four more versions including the GAZ versions (cast road wheels and external mufflers), Factory No. 264 (welded spoke wheels) and applique versions are going to follow.
---


Sprue Layout:
A 53 Hull interior - seat, ammo drums and magazines, details
Ab 34 Engine
Ba 19 Belly pan, fenders, mantlet, details
Bc 34 Glacis/Hull Roof; firewall, turret race, armament, hatch
Ca 20x3 Drivers, ZIP bins, road wheel arms, idler mounts, details
Cb 7x2 Batteries, fire extinguishers, details
Ce 4x3 Return rollers
Cf 16x11 Individual Track Links
Ci 6x5 Road wheels/idlers, hub caps
Da 2 Riveted hull sides
Db 3 Turret roof(s), hatch
Dc 3 Lower glacis, stern plate
Ec 2 Driver's hatch shell
Ei 2 Clear styrene
Ej 9 Bulkhead, light, horn, exhaust outlet
Fd 1 Turret shell
M-42 83 Etched brass
---