Home > Reviews > Russia >

HobbyBoss 1/35 scale Kit No. 83847; Soviet T-20 Armored Tractor Komsomolets 1938
Soviet T-20 Armored Tractor Komsomolets 1938
HobbyBoss, 1/35 scale
Reviewed by Cookie Sewell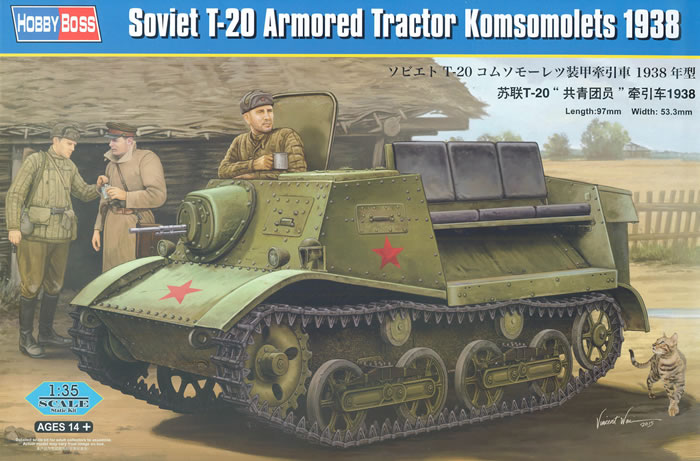 Summary
Stock Number and Description

HobbyBoss 1/35 scale Kit No. 83847; Soviet T-20 Armored Tractor Komsomolets 1938

Scale:
1/35
Media and Contents:

339 parts (224 in brown styrene, 105 in tan, styrene, 8 etched brass, 2 clear styrene)

Price:

USD$44.99

Review Type:
First Look
Advantages:

First new, clean kit of this popular small Soviet gun tractor

Disadvantages:

Ultra-tiny track links will be very tedious to assemble

Recommendation:
Highly Recommended

for all early war Soviet light artillery units

FirstLook

The Soviets began a massive program of motorization during the 1930s and that flowed into every aspect of their society. Some of it was bought from outside and other elements developed internally by NATI - the Scientific Automotive and Tractor Institute - and eventually a suitable item reached fruition. In 1936 they developed the "Pioner" fast tracked tractor for agricultural use. But Factory No. 37 then developed two armored variants (with an armored cab at the front fitted with a DT machine gun mount) - B-1 with outward facing seats and B-2 with inward facing ones. The B-1 was felt to be superior and was adopted for production under the new name of T-20 "Komsomolets" (Young Communist League Member).

Over its five year production run three different models were built: the Model 1938 (the version in this kit) had a bolted armored hull, a large ball mount, rectangular hatches, and other improvements over the first variant.

Production of the Komsomolets eventually numbered 7,780 with assignments to all branches of the Red Army with rifle divisions having a complement of 21 each. But they were in the front lines and after 22 June 1941 took huge numbers of losses, with only about 1,000 left on hand by January 1943.

The Komsomolets weighed about 3,460 kg and was powered by a 50 HP GAZ-M engine. Top speed unladed was 50 kph, but when full loaded with crew and towing a gun it could drop as low as 2 kph!

Normal guns used with it (most requiring a limber for ammunition, as there was little room on the tractor to carry it) would include the 45mm Model 1932/38 antitank gun, 76mm Model 1910/27/32 regimental gun, or in a pinch the 57mm ZIS-2 or 76mm ZIS-3 (which it was not really able to move except on flat level ground). One version (now also kitted by HobbyBoss) mounted the 57mm ZIS-2 on a pedestal mount as the SU-30 SP antitank gun.

Over 20 years ago a kit was released of the Komsomolets from one of the smaller Russian manufacturers but it was truly awful. Nothing fit, nothing was correct, and as Steve Zaloga noted you had to scratchbuild more than 90% of the model to get to even LOOK like a Komsomolets.

Now HobbyBoss has presented a new mold kit which is very nicely done. But realize before you open the box this vehicle is TINY - about the size of a 1/72 scale medium tank! It provides the basic Model 1938 kit with no accessories or interior.

The one bugaboo with this kit is the tracks. Each link is very small – 5.5 x 2 mm - and with VERY fragile connectors. These would have been better "link and length" but that was not an option here. And you need runs of 84 links per side; at least HobbyBoss gives you 56 extras!

Assembly is straightforward: each of the four bogie assemblies consists of six parts and they simply attached to the lower hull pan. The idlers have an adjuster which many experienced modeles like to leave loose until the tracks are mounted to allow for adjustment and a good fit; happily it is a separate part on this kit.

The fenders/hull top and driver's casemate are single parts with details attached. The machine gun mount is fixed with only a barrel, but as there is no interior this is not a big deal.

The engine cover is one single piece (J8) but the rear of the hull with the radiator/air intake trunking is more involved; there are two different forward bulkheads in the kit but this one calls for part J4. It uses an etched brass set of grilles (PE-A1) for the rear.

The rest of the assembly is pretty straightforward. The seats require hinging but it appears they are not supposed to work.

Two finishing options are offered: a Soviet one in 4BO green with red stars on the front and sides of the casemate, and a captured German one with crosses and WH in white.

Right now there are a lot of choices for light Soviet limbers, but only ICM offers the 45mm and 76mm light guns as styrene kits. They are from a number of years ago so cannot comment on availability.

Overall this is another nice addition to the growing number of Soviet prime movers and is a nearly done little kit, providing you can deal with the itty-bitty track links!
---


Sprue Layout:
A1 Lowerhull
A2 Fender run
B 40 Headlights, fittings, engine hatch, details
D 1 Upper hull/cab section
F 4x2 Seats, seat mounts
J 8 Hull bow, stern, hatches, stowage bin
K 6 Bulkheads, final drives, hatches
M1 2 Clear styrene
PE 8 Etched brass
R 20x2 Road wheels, drivers, bogies, axles
T 28x8 Track links
---