Eduard T-34/76 Model 1940 1/35-scale photo-etched brass (35723)
by Frank V. De Sisto
Price: $22.95 USD.
Since DML released their kits of early T-34s, I have been waiting to see how Eduard would tackle these them. I had hoped for a balance between well-executed fine detail and ease of use. I was not disappointed. The set contains two frets of plated etched brass, as well as three pages of color-coded instructions.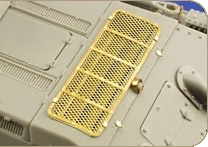 Beginning with the obvious area of the engine deck, Eduard provides not only the frames and screens for the air intake, but the lateral flaps and their mounting plates seen below the screens as well. Small latches for the deck section are also included as a part for the tail-lamp lens. The fenders receive new mounting loops, clamps and straps for the tow cables, jack, stowage box, shovel and track-mounted ice cleats. These last items are also given as etched parts to replace the kit's plastic items. There are 32 of them.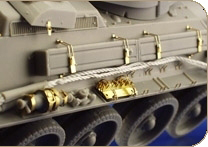 The front of the hull also receives new head-lamp mounts and fender braces, while the fuel containers on the hull sides get new, multi-part mounting straps and clasps. The turret gets details for the main hatch, to include internal and external latches and handles, along with the hinged cap that covers the small periscope. The turret's interior gets a new recoil guard and spent shell catcher for the gun, as well as internal details for the vision port blocks.
Altogether, this is an excellent and easy to use enhancement for what is an outstanding kit to begin with.
Highly recommended.
Product images are used by permission of Eduard. Eduard products are available at retail and mail order shops and directly from the manufacturer at: www.eduard.cz. Visit their web site for additional images of reviewed items.