Eduard M4A2 Sherman Russian Army (35809)
by Frank De Sisto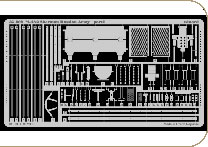 Photo-etched brass in1/35th-scale for Academy kit. Price: $24.95 USD.
There can never be enough kit variations of the Sherman tank. Likewise, any etched detail set is always welcome for these kits. Although Academy's M4A2 (76mm) has been around for a while, Eduard has waited until now to provide a detail set for it. In typical fashion, it is quite complete and not too complex.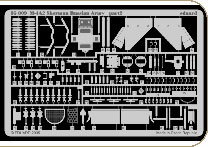 The usual suspects are included: tool straps and brackets, tow cable brackets, head- and tail-lamp brush guards and periscope head brush guards. There are also latch details for the hatches, as well as parts for the periscope heads and their rotating plates. There are mounting strips for the sand shields, new front and rear fenders, hull air vent screen and cover, screens for the radiators and a new rear-end storage rack, complete with securing straps. The spare track storage racks seen on this version of the Sherman (included in the Academy kit, but not called-out in their instructions…they should be used) have not been provided by Eduard.
The turret receives complete details for the .50 cal. M2 to include cradle, ammo tray, box and belted ammunition (it's flat so best left un-used), cooling jacket (the .30 cal gets one as well), sights, pintle and grip handles. There are brackets to stow the M2 on the bustle as well as the travel storage crutch for a mounted machine-gun. Finally there are details for the turret hatches and a commander's rough sight.
This is a nice, nearly complete set, which can probably be used on any late Sherman hull with a T23 turret. Aside from the machine-gun barrel cooling jackets (which will be a challenge to properly use, especially where it comes to aligning and smoothing away the inevitable seam) the remainder of the set should suit nearly any modeler.
Recommended.
Images provided by Eduard whose products are available at retail and mail order shops, or direct from the manufacturer at: www.eduard.cz.