Chesapeake Model Designs T-34/76 Model 1941 STZ (CMD 43)
by Frank De Sisto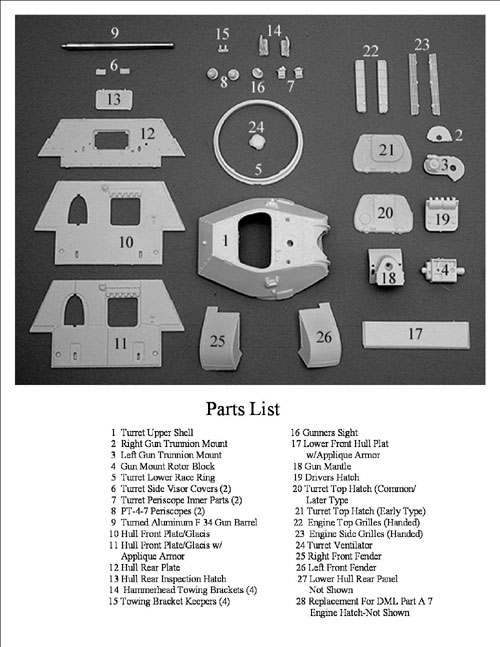 Conversion in 1/35-scale resin and turned-aluminum. Contains: 38 resin parts, one turned-aluminum gun tube and six pages of instructions. Price: $30.00, plus shipping. (Note: the price listed here was confirmed by CMD on June 17, 2005. The price given reflects an addition that is being made to the set, as mentioned in the review that follows. Prices in various other reviews reflect either an error or a special introductory "show price" for AMPS 2005. In either case, those reviews do not account for the additional parts, which are described below.)
When DML released their early T-34 kits, they opened up many more possibilities both for modelers, and for after-market manufacturers who were partial to this ubiquitous Soviet tank. Those interested may wish to check this site for reviews of the DML kits. Chesapeake Model Designs has already released two cast turrets for these kits, both of which have also been previously reviewed on this site.
This is CMD's third and most ambitious release for the DML kits to date. It consists of a welded turret and hull components with details peculiar to those produced at the STZ tank factory. For instance, STZ used the "interlocking" method of welding the hull and turret, as well as a simplified means of production for some of the vehicle's components such as the gun mantle, the turret sides, rear-end and hatch. In addition, the forward edges of the turret's sides were "scalloped", being constructed of separate plates. Items commonly seen on vehicles produced in 1942 were also introduced such as "hammer-head" tow shackles (front and rear), horizontal engine deck grill-work and a re-designed driver's hatch. Some vehicles also had appliqué armor panels welded to the upper and lower glacis plates. Also at this time, road wheels and idler wheels without rubber rims were introduced to save raw materials. Only these last items are not included in this conversion, but CMD has them in the pipeline for future release.
Although a deceptively simple conversion set, there are also some options. For instance, two upper glacis plates are provided, one with, and one without appliqué armor panels. There is also an appliqué plate for the lower glacis plate. There are two different turret hatch configurations as well as periscope options. As one would expect from CMD, the casting of the parts is absolutely without flaw. There are some very tiny pips to be removed, which are akin to what one would find on parts from an injection-molded styrene kit. Details such as weld beads, plate interlocks and armor texture are delicate and restrained.
Overall, the fit of all parts was excellent, with the turned aluminum gun tube requiring no glue to keep it attached to the mantle, which itself will remain movable with careful construction. The modeler must be careful when fitting the new front and rear upper hull plates to the DML kit. Remove a small amount of material from the DML hull, per the CMD instructions. Test fit the panels, and remove more if necessary. I found that very little needed to be removed (as per CMDs instructions), so proceed slowly. The fenders will require care in fitting, the new driver's hatch will need careful clean-up in order to fit properly in the closed position (as will the new transmission access hatch for the rear plate), and the lower section of the turret will need some trimming around its edge to fit within the details that surround the turret ring opening.
In addition, when CMD sent me the initial sample, I noted that there should also be "hammerhead" tow shackles on the lower rear hull plate. I then held off on the review while CMD fixed the problem. This fix includes a new lower rear hull plate, a pair of early "hammerhead" tow shackles, and the small "keepers" that held the cables from dropping away if no tension was present. In addition, CMD has added a new upper engine deck access hatch, to replace the ill-fitting part in the DML kit. Well done, CMD!
The instructions consist of six pages, evenly split between written construction notes and illustrations. There is a photo of the parts as well as a parts list, so that the modeler can easily check the contents. The parts come packaged in separate bags inside a small, tough cardboard box. Some skill will be required to properly blend the plate interlocks between the DML hull and the CMD front and rear hull plates. Likewise, the upper hull edges, on either side of the turret ring will also need to have interlock detail added by the modeler. A simple means of doing so is explained in the instructions using text and a drawing.
This conversion is, as one would expect from CMD, very well produced and sure to please fans of the T-34. It should be noted that CMD is also serious when it comes to modeler's feedback, thus the additions that were made.
Highly recommended.
Chesapeake Model Designs (CMD) products are available for worldwide shipment direct from the manufacturer. For more information see their web site at: www.chesapeakemodels.com, email: bill@chesapeakemodels.com. Phone/fax number is: 410-357-5496. Product images courtesy of CMD.