CMD-41, T-34/76 Model 1940 Cast Turret in 1/35 scale resin
by Frank De Sisto
Contains 11 resin parts, one turned-aluminum gun tube and two pages of instructions. Price: $18.00 USD, plus shipping.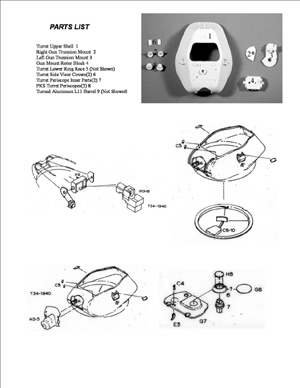 To my eye, this version of the 76mm gun-armed early model T-34 looks to be the sleekest of them all. CMD has captured the look of this cast turret quite successfully with this beautifully engineered resin offering. The CMD kit consists of a one-piece hollow-cast turret shell, a separate turret race ring, a three-part, movable internal gun trunnion and mount, two small flaps to cover the turret-side view ports and finally a pair periscopes in their rotating mounts (including separate parts for the interior sections of the periscopes). CMD's previously released turned aluminum 76.2 mm L-11 gun tube is also furnished, making this a complete "one-stop" conversion.
As one would expect from CMD, the casting is absolutely flawless, featuring very little clean-up of minimal mold pips. The nicely understated texture and seams on the cast turret are well done and reflect the relatively fine workmanship seen on these early production items. The roof plate features very restrained weld beads. It should also be noted here that the roof plate is not simply the DML kit's roof plate grafted on to a scratch-built turret shell. It is all-original.
The turret is, as I already mentioned, hollow cast with commendably thin walls. This design feature will aid those who wish to add details to the turret's interior. The turned aluminum L-11 gun tube is cleanly machined with an understated bore cap and thin walls. It is a drop fit into the DML kit's mantlet. Detail parts, such as the main roof hatch, its panoramic periscope, locking lever, periscope covers, lifting hooks, dome vent, co-axial machine gun and mantlet are added from the DML kit, keeping the overall cost of this conversion as low as possible.The instructions are very well done, and feature a single sheet, with detailed text on one side, that includes historic notes, general construction tips, and specific notes on how to best build this item. The second side supplies a photograph of the CMD conversion's parts, a parts list, and finally, clear assembly drawings done in the exploded style. This drawing includes the pertinent DML parts, eliminating any guess-work for the modeler. There are far more complex after-market items on the market that do not go this far to ensure that the modeler has what information he needs to construct what he has purchased. Other manufacturer's can still learn a thing or two from CMD.
In short, a small group of manufacturers may be approaching CMD as far as quality and value for money. Some may also equal CMD. But, in my opinion no other manufacturer has surpassed them.
Highly recommended.
Chesapeake Model Designs' products are available direct from the manufacturer, and can be obtained worldwide by contacting them at: www.chesapeakemodels.com. E-mail address is: bill@chesapeakemodels.com. Telephone/Fax: 410-357-5496.