Home > Reviews > Russian > Armored Units of the Russian Civil War, Red Army, by David Bullock, illustrated by Andrei Aksenov & Peter Sarson, Osprey Publishing Ltd
Armored Units of the Russian Civil War, Red Army
Reviewed by John Prigent

Summary
| | |
| --- | --- |
| Publisher and Title | New Vanguard 95, Armored Units of the Russian Civil War, Red Army, by David Bullock, illustrated by Andrei Aksenov & Peter Sarson, Osprey Publishing Ltd |
FirstRead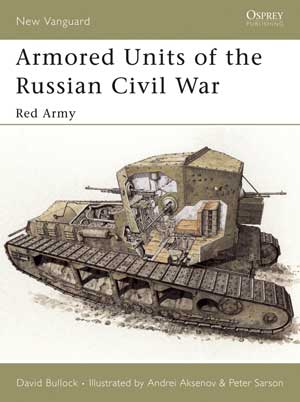 The second volume of this set is well worth having in your collection.
The first 18 pages deal with armoured trains, describing their construction and use with a lot of information about combat operations. Then comes 10 pages giving similar detail about armoured cars – production and import, organisation and combat use.
Tanks take up the final 6 pages, less space because there were fewer of them but just as much information about the Renaults, MK V Heavies, Whippets that were captured and used.
A short section deals with colours and markings, and of course the colour plates show some fascinating schemes for modellers.
The photographs are good and show interesting subjects, clearly there were some excellent cameramen among the Red forces.
Highly Recommended.
Thanks to Osprey Publishing for the review sample
---