Aber KV-II Russian Heavy Tank photo etch Vol. 1 (35-166)
by Nick Cortese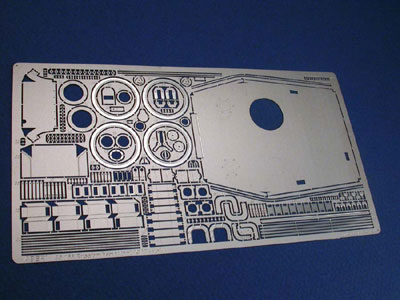 Aber Etch of Poland are once again are leading the way with some interesting if not some of the most comprehensive update sets ever made.
Specifically designed for Tamiya's rather ancient KV-II kit, which has been kicking around forever, Aber are taking advantage of the fact that this kit it's relatively cheap and available and still very popular. The etch set consists of two etch frets, one which makes up for most of the "corrected" turret top area, and four resin hatches.
After adding the new top to the turret, Aber even offers etch weld beads to turret top and sides. Aber supplies all the periscopes in etch as well as the curved upper engine exhaust grills, and these are particularly nice because of the weaved mesh effect, which is very well detailed. A bit of surgery is required to the kit to install the etch engine exhaust screens but the results will be worth the work.
Aber has also included all new resin engine access hatches as well as the turret commander's hatch and driver's hatch complete with all the proper opening mechanisms. Once more, a bit of surgery is needed to the kit the engine hatch area as well as a careful opening of the driver's hatch area so that the new resin replacements can fit properly.
Smaller items like hull brackets, fittings and storage basket handles are peppered throughout this set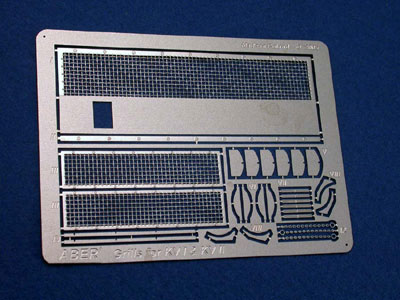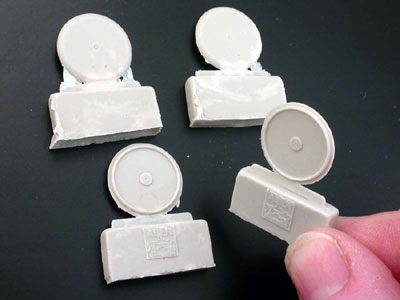 Conclusion
I would think that anyone willing to take the time and effort to upgrade their Tamiya KV-II would be well worth the effort to use any of the many Aber updates sets for this kit:
35 144 - Russian Heavy Tank KV-1 & KV-II - Vol.2 - Fenders – early model
35 145 - Russian Heavy Tank KV-1 & KV-II - Vol.3 - tool boxes – for early fenders
This upgrade etch set will definitely add the much needed detail that is lacking in the original Tamiya kit.
Highly recommended.
Thanks to AIR CONNECTION for the review sample.