Decalomaniacs! WW1 Rhomboids #1 (DM101)
by Frank De Sisto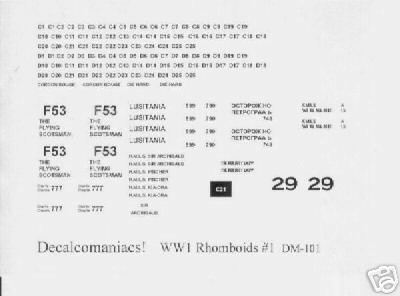 Waterslide decals in 1/72 scale. Price: $8.00 USD, plus shipping.
I will start out by ranting just a bit: World War I tanks, armored cars and ordnance are seriously under-represented in plastic kit form. The period is interesting and so are the vehicles and artillery pieces, but mainstream manufacturers are reluctant to invest in the production of state-of-the-art kits. This is a shame. However, in the smaller scales, there are a handful of kits, including the quite ancient Airfix Mark I.
Decalcomaniacs!, as is their custom, has come up with a decal sheet that will allow the modeler who has the required references (also thin on the ground), and the old Airfix kit, to properly mark nearly any version of this tank. The sheet contains dozens of designs for Mark I, as well as Mark II and III tanks (all of which were based on the Mark I). The items on the sheet consist of various sets of numbers and names (the latter confirmed by period photos), all in white. Some names include "The Flying Scotsman", "Lusitania" and "Die Hard". There is also a group of items in black for tank "C21, The Perfect Lady".
All items are crisply printed on a sheet that is completely backed by film. This means that the modeler must carefully trim each design before dipping in water. The instructions are "text-only", so references are essential for proper use of this sheet. The most readily available (and reasonably priced) book is: Osprey, New Vanguard 100, "British Mark I Tank 1916". The instructions do offer fairly explicit placement info, as well as a fine brief on the colors used, so they are really quite acceptable. They simply require "back-up".
Although there won't be "thousands lining up" for this sheet, I for one, am gratified that Decalcomaniacs! have gone to the trouble to produce this anyway. You small-scale, WW1 guys ought to show your appreciation.
Recommended.
All white items on the decal sheets are shown in black for clarity.
Decalcomaniacs! products are available direct from the manufacturer in care of: Georg Eyerman, 315 South Avenue, Garwood, NJ, 07027, USA. Web site: www.decalcomaniacs.net, e-mail: decals@decalcomaniacs.net.