Home > Reviews > Other > Osprey New Vanguard 127, German Panzers 1914-18, by Steven J Zaloga, illustrated by Brian Delf
German Panzers 1914-18
Reviewed by John Prigent

Summary
| | |
| --- | --- |
| Publisher and Title | New Vanguard 127, German Panzers 1914-18, by Steven J Zaloga, illustrated by Brian Delf, Osprey Publishing Ltd |
FirstRead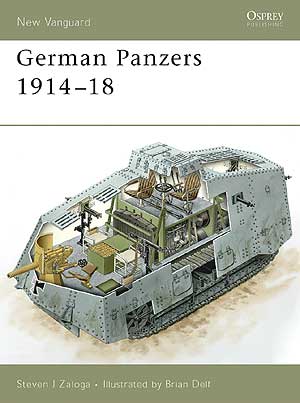 The German A7V is well known to tank fans, but was not really the first German armour.
Here the early proposals and tests are described, as well as the development of the A7V itself and the associated A7V-Gelandewagen supply vehicle that used the same chassis. The A7V's lack of initial success led to it being sidelined, and when it was later used in the right conditions for success it was too late for Germany to change tack and build more of them.
There were other German tank designs, some more likely to succeed than others – the prospects of the enormous 100-ton K-Wagen seem rather limited with 1917 technology – but the greatest German use of tanks was of captured British examples. These were shipped to a depot for the usable tanks to be rebuilt using parts scavenged from the unusable ones.
French tanks were also captured, but seem not to have been put into use unless employed temporarily by their immediate captors. All of this is succinctly described here, with plenty of photographs and good colour plates.
The plates may come as a surprise to some, with colours paler than is usually thought, but there's a good analysis of the likely colours as a preamble to the plate captions which certainly convinced me.

Highly recommended!
Thanks to Osprey Publishing for the review sample
---