ModelMakerZ Acrylic Paints and Finishing Powders
Reviewed by Cookie Sewell


Summary
Stock Number and Description

ModelMakerZ Acrylic Paints and Finishing Powders

Price:

US$3.50 for paints, US$5.00 each for a jar of powder

Review Type:

First Look

Advantages:

Good selection of armor oriented colors; powders in easy to use jars beat the "makeup compact" design of other manufacturers

Disadvantages:

Paint appears to be fussy to get mixed "right" for airbrush use; poor for brush use

Recommendation:
(Powders) Highly Recommended (Paint) See Text
for all armor modelers and anyone wanting an easy to use weathering chalk powder system

FirstLook
I have to apologize to the good folks at ModelMakerZ; they originally gave me the samples of these products in October 2010 but my schedule has been so hectic it is only now (March 2011) that can get around to testing and commenting on them.

ModelMakerZ is a relatively new US company who offers a selection of resin accessories, markets various tools and airbrush supplies, and also offers a selection of their own paints and weathering powders. Currently they offer around 25 different paints and 15 different weathering powders plus thinner and black and white primer paint colors.

They graciously provided me with bottles of their thinner (and carrier, more about that in a bit) and 4BO Russian dark green, as well as two jars of powders: European dirt and heavy rust.

I had to build a suitable candidate for testing the paint, and that came in the form of a conversion of the Tamiya BT-7 Model 1935 to a BT-7 Model 1937 with the Eastern Express turret. I primed that with Floquil primer grey and let it dry solid (well, six weeks is a bit more than necessary but again my schedule has been bad news...)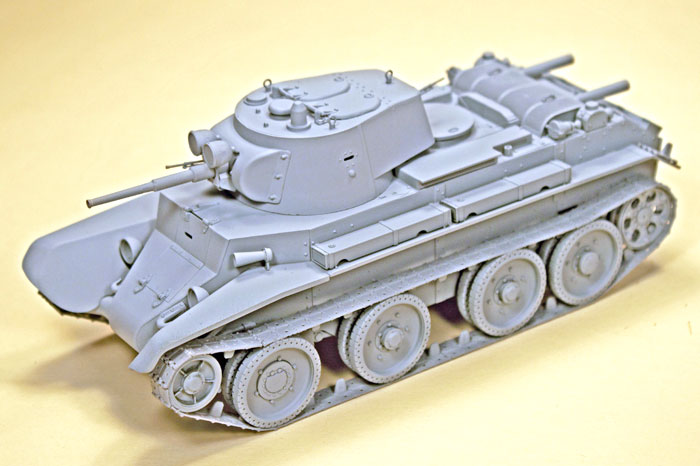 I used my Grex airbrush and compressor to paint it with the ModelMakerZ paint, and tried three different variations: thinned 30% with their thinner and low pressure; thinned 15% and low/high pressure; and straight from the bottle at high pressure. The first two were not successful - either the mixture ran or tended to splatter, and coverage was lousy. The best success was with the straight paint at high pressure but it tended to jam the airbrush after about four minutes of painting (the Grex is not the greatest airbrush in the world to clean when jammed, as I found out...)

Overall its performance was about on par with other acrylics I have used (less Tamiya, which appears close to goof-proof) and is just as fragile as all acrylics when wet (note the finger slide removal of paint from the sides of the fenders). I am not sure if I used it to their standards and hope to hear from them on my experience.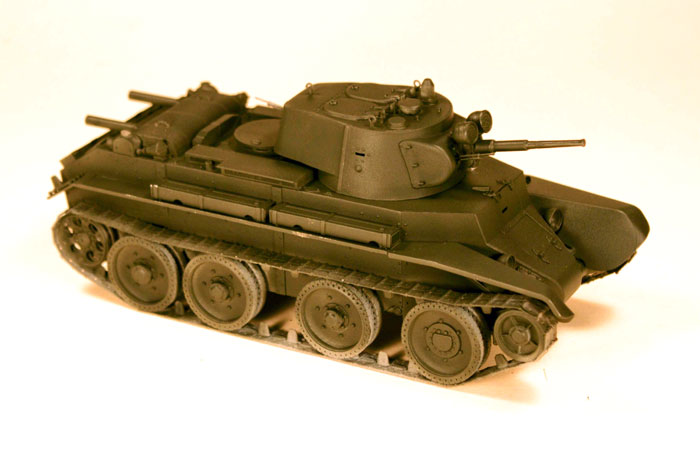 The powders fare better (alas, I have no photos of that in action). Chuck from ModelMakerZ demonstrated how they suggest it be used at "Maraudercon" in Baltimore in November 2010. They use their thinner/carrier as an agent for airbrushing and simply use a small spoon (think McDonald's coffee stirrers) to put the powder directly into the thinner and spray it out. There are some uses where this may not be the best way to get an effect (dust kicked up from the road) but for rusts or embedded dirt that will not easily wash out of the paint in real life the effects are excellent. I have tried this and it works, but note the carrier will leave a sheen so don't do it AFTER you apply a final top coat to a model.

The powders are very finely ground and can be applied with a brush or makeup applicator like any other pastel chalk dust.

Overall the colors are good on the paint (hopefully there is an easier way to mix them) and the powders are super. They may be purchased at shows with ModelMakerZ as a vendor or direct from their website at http://www.modelmakerz.com .

Thanks to Model MakerZ for the review sample.
---