Micro-Chisel Replacement Tips and Panel Scribing Tips
Reviewed by Brett Green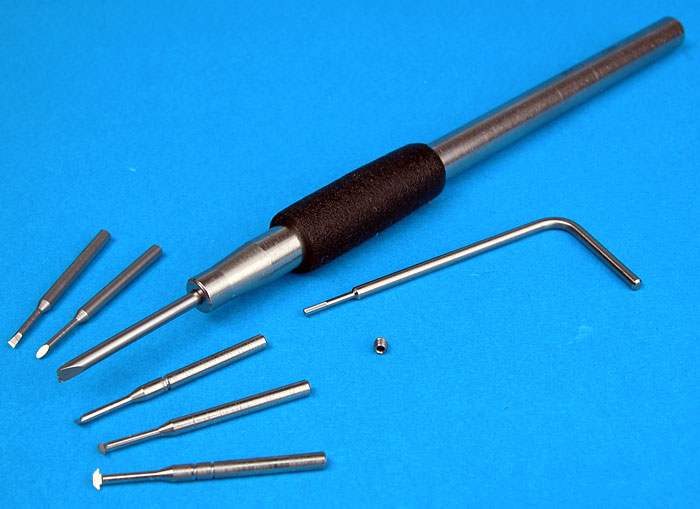 Summary
FirstLook
Mission Models has expanded the versatility of its recently released Micro-Chisel with five new tips.
The concept of the original Micro-Chisel was simple - a 2 mm interchangeable chisel bit connected to a solid stainless steel handle, encased in a contoured rubber finger grip. The result was a very high quality, durable and useful tool for modellers.
The five new tips are:
The square-ended chisel tips are perfect to get into nooks and crannies that need reshaping or cleaning up. I cannot think of another tool that is better designed for the job. It is certainly more appropriate, more effective and less likely to remove fingertips than a brittle scalpel blade.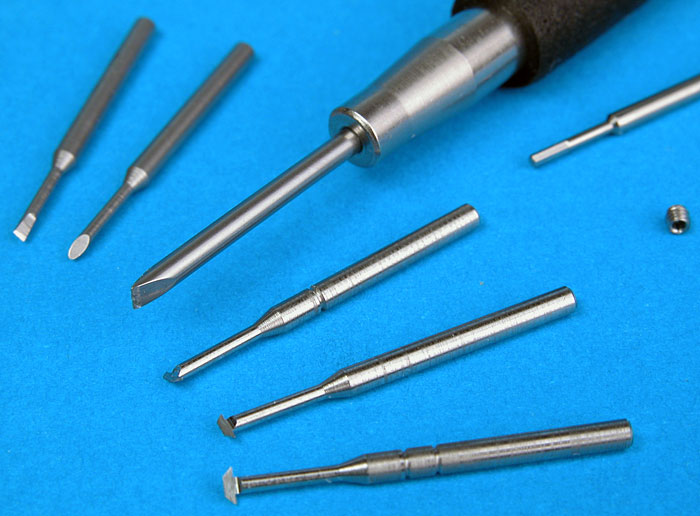 The addition of a round tip is very welcome. This tip will make it a simple matter to cut narrow channels in plastic, resin, wood or similar media.
The tip set includes a small Allen key to loosen the old tip and install the new ones.
The scribing tips are a great idea too, and are quite different in approach to other scribing tools. I like the fact that different widths are available between .005" and .010". The "hammer head" design should result in a nice consistent width for the scribed lines too. Because it is a little tough to distinguish between .005", .075" and .010" by eye, Mission Models has thoughtfully identified each scriber tip with grooves around the handles - no groove for .005", 1 groove for .075" and 2 grooves for .010".
These scribing tips are a logical companion to the solid handle with its nice, positive grip. I have already tested out the scriber tips, and I find it works the best for me when it is lightly dragged back along the plastic. Repeated light strokes will result in a crisp, cleanly scribed line.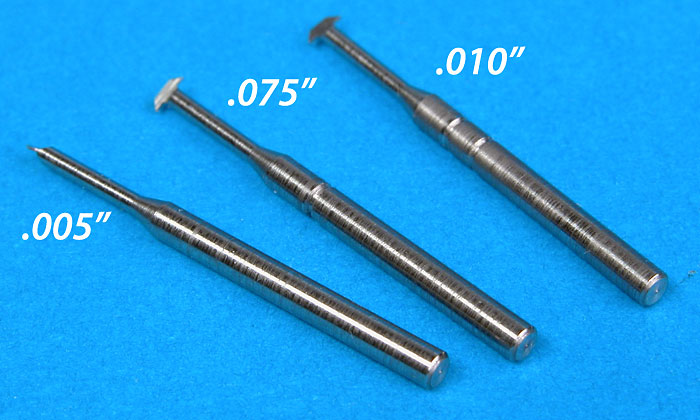 The tool handle feels very solid in the hand regardless of which tip is fitted, and the grip is positive. Very little effort is required to achieve a fast, clean, precise result.
This tool will be helpful for scribing, reshaping and sculpting many different materials, including plastic, resin and wood.
It is also ideal for removing mould seams and join lines.

Conclusion
The Micro-Chisel from Mission Models was a great idea in the first place. These new tips make this high-quality tool even more flexible and useful.
This precision tool and its versatile selection of tips will have many useful applications for modelling projects.
Recommended.
Thanks to Jon Tamkin from Mission Models the preview image and information
---
Micro-Chisel is available from Mission Models Website

Text and Images by Brett Green
Page Created 24 April, 2006
Page Last Updated 27 June, 2006