Decalomaniacs! FT-17s Around the World (DM034)
by Frank De Sisto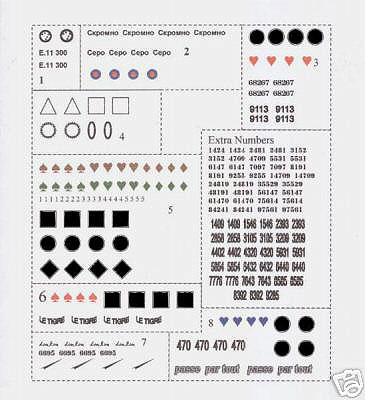 Waterslide decals in 1/35th-scale. Price: $8.00 USD, plus shipping.
The Renault FT-17 was the first tank to place its main armament in a single, fully rotating turret, making it the true father of the modern Main Battle Tank. It has not really received its due in kit form, especially in plastic. Yes, there is the fairly decent offering from Mirage/RPM in 1/35th-scale, as well as the older Matchbox kit in 1/72nd-scale. There have also been a few fine and not so fine resin kits throughout the years. Aftermarket etched sets as well as tracks have been offered, but not decals; at least until now.
Decalcomaniacs! has just released a sheet of markings with eight vehicle-specific schemes, as well as a fair amount of generic markings. There sets of specific markings for two French, one Polish, one Brazilian, one Finnish, one White Russian and essentially any US tank from the 326th and 327th Tank Battalions in World War One. Extra numbers, squadron signs and playing card symbols will allow for nearly any French vehicle for which a photo reference is available to be properly marked. That's quite a lot for the asking price, especially since over 3,000 FT-17s were built, not counting US, Russian and Italian post-war variations. There's loads of scope for something different here.
The markings are crisply printed with excellent registration on multi-colored items and sharp edges to the colors. Color saturation is a bit on the "light" side, but this will also give the modeler "scale" colors, which is not a bad thing. The instructions feature text, profile drawings and charts to aid the modeler in properly placing the markings. On my sample the middle of the three pages was missing; the manufacturer has been notified to ensure that this was a "one-time" error. This one will be greatly appreciated by fans (like me!) of this diminutive early tank.
Highly recommended.
All white items on the decal sheets are shown in black for clarity.
Decalcomaniacs! products are available direct from the manufacturer in care of: Georg Eyerman, 315 South Avenue, Garwood, NJ, 07027, USA. Web site: www.decalcomaniacs.net, e-mail: decals@decalcomaniacs.net.