May 1945 in the Czech Lands, Ground Operations of the Axis and Allied Forces/Kveten 1945 v ceskych zemich, Pozemni operace vojsk Osy a Spojencu
by Tomas Jakl,
Miroslav Bily, Prague, ISBN 80-86524-97-8, 144 pages, colour plates.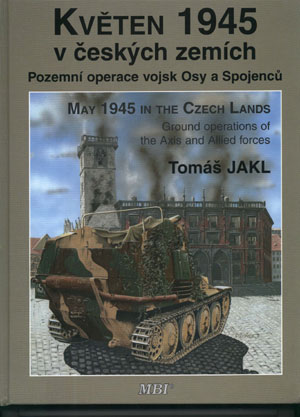 This book is a real treat for anyone who wants to know about the final fighting in Europe, when the Czech people rose against German occupation and US and Soviet forces met in what is now the Czech Republic. It is fully bilingual so meets the needs of a wider readership than its native land – and here's where I give my apologies to Czech speakers for not being able to add the proper accents in its Czech title above.
It begins with an overview of the position in Europe from the beginning of January 1945, with German forces on the retreat but still fighting hard on all fronts and counter-attacking when possible. The Soviet 1st Ukrainian Front entered Czech territory in mid-March and the 2nd Ukrainian Front on 7 April. Heavy fighting for Brno followed but the 2nd's advance was stopped in its tracks by the end of April. The 3rdUkrainian Front also attacked in mid-March but failed to make any significant gains. The US 3rd Army was advancing from the West and had reached the Czech border by the end of April. Meanwhile the Czech Underground Army had been making its own preparations. The first local uprising began in Prerov on 1 May. Nymburk followed on 2 May and the uprising began to spread rapidly despite local setbacks and German repression. The Underground Army began its own efforts on 5 May with an organised campaign involving not only the secret fighters but also armed police units that had been authorised by the Germans in the belief that they supported German authority – a severe miscalculation – and even Vlasov's Russian Liberation Army.
Some German garrison units fought, some surrendered, and some of the frontline units managed to fight their way through the Underground Army's positions. Nevertheless the uprising was highly successful and effectively liberated most of the Czech territories before the Allied armies moved in.
Here the full story is set out, town by town and city by city. The course of the fighting is described, there are good maps to show its progress, and there's a host of rare photographs of the men and machines. Some have, of course, been seen before but many are new. How about not one, not two, but three photos of SdKfz 251/22s, one of them with a visible tactical number? A Munitionspanzer I A still in winter white in May? "Hetzer" Starrs? Panthers, Shermans, IS-2s, T-34,76s and /85s, and "Hetzers" in abundance of course, and SdKfz 234 armoured cars of several types as well as a number of unexpected vehicles like the Panhard 178.
As well as all this there are orders of battle for US, Soviet and German forces, two pages of Soviet unit markings and one of German in black and white, a page each of German and US unit markings in colour, and no fewer than 26 side-view colour plates based on photos in the book. Those, and their captions, have been scrambled somewhat in numerical order but it's easy enough to tell them apart by their caption numbers. Number 20 is on the back cover and the front cover features an extra plate of an SdKfz 138/1 Grille in action in Prague on the afternoon of 8 May.
I simply can't recommend this book highly enough to anyone interested in the liberation of the Czech Republic or simply looking for new photographs. I'm sure it will be in all the best military booksellers, but those who prefer can order from Czech-Six Publications at 48 Station Road, Stoke D'Abernon, Cobham, Surrey, KT11 3BN, UK, price £15.60 plus £0.60 UK P&P, email mark@kmzchemiclas.ltd.uk for overseas costs or check the website at www.czechsixpublications.com. My thanks to Czech-Six Publications for the review copy, which has already given me several modelling ideas!
John Prigent