Home > Reviews > Other >
Bison "Negrillo", Tank Markings of "la Guerra Civil", the Spanish Civil War 1936-1939 (BD-35018)
"Negrillo"
Tank Markings of "la Guerra Civil",
the Spanish Civil War 1936-1939


Reviewed by Frank De Sisto
Summary
Stock Number and Description
BD-35018, "Negrillo", Tank Markings of "la Guerra Civil", the Spanish Civil War 1936-1939
Scale:
1/35
Media and Contents:
Water slide decals
Price:
Review Type:
First Look
Advantages:
Beautifully printed; large selection of interesting markings; fine details; excellent color saturation
Disadvantages:
Recommendation:
Highly Recommended
FirstLook

These days there are a decent amount of early and pre-WW2 AFV injection-molded styrene plastic kits, particularly those manufactured by Germany and the Soviet Union. Italy is miserably represented in that media, but kits can be had in resin/multimedia. So, a comprehensive decal sheet devoted to the "dress rehearsal" for WW2, The Spanish Civil War, is quite timely indeed.

The markings on the relatively small (2.75 x 5-inches) sheet provide specific items to decorate 22 (that's right; TWENTY-TWO!) complete vehicles. This includes three Fiat CV.33s, three CV.35s and one CV.33L "Lanciaflamme" tankettes. Other markings are provided for six Soviet T-26B Model 1933s, four Pz.Kpfw.I Ausf.As, two Pz.Kpfw.I Ausf.A "Modificado" tanks with 20mm Breda gun, two Pz.Kpfw.I Ausf.Bs and a single kl.Pz.Bef.Wg.I Ausf.B. All are AFVs that were operated by Franco's Nationalists, specifically the CVT Tank Group.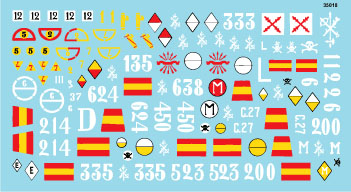 What this essentially means is that there are some very unusual camouflage and markings combinations, on some very unusual vehicle types. Many of the markings feature the "red-yellow-red" flash as well as Tac numbers and various unit devices. There are also company and platoon tactical signs in various forms.

The decals are beautifully printed by Microscale and feature extraordinarily fine details and excellent color saturation, while being in perfect registration. This is important since there are several items that are not only multi-colored, but are surrounded by fine borders. The instructions consist of two full, single-sided A4 sheets as well as a smaller 4 x 6-inch sheet, which contains a single scheme, but most importantly, a graphic explanation of what the battalion, company, platoon and vehicle Tac signs represented. The remaining instruction sheets have numbered call-outs that match a "map", which in turn covers the particular designs needed for a given scheme. In all cases multiple views of the subject AFV are given along with color information. There is also a list of published and internet reference sources. Finally, a research credit for ML member Stirling Lowery is given (Well Done, sir!).

This is as fine a product as has ever hit the market and the subject is simply irresistible. Those of you who have a T-26 or variations of the Pz.Kpfw.I "in the pile" need to check this one out. Now if only Bronco would come up with the promised CV.33-L3 tankette!

Highly Recommended
---
Bison products are available at retail and mail order shops and directly from the manufacturer at: http://www.angelfire.com/pro/bison . Visit their web site for images of reviewed items.

Text and Images by Frank V. De Sisto
Page Created 28 January, 2006
Page Last Updated 24 March, 2006