Concord Publications: Assault, Volume 9 (7809)
by Walter Bohm, Yves Debay & Ralph Zwilling
ISBN 962-361-097-1; price unavailable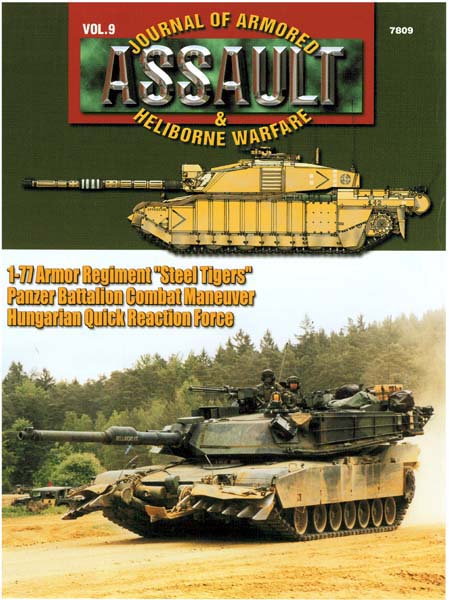 The first article in this volume deals with the M1A1 AIM MBTs of "Steel Tigers, 1st Battalion, 77th Armored Regiment", and is by Mr. Zwilling. It contains 56 excellent color photographs, as well as two organization charts (one detailing the overall organization of the Battalion, the other the Headquarters and Headquarters Company). This is accompanied by a well balanced bit of text that describes the process of re-manufacturing older M1A1s, which are then given the added "AIM" (Abrams Integrated Management) designation. The remainder of the text discusses the organization and purpose of the Battalion's sub-units, as well as the functions of certain key staff personnel. About half of the photos are devoted to the Abrams MBTs of 1-77 on maneuvers in Germany. These consist of many overall views as well as some detail views, all of the exterior of NATO-camouflaged tanks. The remaining photos detail the M88A1 ARV, variations of the M113, the ubiquitous Hummers, a HEMTT fuel truck, and various personnel, particularly Stinger MANPADS team members.
The next article, by Mr. Bohm, depicts the training of a German Panzerbattalion during "Exercise Blitzender Kurass". It contains 47 color photos and two vehicle specification charts. One chart covers the venerable Leopard 1A5, while the other details the stretched M113 WARAN. The photos themselves cover a very broad variety of current German AFVs such as: Leopard 1A5, Leopard 2A4 and A5, Flakpanzer Gepard, Buffel ARV, Keiler Mine Clearing Tank, Marder 1A3 IFV, M113 and M113 WARAN, Skorpion mine laying vehicle, Luchs 2A2 armored car and various support trucks. Crew uniforms and vehicle markings are also shown as are various types of ammunition. The brief text describes the various vehicles as well as the organization of several types of units. This is all complimented by extended photo captions.
The final article, by Mr. Debay, covers "Hungary's Quick Reaction Force" and its modernization. Its 41 photos describe a variety of troops, weapons systems, vehicles and helicopters. The photos of vehicles include some very colorfully camouflaged UAZ-469 4X4 vehicles, as well as less colorful BMP-1 IFVs, BTR-80 APCs, T-72 MBTs, 2S1 SPGs and wheeled Mistral missile systems. Helicopters covered are the standard Mi-8V/ Mi-17 transports and the Mi-24D gun-ships. Various troops are covered as are their personal weapons, including anti-tank guided missile systems.
Overall, there is something for every sort of modeler, especially if modern AFVs, helicopters and figures are within their area of interest.
Highly recommended.
Concord Publications are available from retail and mail order shops, or from the publisher at: www.concord-publications.com
Frank De Sisto